Best apps to sync
HTC with Mac
HTC phones are running on Android powered resources. Mac computers are developed by Apple. These two devices were not exactly meant to work in sync. Yet a lot of people choose to use an HTC phone, while working on a MacBook or
a Mac desktop.
So if you are one of those people who choose Android phone over an iPhone and want your Android to be synced with your Mac, you'll definitely appreciate a great solution for keeping data between the two in perfect sync. Android File Transfer was developed by Google to help move the files between Android devices and Mac computers, and even though the app is free, it didn't get any updates in recent years and doesn't have enough functionality. We have looked into various third-party synchronization and file-transfer solutions and reviewed some in this article. Hopefully this helps you find your ultimate app to sync HTC with Mac.
Our top choices to sync HTC phones
with Mac

This app is first on our list by all means. It does a great job syncing data between Mac and HTC phones. And when we say sync, we really mean it. This app can keep your contacts, calendars, music, playlists, folders with files, bookmarks up-to-date between your phone and computer. Additionally you can mount your HTC as a Mac disk, manage text messages from your computer and work with call history there. It is not just HTC phones, SyncMate will sync with your Mac. It also supports other Android devices and many more.
Download for FREE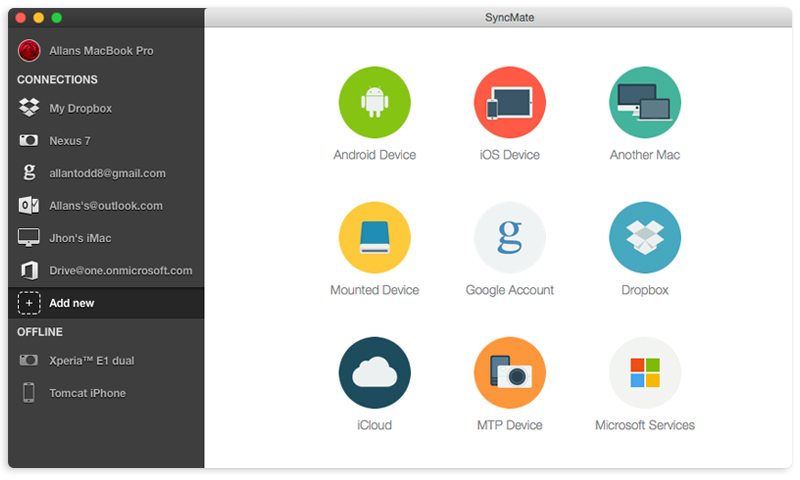 With this app your HTC phone appears as a Bonjour computer in Finder. It lets you share the folders on device over network. Droid NAS helps you work with Camera, SD card, Downloads, Music, and Photos folders easily. Unlike SyncMate this is not a true sync app, it is a file transfer app. Droid NAS doesn't work with your calendars and contacts.
With TunesGO you are getting full access to your HTC phone and are able to transfer media files between HTC device and Mac computer. TunesGO lets you install and uninstall, import and backup Android apps, and offers tools to work with contacts and text messages.
This app is a file transfer type - you can easily move files around, but it is not a true sync app where data can be automatically updated on both devices. Doesn't sync contacts and calendars.
This is a simple and straight file transfer utility, won't perform a true sync though. It works on Windows and Symbian operating systems additionally to Mac OS and Android.
A solution created by Google that is free, which is a plus, however there were no updates since around 2012, which is a minus. There is neither an impressive feature set nor a friendly interface. However as it is free you can always give it a try.
Cloud services for HTC phones and Mac
Cloud storages can make our lives a lot easier - they are accessible from anywhere as long as you are connected to Internet. They are not real sync solutions and will add an extra step to your sync routine, but sometimes they can work out great. Let's see the three cloud services we liked the most.
Google's Google Drive was launched in 2012 and allows its users to store files in the cloud, share them, and synchronize files across devices.
Dropbox is a file hosting service that offers cloud storage, file synchronization, personal cloud, and client software. You can upload your essential data and access it from a designated folder on your device or from its online interface and download online content to your hard drive. Dropbox doesn't sync personal data like contacts and calendars, just back it up for further unpacking on device or computer.
SugarSync offers cloud storage, where you can store files and folders, and sharing possibilities. It is also possible to remove all synchronized files from your Mac in the event of loss or theft. SugarSync doesn't work with personal data either.
Thank you for reading and hopefully this article will help you find the best data synchronization product that works best for your HTC and Mac.
SyncMate Expert
Requirements: OS X 10.8.5+ ,
53.1MB
free space
Version
7.2.407
(
17th May, 2018
)
Release notes
Category:
System Utilities