Best apps to sync Mac with Android in 2018
Mac and Android synchronization can be such a hassle without the right tool. These two platforms are positioned by their developers not to work together at least not directly. It is technical, not obtainable to transfer files or personal data between Android and Mac OS X devices. As a result of this problem, third party applications now serve as a bridge between them, facilitating smooth and uninterrupted synchronization.
Now that you understand the need for a third party application in other to sync your Android device with Mac, the main question remains what are the best apps to sync Mac with Android?
Well, we reviewed some of the most popular apps for Android-Mac synchronization and came up with a list to help you choose what suits your use case the most.

SyncMate is the most user-friendly and popular app in our list and this is simply because it offers a complete hitch free synchronization of all your files and personal data plus extra smart non-sync options. SyncMate doesn't just transfer files for backup purposes, it syncs data between Android and Mac apps with great accuracy.
FACTS: SyncMate can sync contacts and calendars between Mac and Android devices. Bookmarks, music and playlist, folders with files can all be synced with SyncMate.
Non Sync functions: An Android device can be mounted as a Mac disk with SyncMate. By mounting the Android device as a disk, you get to manage your SMS, calls history directly from your Mac.
This is the app to choose if you care about stability and precision in file transfer.
Download for FREE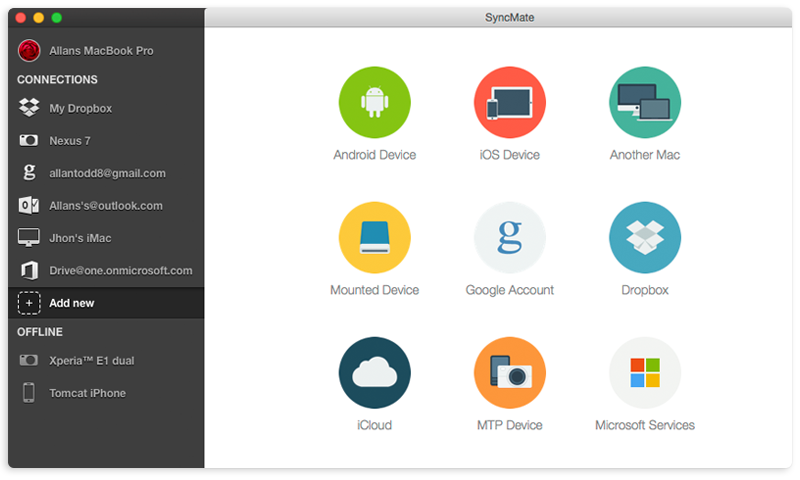 This is an app developed by Wondershare primarily as a phone manager but it can handle synchronization tasks. To effectively use TunesGO to transfer media files from Android to Mac and vice versa, you need to root device to Mac. Once that is done, you will have full access to your files on the Android device.
FACTS: TunesGO allows you import, install, backup Android apps in batch, and uninstall at will. You can also manage your contacts, SMS and backup media files with TunesGO.
Non Sync functions: The non-sync features of TunesGO is practically the same as it's the main function which is file transfer. You can't sync data like files, personal data but you can transfer them using TunesGO.
doubleTwist is one of the best apps to sync mac with android and it's also capable of handling your media files sync and manage tasks. doubleTwist has an Android client that basically functions as a sync tool, data backup app, and media file organizer.
FACTS: doubleTwist sync media files only. If you want to sync contacts, calendars, files or manage Android folders on Mac, then consider SyncMate or TunesGO.
Non Sync functions: There is no non-sync function of doubleTwist worth mentioning here. Nevertheless, this app is convenient, intuitive and very easy to use.
Android File Transfer for macOS and Android
This is a native utility for file transfer developed by Google to serve as a bridge between Android devices and Mac. Android File Transfer is absolutely free but then it comes with a lot of deprivations if compared with the SyncMate and TunesGO.
FACTS: Android File Transfer can't sync personal data, lacks the ability to transfer several files on the go. The queuing of files during transfer can be frustrating because if you need to transfer several videos, you'll have to wait for each of them to be moved before starting a new transfer.
You also have to be tech savvy to use or navigate the interface
Dukto R6 is a simple and miniature file transfer utility that can transfer data over LAN.
FACTS: It supports Windows, Mac, Android and Symbian devices. File transfer is the only function it offers.
Non-Sync functions: It doesn't have sync option either. It only transfers files between Mac and Android devices. Most users like Dukto R6 for it's simple to use interface.
Droid NAS is another example of a simple app that is capable of file transfer in our list of best apps to sync mac with android. With Droid NAS, you can mount your Android device on Mac.
FACTS: You can access the Android device mounted with Droid NAS and work with the SD, Camera, Downloads, Music, and Photos. It can't sync personal data like contacts and calendars.
Non Sync functions: Droid NAS transfers files only, it doesn't sync them.
Cloud services for macOS and Android
All the apps reviewed above transfer or sync data directly between Mac and Android devices. Cloud services, on the other hand, doesn't offer the possibility of direct synchronization. These cloud services offer an intermediary storage system between Mac and Android devices. To sync data via these cloud services, you need to sync data from Android to cloud storage and from cloud storage to Mac after that, and vice versa. Though it sounds like it's a long process but in reality, it is not. They are popular and quite simple to use. We choose the best three.
It provides users free storage space for folders with files. To use it, you simply register an account with the service, upload your files to your account, then sign into your account from your Mac or Android device to access the uploaded files.
Dropbox also offers the possible to access and share data you uploaded with other people (even if they do not have a registered account with Dropbox).
However, you cannot sync personal data with the service, you can simply backup your data for later access from an Android or Mac device.
Shares some similarity with Dropbox that includes cloud storage space and file transfer. You can transfer the content of your SugarSync storage space between your Android and Mac devices at will. The synchronized files can be remotely deleted from the devices in the event of theft. However, SugarSync cannot synchronize personal data.
This is a cloud storage service developed by Google to facilitate seamless synchronization between Mac and Android devices. With Google Drive, you can transfer files to and from Android and Mac devices. It doesn't just work with files like Dropbox and SugarSync, it also works with contacts and calendars.
Now that you've gone through our list of the best apps to sync mac with android, it's time to make a choice and start syncing immediately. Thanks for reading and choose wisely!
SyncMate Expert
Requirements: OS X 10.8.5+ ,
53.1MB
free space
Version
7.2.407
(
17th May, 2018
)
Release notes
Category:
System Utilities