Best apps to sync
Moto smartphones
Android smartphones and Mac computers are developed by two completely different corporations - Google and Apple respectively. They are not really meant to work with each other. Nevertheless people around the world working on their trusty Macs don't hurry to buy iPhones, they prefer Android phones instead. And even if though the match is not ideal, people still need the data to be synced between their phones and computers.
There is no native solution developed by Apple to sync Mac with Android phones, however there is an app called Android File Transfer developed by Google. The idea of the app is great, however it hasn't been updated since 2012 and never offered enough functionality. The interface is not easy as well. We have looked into various third-party solutions that are aimed to help with data sync between Mac and Moto smartphones that run on Android and here are some that should help you.
Our top list of apps to sync Moto smartphones with Mac

It comes first in our list not by accident. This is our top choice for syncing Moto smartphones with Mac computers. This versatile app has a lot of syncing options to offer as well as non-syncing ones. It doesn't just transfer data - SyncMate offers a true sync for your Moto device's contacts, calendars, music, playlists, folders with files, bookmarks, and more. Your Moto device can be mounted as Mac disk, and you can manage SMS messages and call history on your computer screen. SyncMate also supports many other devices additionally to Android phones for a multidimensional sync.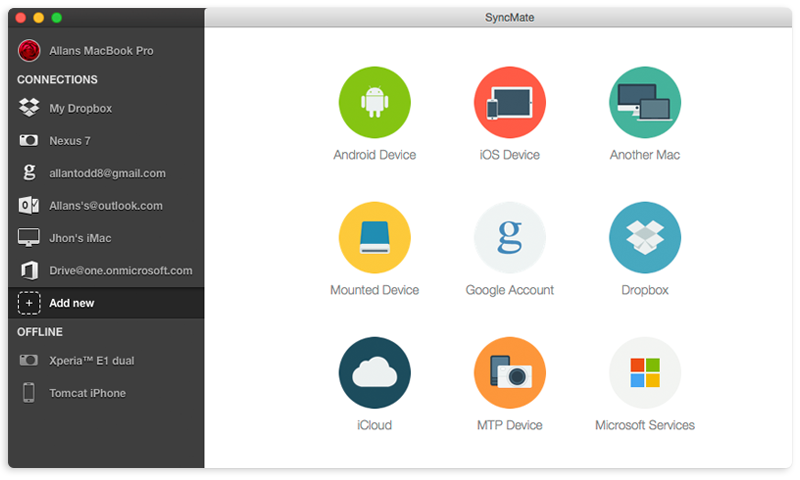 With Droid NAS your Moto device appears as a Bonjour computer in your Finder and you can share folders over the network. It makes working with SD card, Camera, Downloads, Music, and Photos folders easy. This is a file transfer app, it doesn't truly sync your content and it doesn't work with personal data like calendars and contacts.
TunesGO by Wondershare offers you full access to your Moto smartphone and can transfer media files between Moto device and Mac. With this solution you can install and uninstall, import and backup Android multiple apps, work with contacts and SMS messages. Also you can create backup files for your media.
It is a file transfer solution that allows you to easily move files around, but doesn't offer true sync to keep data up-to-date automatically. It doesn't work with contacts and calendars either.
Android File Transfer is a native solution developed by Google that is supposed to make data transfer between a Mac computer and mobile device easy. It is a free app so you can freely try it, however it lacks updates in recent years and doesn't work with contacts and calendars. This tool only allows transferring one file at a time, which can be frustrating if you have a lot of them.
A straightforward and simple solution for file transfer. It is available for Windows and Symbian operating systems additionally to Mac OS and Android. Note that this is a file transfer solution, not a true synchronization utility.
Cloud services for Moto phones and Mac computers
Cloud storages are an essential part of our work and leisure, they are always accessible and can store a lot of data. If you use them as syncing assistance it adds one more step, however can be helpful sometimes. Let's review the three top choices we made during research.
Google's Google Drive is a file storage and synchronization power service that additionally to storing multiple types of files also works with calendars and contacts.
Dropbox offers storage, transfer, and sharing options. You can upload your essential data to Dropbox and access it from a designated folder on your device or from its online interface and download online content to your hard drive.
And the third service we'd like to take a look at is SugarSync offering file transfer and sharing with others. In case your computer is stolen you can remove synced files from there with the help of SugarSync.
You can choose one of the solutions to sync Moto smartphones with your Mac depending on your requirements. Hopefully this article will help you find your perfect solution, or something close enough to perfection!
SyncMate Expert
Requirements: OS X 10.8.5+ ,
53.1MB
free space
Version
7.2.407
(
17th May, 2018
)
Release notes
Category:
System Utilities