Best software to synchronize Nexus smartphones
Neither Apple nor Google provided us with any easy way to sync Nexus phones with Mac computer even though this is a combination a lot of people have. For Windows machines the syncing issue doesn't exist and everything can be directly transferred back and forth. The app Google once developed for Mac users - Android File Transfer - doesn't have a lot of features, has a difficult interface, and hasn't been updated since 2012, but is available for free if you are willing to try.
So if you work on an Apple computer and want to sync it with your Nexus smartphone running on Android, you'll need to get a good quality third-party app to keep data up-to-date between the two. As it is easy to get lost while researching the sync apps we've reviewed some of them here so you can choose the one that works best for you.
Get the top software to synchronize Nexus smartphones with Mac

This app comes first on our list for a reason. It offers a vast set of features with great synchronization options as well as non-syncing ones. And when we say synchronization we are talking about the true sync, not just a file transfer, but a real update of data on synced devices. With SyncMate you can sync contacts and calendars, your music playlists, folders with files, web browser bookmarks, and more between Mac and Nexus device. Among additional options there is a possibility to mount your Nexus as a Mac disk, read, create, send, delete text messages from Mac and manage call history on computer with the option to export it to a file. Such a universal app, which also syncs other devices with your Mac, is definitely worth a try.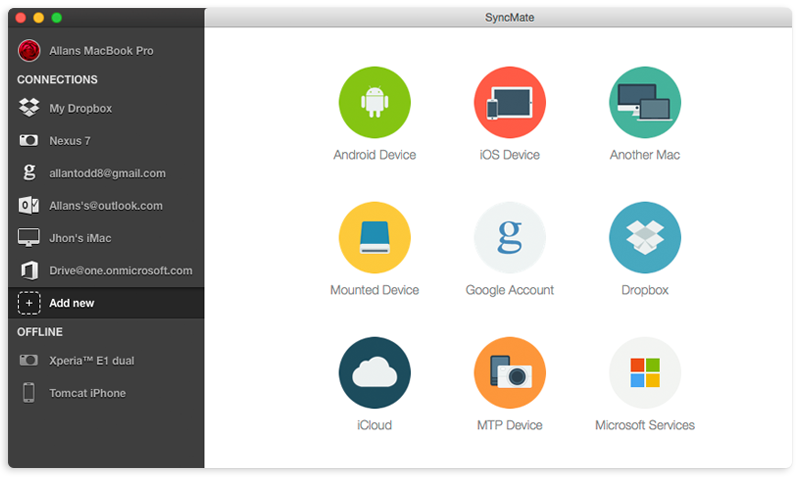 TunesGO is a file transfer app developed by Wondershare. Root your Nexus device to your Mac to get the full access to your mobile files and transfer media files between Nexus smartphone and Mac. Thanks to this solution you can install, remove, import and backup Android apps, backup media files, work with contacts and text messages.
One disadvantage though - it is not a true sync ike previously reviewed app - it will just transfer files back and forth for you, but won't really update data on device when it changes. Sync is not available for contacts and calendar events either.
A wonderful solution with a lovely interface for managing and synchronizing media files between Mac and Nexus devices. However may you need more than just media files sync, you'll need to get another app that will offer more features, like contacts and calendars synchronization.
A rather simple and easy-to-understand solution for file transfer, Dukto R6 also supports Windows, Mac, and Symbian devices. It will not sync data between Mac and Nexus, but will rather help you transfer files between two devices.
As mentioned in the beginning, this utility created by Google is free of charge and you can freely give it a try. However it won't sync personal data (calendar events and contacts) or transfer several files at a time. The latter can be frustrating if you have more than a couple of files that you need to move around. Plus no updates in the recent years.
Another way to keep files at hand between your Mac and Nexus is using the cloud storages. Not a perfect sync solution, as it adds an extra step to the process, but still worth trying. Here are three online storage services that will help you sync Mac and Nexus.
A well-known and reliable online storage service with a certain amount of free cloud space for everyone. You can upload files to your storage from one device and download them on another when needed. You can also share content with others even if they don't have a Dropbox account. It is not a true synchronization solution, rather a transfer and backup one.
Google Drive for Nexus and Mac
Google Drive is very convenient and additionally to files works with contacts and calendars.
Thank you for reading this article and hopefully it will help you find the best solution to either sync, transfer or manage your Nexus data.
SyncMate Expert
Requirements: OS X 10.8.5+ ,
53.1MB
free space
Version
7.2.407
(
17th May, 2018
)
Release notes
Category:
System Utilities