How to capture
serial port data
The serial port is a general name given to RS232 interfaces, which were widely used in telecommunications equipment in the past. When the USB interface was introduced, serial ports were dislodged, remaining mainly in the industrial sector. Today, serial ports are used to connect to a computer a wide range of equipment that is undemanding to the data exchange speed, especially if the device is significantly distant from a PC.
Contents

Why might one need to capture serial port data from a COM port?
Tracking down a problem that might appear during the development stage of the custom application or a driver for a COM device and dealing with it in the shortest time would not be possible without the ability to capture serial data and store it for the later use and analysis.
Unfortunately, Windows does not offer any built into the OS utilities that would help achieve this. So, one would need to resort to help of a specialized serial data capture software, such as Serial Port Monitor that would assist with capturing and examining the data exchange between RS232 devices and Windows applications.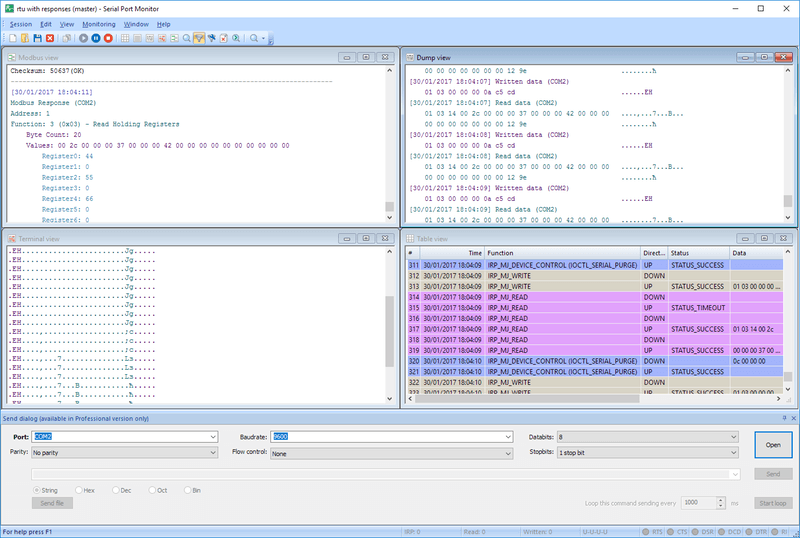 Serial Port Monitor main characteristics
Serial Port Monitor, a software utility produced by Eltima Software to capture serial data, will definitely come in handy with software/hardware debugging and development.
Application key features


RS232 data capture

Capture and view the data exchange between the connected serial appliance and the application which opens the corresponding COM port. The information is collected in real time once the data packets are being transferred.

Monitor lots of serial ports at once

An activity from multiple COM ports can be captured using Serial Port Monitor. Data will be displayed in logs on a first-in-first-out basis, which will be especially convenient for later analysis.

View and export data

Select one from the 5 available view modes: Table, Line, Dump, Terminal or Modbus to display data in the required form. Capture serial data to file to examine it when the most convenient for you.

Send data to a serial device

A built-in terminal will allow you to open/close RS232 ports and send specific types of data to a serial device, what will be an excellent method to check its response to a certain command.

How to capture serial port data on Windows with Serial Port Monitor?

To start with, one will need to download Serial Port Monitor, install and start the application. After that, a new monitoring session should be started:
Select the "New session" option from the "Session" menu. Other ways are to choose "New" on the toolbar or press "Ctrl+N".
Select the COM port to monitor and the visualizers that will be displayed.
Choose, whether you would like to "Start monitoring now" or "Start in new window" for the immediate behavior of a new session.
In "Capture options" specify the events you'd like to capture – Create/Close, Read/Write, Device Control.
Select "Start monitoring" to begin the session.
To save the session, select "Session → Save session/ Save session As" in the main menu. Also, you can click the "Save" icon on the main toolbar or press "Ctrl + S".
Every view can be exported into the separate logs of various formats (HTML, ANSI/UNICODE TXT). Besides, serial data captured from the Table view can be saved to a CSV file and used in MS Excel. To export a view, select the "Export to" option in the view menu on the toolbar.
Serial Port Monitor
Requirements: Windows XP/2003/2008/Vista/7/8/10/Server 2012 ,
9.16MB
size
Version
7.0.342
(
15th Jan, 2018
)
Release notes