USB adapters are protocol converters that can be used to translate USB data signals both to and from other communication protocols. One of the most common uses of a USB adaptor is to convert signals between USB and serial port interfaces. Though adapters are available for the older RS423 serial protocol these are not commonly in use today. The most common use of USB adapters is to convert serial data employing the RS232, RS485, RS422, or TTL-level UART protocols.
Contents
The FTDI chip is in widely used in the manufacture of USB to serial adapters.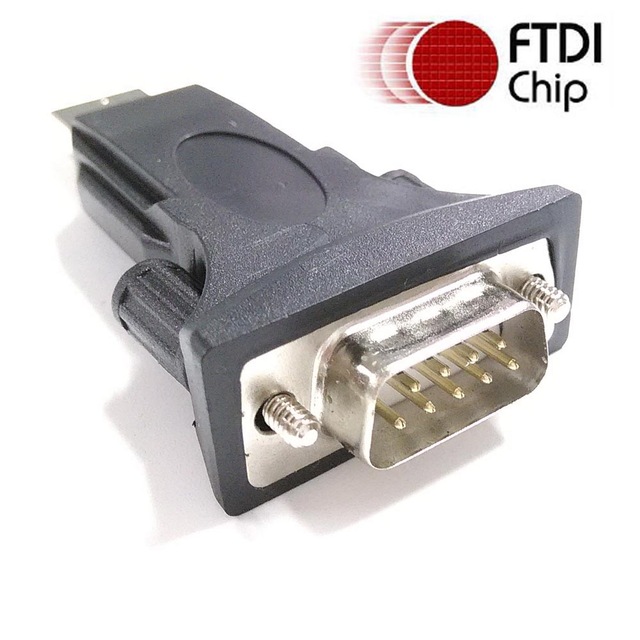 What is an FTDI USB to Serial adapter
FTDI is an acronym for Future Technology Devices International. This private semiconductor manufacturing company, located in Scotland, specializes in USB technology. They specialize in the design, manufacture, and support of FTDI USB to serial adapters for TTL and RS232 interfaces. USB to serial adapters from FTDI allow older peripheral devices to be used with modern computers that are not equipped with serial ports.
Chipsets capable of converting RS232 port data to signals understood by the Universal Serial Bus (USB) protocol are manufactured by Future Technology Devices International for use in USB slave adapters.
At the heart of each FTDI adapters a USB micro-controller that communicates with USB using a proprietary protocol and then converts that transmission into standard UART signals. This communication works in both directions.
The Scottish electronics manufacturer's USB to serial converters are extremely popular and are employed for a variety of uses such as in USB chip card readers, standard USB to COM converters, industrial control devices to name a few.
An example of a device which uses the FTDI converter is the FT232R, the company's latest model of FTDI USB RS232 adapters. Its advanced features include optional clock generator output, proprietary dongle security capabilities, and async/sync bit bang interface modes.
There are many instances where you may need network access of an FTDI USB serial adapter using a LAN/WAN/IP protocol. Perhaps an FTDI to USB converter has been incorporated into a dongle or smart card reader that you use daily and you need to create a remote connection to it from your computer.
How to use FTDI USB to RS232 adapter
Connect a cable to both a USB port and the serial port device
Install USB to COM converter software
Manage settings to begin using the USB to serial adapter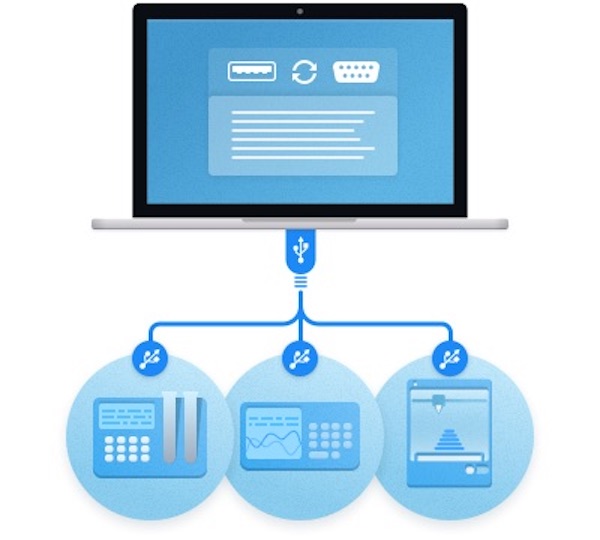 Software USB to Serial converter - FTDI alternative
This solution eliminates the need for extra hardware or long cables! You can enact flawless communication between USB equipment and serial applications with the advanced software solution of USB to Serial Сonverter. This specialized software application converts USB data transmissions into serial signals. USB to COM Сonverter was developed to enable computers with USB ports to communicate with serial devices and applications. It uses an existing USB interface to create a virtual serial port.
This advanced software package lets you equip your machine with virtual serial ports enabling communication with physical serial devices and interfaces. It is the perfect solution for developing secure communication between the USB and RS232 interfaces. The program is easy to install and gives you cross-platform connectivity and flexibility when you need to convert USB to serial data.
Eltima's USB to Serial Converter is the simplest method of converting USB to COM data. It is a great FTDI adapter alternative that requires no additional hardware or drivers.
Conclusions
In situations when you need to convert USB to Serial signals, you seek for the solution. And the most simple here is to use the adapter, like FTDI USB to RS232. But there are cases when you don't have an opportunity to use the hardware, so the software solution from Eltima seems to be a good alternative to FTDI USB to Serial adapter. All cases are unique, and you are free to choose the solution you need.