HDMI over Ethernet Extender
A connection between an HDMI device (a DVR / Cable, a Blu-ray player, an HD Cable Box, or any other) and a secondary HDMI screen is usually done with the help of a standard 25 ft HDMI cable. To get all the components work over longer distances, you'll need an HDMI extender over Ethernet, which is capable of transmitting high-def signals up to 330-feet away.
Contents
An HDMI Extender, using a sender/receiver system, is able to convey the commands of your IR remote control or even realize USB and RS-232 signal sharing.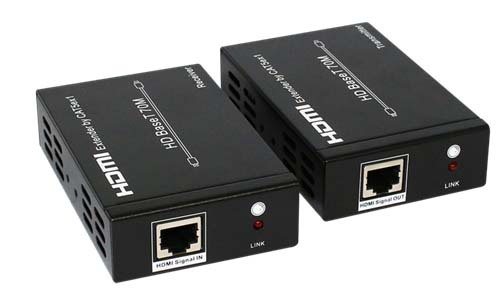 As is known, a high quality solid cable (Cat5e, or Cat6) provides optimal performance, transferring HD content over long distances. A Category 6 twisted pair cable consists of solid copper alloy wires, which offer better conductivity than a regular stranded type and thus enhance the signal transmission speed.
How to share your HDMI compatible device via an HDMI cable
If you've been looking at ways to extend the display of your PC onto another screen, why not try an HDMI option, probably the simplest solution out there? Getting your PC display shared over an HDMI cable doesn't seem that difficult as long as you have a clear step-by-step instruction. Here's how it works.
As a first step, attach one end of your HDMI cable to the corresponding port on the computer to share. Then, connect your PC to an external display with the other end of the cable. After that, turn on the external screen and set it to the HDMI source input. Please note that at this stage you might need to consult a user manual in order to make sure you adjusted all the settings right.
Steps to extend HDMI over IP
Now, since you're done with selecting the HDMI source on your external screen, you'll be provided with different options, which vary, depending on what type of the output device you use and what software you run on the PC. There are, however, some most common selection options:
Use a secondary screen as the only source to display your PC image;
Make the image from your computer only available on the PC's screen;
Duplicate your computer's screen on both displays.
Therefore, you'll be able to choose the option which is the most suitable for your current needs. It's also worth noting that it may be needed to adjust the external screen resolution so that it will match the aspect ratio of the picture shown.
If you find yourself in a situation that a regular HDMI cable is not long enough to get the required equipment connected, HDMI TCP IP extender will help you resolve this issue. With an HDMI Extender Kit, including a Transmitter and a Receiver connected together with a solid Cat 6a cable, you'll be able to transport a pure HD signal up to 228 ft away. One of the best things about it is that no additional drivers are required, you can get it going just with any operating system.
There's also another efficient method you can use in case you find it rather inconvenient to run long and expensive HDMI cables. If you want to cut down on all that cord clutter amassed in your room, a good idea may be to buy a wireless HDMI tool. A wireless HDMI extender is suitable for any devices providing HDMI compatibility. An HDMI to LAN extender will make your task much easier, enabling you to connect your HDMI supported devices over longer distances without any cables or wires.