How to analyze COM port activity
What is COM port and why monitor it?
Serial port is an interface for serial communication, in which only 1 bit is transmitted at a time. Serial ports are typically identified as COM (communications) ports. With the introduction of USB and other faster solutions serial ports are used less when compared to how often they were used in the past. However being used in industrial automation systems, scientific instruments, network-enabling and lab equipment, as control consoles for diagnostics, etc. they are here to stay.
Working with serial devices requires to regular monitor and analyze serial port activity. You might need to see data sent and received by RS232/422/485 ports (events from the apps, their status, etc.). This allows you to track down a problem if there is any; it is also extremely handy when you are setting up equipment.
Unfortunately to analyze COM port Windows OS does not offer any special tools. However no need to worry, there is special software that can monitor, check and analyze COM port activity.
Serial Port Monitor – Software to Analyze Serial Port Activity
Serial Port Monitor is a serial port analyzer developed by Eltima Software. It enables monitoring, displaying, keeping logs and studying RS232/422/485 COM ports activity. There is a convenient way to track down problems that may arise when developing an application or a driver, testing and optimizing serial devices, etc.

This convenient tool to analyze serial port activity allows you to:
Connect to a COM port already opened by another application and start monitoring it right away. Our COM port analyzer will display in real-time all data received by the COM port, so any possible problem can be tracked down immediately.
Monitor several COM ports simultaneously. Within one session you can analyze remote COM port activity – two, three or several of them – concurrently. Data received and sent is recorded in a single log on a first-in first-out basis; this makes it more convenient for analysis.
View data in a table, line, dump and terminal view mode at the same time. Each of the four monitoring views provide a different way to represent recorded data. You can choose filters for monitoring, so you only see the data for the events you are interested in.
Emulate sending data to a serial device. To do that, use Terminal mode feature of Serial Port – it will enable you sending data on behalf of monitored application, various formats (string, binary, octal, decimal, hexadecimal, mixed) are supported. You can thus check how the monitored serial device reacts to specific commands and data.
Fully supports Modbus RTU and Modbus ASCII protocols.Serial Port Analyzer is equipped with new and efficient filters that will help in the reading and analysis of Modbus data. Our software to analyze serial ports opens up the possibility of easily establishing connection with RS485/RS422/RS232 devices, as well as makes it possible to analyze their data.
Playback and session comparison. With COM Port Analyzer comes a unique session playback possibility – the data received from the app can be sent back again to the serial port. This way it becomes easier for you to review the behavior of the port as it receives the same data for more close monitoring results. Also, sessions can be compared with automatic display differences that exist between them.
How to analyze COM port activity using Serial Port Monitor?
First of all, download Serial Port Monitor, install and launch it. Then you need to start a monitoring session, this is how you do it:
In Serial Port Monitor window displayed go to the Main menu, choose Session -> New session. Else, you can click 'New' icon on the main toolbar or press 'Ctrl + N'. This will invoke 'New monitoring session' screen.
Select view modes you would like to be displayed during your monitoring session:
★ Table view – recorded IRPs are displayed in the form of table
★ Line view – requests passed through a particular serial line are displayed along with details
★ Dump view – shows data passed through the serial line
★ Terminal view – all received data is displayed in ASCII characters on a text console.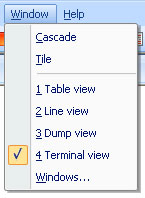 You can utilize 'Select all' and 'Select none' buttons to simplify things.
Choose, whether you would like to 'Start monitoring now' or 'Start in new window' for the immediate behavior of a new session.
In 'Capture options' specify what events you'd like to capture – Create/Close, Read/Write, Device Control.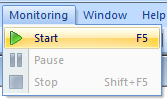 Click 'Start monitoring' to activate the session. This will display a new monitoring window.
To save the session, in the main menu select 'Session -> Save session/ Save session As'. Alternatively you can click 'Save' icon on the main toolbar or press 'Ctrl + S'.
Name your session to identify it when you go back to it for analysis data.
Serial Port Monitor
Requirements: Windows XP/2003/2008/Vista/7/8/10/Server 2012 ,
9.16MB
size
Version
7.0.342
(
16th Jan, 2018
)
Release notes
Category:
Serial Port Software