7 Best macOS iTunes alternative apps
iTunes is the top media playback and management app on macOS computers. It is the essential part of every Mac toolbox and all users enjoy having it at hand. iTunes plays many roles, it is a player, a music store, podcast manager, and a jukebox.
However there are drawbacks even in this otherwise perfect piece of software. The large issue is the lack of ownership in digital media. However the most disliked one is the fact that iTunes gets bloated and slow, because of too much stuff packed in one software. So those who want more than iTunes can offer, search for a high-quality iTunes replacement for Mac. The usual requirements for such a replacement are pretty straightforward: something easy to use, play all our music, have a good media library. So based on requirements like this we've rounded up 7 best iTunes alternative Mac apps in our opinion.
Elmedia Player Service for Mac
Elmedia Player is a super versatile media player that can play pretty much any format and serves as a great music player as well. It promises smooth playback for any format it plays. Additionally to its high standards of playback, Elmedia can be a powerful music downloader and AirPlay streamer and receiver. The latter features are available in PRO version of the player that costs one-time $19.95 fee.
When you are listening to music in Elmedia, there is headphone virtualization that makes the sound realistic and dimensional; graphic equalizer for altering the sound to perfection; search through playlists; and more. When listening to audiobooks and podcasts, you can resume playback from where you stopped it.
Elmedia Player PRO can extract MP3 files from YouTube videos or download a complete YouTube playlist in MP3 format.
Swinsian Service for Mac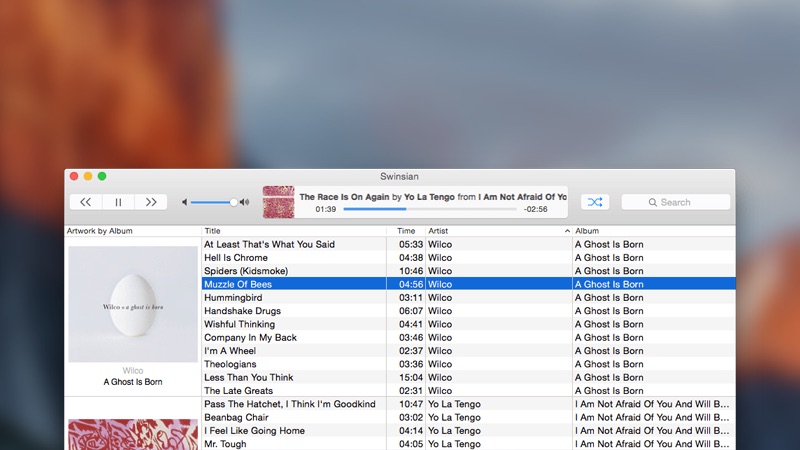 Swinsian is an app like iTunes that supports a large number of different formats. This player has a layout very similar to iTunes and syncs with iTunes. Playlists are on the left side, the metadata and tags are on the right, just like in iTunes. Swinsian can connect to your Last.fm account and automatically detects AirPlay ports. This app is free for 30 days, and if you decide to keep it after 30 days - buy it for $19.99.
Clementine App for Mac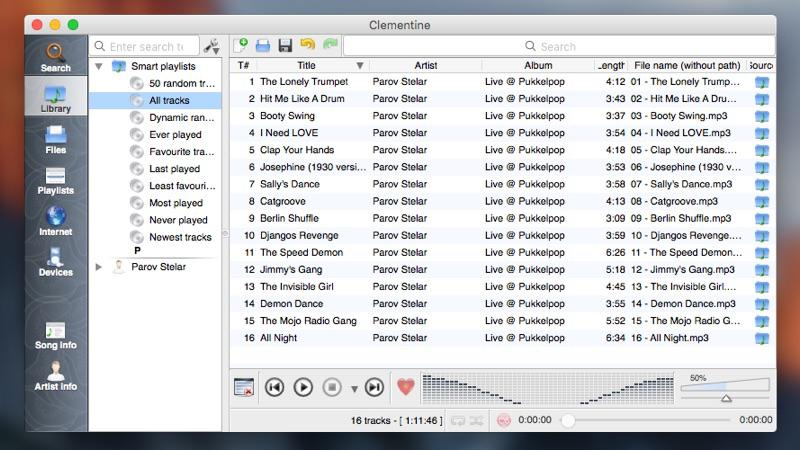 Clementine is a cross-platform, open-source app that can play audio CD, MP3, OGG Vorbis, FLAC, etc. It can look for content in your local library, your Dropbox, Google Drive, OneDrive, and Box. Also Clementine supports a number of Internet radio streaming services.
Offering great tagging tools, album artwork, equalizer, lyrics and podcast support, this is a powerful app indeed.
VOX Service for macOS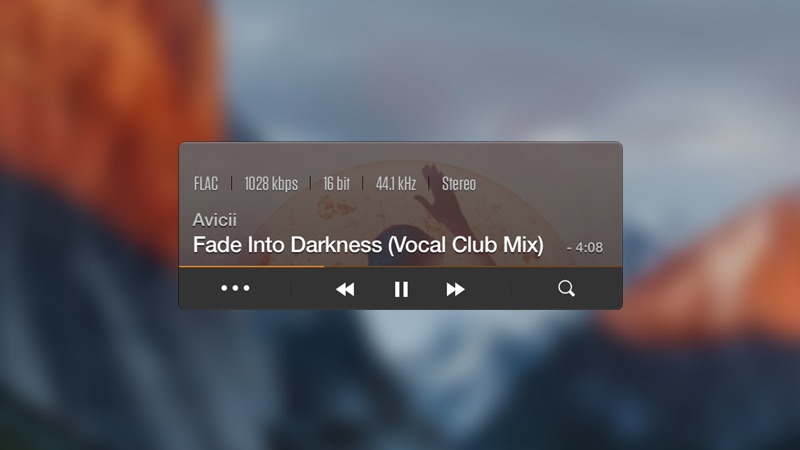 Vox is seemingly simple with its mini interface just like Winamp (if you remember that one), however it is fully packed with all sorts of useful features. It allows you to import your iTunes and personal library, and integrates with SoundCloud and YouTube. You can enjoy its gapless playback, equalizer, AirPlay and Sonos supports. Vox can be used with your Apple EarBuds, allows creating playback shortcuts, and works with your Apple TV Remote. The sounding is deep and great quality.
Ecoute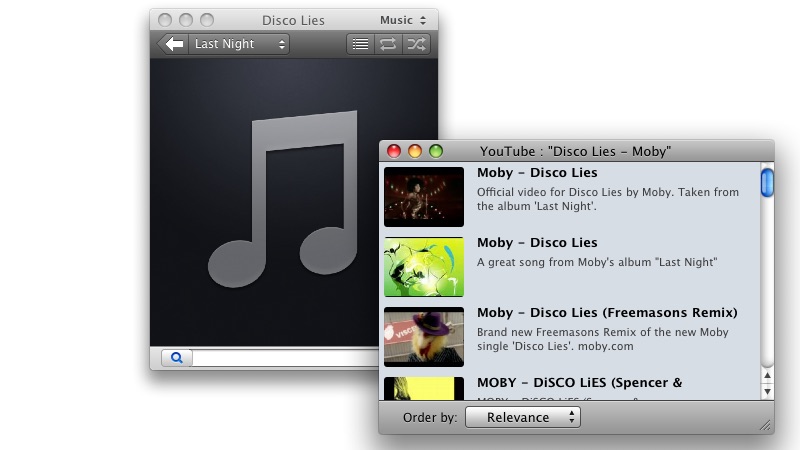 Ecoute is a lightweight media player for macOS with a standout interface, with some elements only available on larger screens. It can automatically detect and import your iTunes library. Offers an always-on-top widget with constant playback notifications, connects with your Twitter, Facebook, and Last.fm accounts. Ecoute is also available for iOS devices.
Fidelia Service for macOS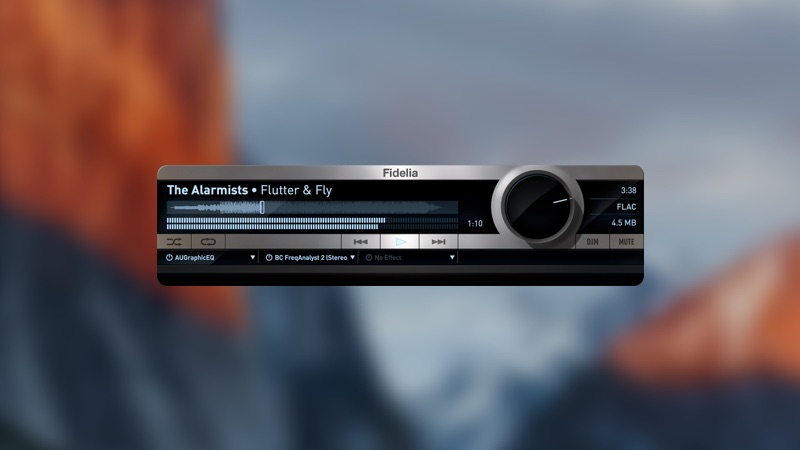 Fidelia supports all HD audio formats and has a large set of audio tools to offer: CanOpenerTM headphone processor, Good DitherTM and sample rate converter from Goodhertz. The interface is somewhat resembling of a cool radio showing current track's waveform and offering three special effect channels. Supports AirPlay.
Tomahawk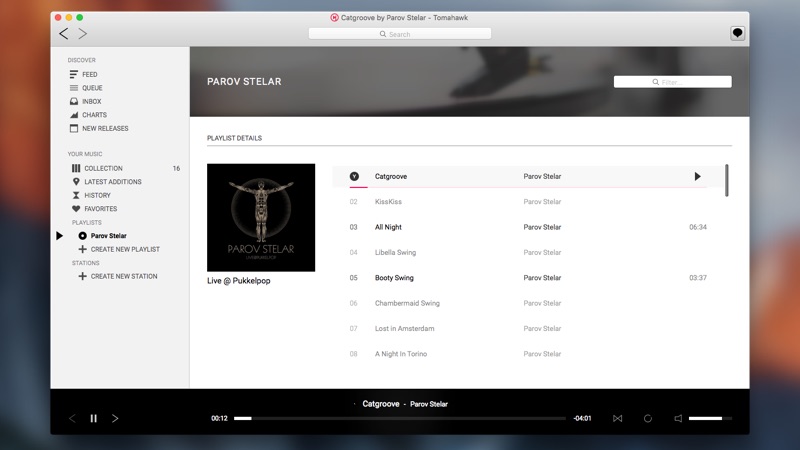 Tomahawk is really good at managing media and supports many OS types. It can connect to your account at Soundcloud, Spotify, Last.fm, and network servers if there are any to play any song that you may be interested in at any given moment. You can share what you are listening to right now on Google, Facebook and Twitter. Tomahawk also gathers all artist and track info for songs it is playing.
This is a brief overview of free alternative to iTunes. Of course each of the above apps has more interesting features to offer that we could fit in here. Test them out, find the one you enjoy the most and have fun with your music!
Elmedia Player
Requirements: OS X 10.7+ ,
36.64MB
free space
Version
6.9(1118)
(
12th Nov, 2017
)
Release notes
Category:
Video