Best apps to sync Android Lenovo phones
Android phones and Mac computers are the products of two different corporations - Google and Apple. So they are not really meant for each other. That, however, doesn't stop people around the world from getting Android phones, while enjoying the functionality of Mac desktops and MacBooks. And even if the match is not perfect, the data on both devices still needs to be synced.
As there is demand, you would think there would be a native solution by either of corporations, but there is only one - Android File Transfer - that unfortunately has not been updated since 2012 and just doesn't have enough functionality. In such case you'll need to look for a high-quality third-party app that can help you sync your data between your Android Lenovo phone and Mac computer. We've done some research and reviewed our top choices for Mac and Lenovo data sync.
Our top list of apps to sync data between Lenovo phone and Mac
This one is in the first place in our article because of its impressive versatility and vast feature list. SyncMate can sync data on your Lenovo device as well as let you do some efficient management. This is not just file transfer and backup sync, this is the real sync SyncMate offers, when both sides have up-to-date data without you transferring files back and forth.
SyncMate lets you sync personal data like contacts and calendars between Mac and Lenovo phone, and also music, playlists, folders full of files, browser bookmarks, etc. You can easily mount your Lenovo as Mac disk, read, create, send, and delete your text messages from computer, and work with your call history on a computer screen. SyncMate supports other types of devices and services additionally to Lenovo phones, so you can easily sync your data that you have in multiple locations.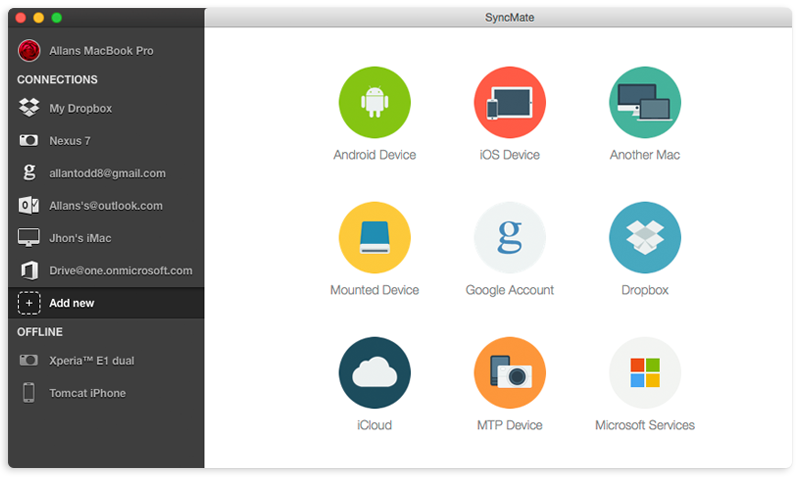 doubleTwist Sync for Mac is a fully featured app with a nice interface for your Mac media sync to your Android Lenovo device. With this app the media files are well organized, synced and backed up. The only thing is that this app will only sync media files, so in case you need other types of data to be synced, you'll need an app with a wider feature spectrum.
The app that is created by Google specifically for file transfer between Mac and Android device is unfortunately not being updated in recent years and has a very limited functionality. An app like this that is free sound really great, however it can't sync personal data and doesn't transfer more than one file at a time, so you'll have to wait to start transferring each new file.
With this service your Lenovo device will be visible as a Bonjour computer in Finder. Sharing folders over network is easy with its intuitive interface. Work with SD card, Camera, Downloads, Music, and Photos folders. However this app doesn't support personal data, such as calendars and contacts. This app transfers the files great, however it is not a real sync of the data in the files, it is rather a regular file transfer.
An alternative to syncing or file transfer apps would be using cloud storages. This does add an extra step in every file transfer you want to perform though.
Dropbox is a popular online file storage solution that offers a generous size of free space for storing and sharing of your files. It also promises even more free storage when you invite friends to use this service. You can save your files and folders in Dropbox folder and then access it from your Mac or Lenovo to download updated content. Also not a true sync solution, rather file transfer through the cloud storage.
Next one we tried is SugarSync - a neat solution for transferring files and sharing them with other people. We like the option of removing of all synced files in case your computer gets stolen.
Unfortunately, neither Dropbox nor SugarSync offer calendars and contacts sync. If you need to sync this personal data, try Google Drive. It will not only upload files but will keep your contacts and calendars safe.
Depending on what data you want to sync between your Mac and Lenovo phone we are sure one of the reviewed solutions will be of great help. Although you have to remember there is a difference between synchronization and data transfer.
SyncMate Expert
Requirements: OS X 10.8.5+ ,
53.1MB
free space
Version
7.2.407
(
17th May, 2018
)
Release notes
Category:
System Utilities