The list of best apps to sync Mac in 2018
If you own a Mac, various portable devices and cloud storage accounts chances are that you are wondering how to keep all of them in sync. This can actually be a challenge if you don't have the right sync tool. For every Mac user, synchronizing Mac with key applications like iCal, iTunes, Address Book, photos, and other data is very important. There are hundreds of third party sync apps available in the market now however, not all of them can directly sync Mac apps with other devices online and offline. That is why we came up with this list of apps to sync mac so it can help you in decision making.
List of 7 most popular Mac synchronization software.

SyncMate is on top of the list because it is an expert application in Mac synchronization. It has the ability to sync online accounts, numerous portable devices with any Mac computer.
Supported platforms, devices, and accounts include Android devices, iOS, Mac, MTP and other mounted devices. SyncMate also supports iCloud, Dropbox, Google, Outlook, Office 365 Home and Business accounts including OneDrive.
Sync preferences: SyncMate can sync media files and folders with personal data. When compared with other sync tools, SyncMate came out on top because of its extensive reach. It offers non-sync options like mounting devices, SMS management, etc.
FYI: SyncMate is the only app on the list can keep accounts and devices in sync with Mac apps directly without the need to use cloud sync. This way it keeps your data in sync and at the same time deal with privacy concerns of using cloud services.
Download for FREE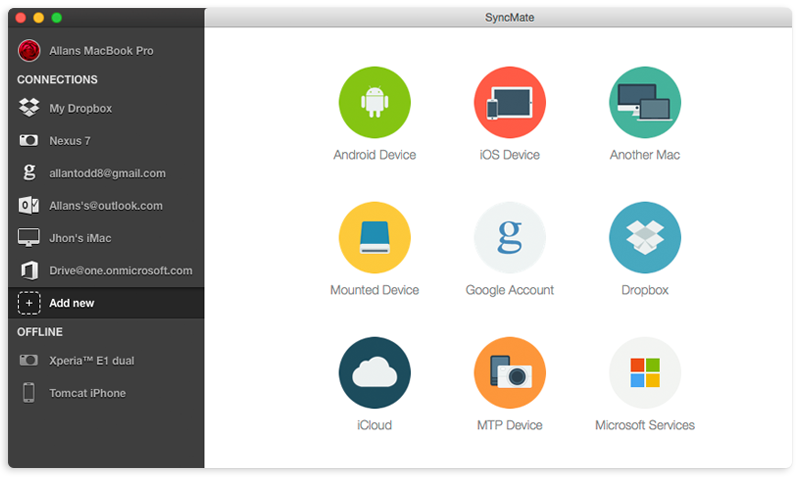 ChronoSync is second on the list of apps to sync mac but it can also backup and restore data.
ChronoSync exclusively supports Apple devices. The only synchronization supported is between Mac and iOS devices. SyncMate or GoodSync are viable alternatives for you if you have other non-Apple devices to sync.
Sync preferences: ChronoSync can comfortably sync any file type thrown at it between Apple devices. It doubles as a backup and restore tool dealing with backups like local, remote, bootable, and even remote bootable backup.
FYI: If you exclusively use only Apple devices, then ChronoSync will be a perfect tool for you. However, if you have other non-Apple devices that you need to keep in sync with your Mac then consider SyncMate or GoodSync. The Apple to Apple device sync option of ChronoSync can be done without any third party participation.
When you hear the name Synchronization! PRO you assume it is a tool for synchronization but in fact, it is a backup and restoration app.
Sync/backup preferences: Synchronize! PRO can backup Mac data to a file server, FireWire disk, and PowerBook and keep files on both ends up to date with bootable backups to a disk image over a Network. You can schedule backup time or set it to happen automatically.
FYI: Synchronize! PRO is arguably the best tool for data backup and restoration. To keep your Mac in sync with other devices? Then think SyncMate.
GoodSync can sync folder to folder, backup and restore data.
Supported accounts and devices include computers, mobile devices, FTP, S3, GDocs, SkyDrive, DAV, and so on. It supports automatic synchronization of a file on a Mac with any computer, drive, or portable mobile devices. It can also backup data on drives, devices to FTP, S3, SkyDrive and so on.
Sync preferences: GoodSync can only sync folder to folder. It cannot sync a folder with Mac apps like iCal, iTunes or even photos. It can sync folders among supported devices and accounts.
FYI: Set aside the unimpressive sync options, GoodSync would have been competing at the top with SyncMate for the synchronization software to use. Noteworthy is the inability to sync contacts, calendars or interact with inbuilt Mac applications.
Online cloud services to sync Mac
The online cloud synchronization services on this list of apps to sync mac are the popular services among various cloud synchronization services. The good news is that you can access data store with them from any device as long as you are connected to the internet. The not so good news is that there is no direct interaction with Mac apps like iTunes or even synchronization of data like contacts or calendars. We selected iCloud, Dropbox, and SugarSync.
iCloud This is Apple's cloud storage platform for all Apple devices. You can store and manage personal data in iCal, Address Book, and so on directly from your iCloud account. However, it is only available for Apple devices.
Dropbox This is the most popular nonplatform specific cloud storage service. Users choose Dropbox because it offers free cloud storage space. It also allows sharing of stored data with others even if they don't have a Dropbox account.
SugarSync Similar to Dropbox but less popular. It provides cloud storage space for data and folders transfer. The stored date can be shared or removed from all device in the case of loss or theft. It supports all major platforms.
Thanks for reading! Leave your comments and let us know which app in the list you are using and your experience.
SyncMate Expert
Requirements: OS X 10.8.5+ ,
53.1MB
free space
Version
7.2.407
(
18th May, 2018
)
Release notes
Category:
System Utilities