How to share USB external hard drive on a network
Whether you want to extend storage space on your PC, smartphone, gaming console, etc. or just need to backup your sensitive data, an external USB hard drive will be a big help to you. This great USB-based solution with high storage capacities can be easily connected to your computer via a USB port. By simply moving your portable device from one machine to another, you can share large files between different computers. What is more, in this article we'll tell you about three efficient methods how to share hard drive over the network.
Common problem – you need to connect an external USB hard drive to several computers in the network (Wi-Fi/Ethernet/LAN/TCP/IP). All computers need access to the contents of the disk, but you cannot attach the device to each of them. How to share external hard drive over network? Let us have a look at some of the solutions.

Software solution to share USB storage over Network
Eltima Software offers a convenient solution to this problem - USB over Ethernet, a software application that enables you to share USB storage over network.
This can be done in just a couple of steps:
Download and install the app - on a computer to which a device is to be connected and all machines that need access to the device.
Connect a drive to the computer via USB port.
Launch USB Network Gate and share hard drive over network via its interface.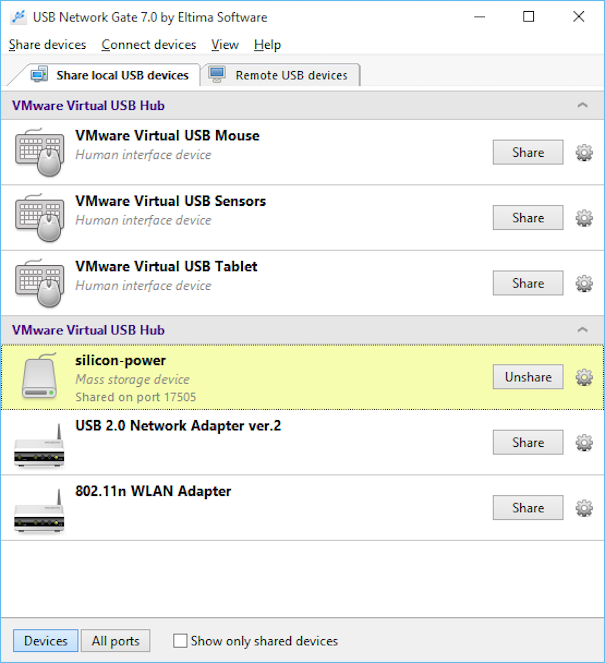 These are the main advantages offered by the app:
★ Remote access to USB devices regardless of their physical location

★ Work in virtual environment and RDP sessions

★ Citrix ICA protocol support

★ Per-user session – a USB device can be shared only with a certain user over RDP, and other users will have no access to it.

★ Cross-platform solution – works with Linux, Mac, Win, Android

★ No additional devices required
Share storage through a high-speed USB cable
You can share USB external hard drive over network with the help of a high-speed USB cable. USB 2.0 solution provides the following functionality:
Share and transfer data between two computers via USB port.
The speed of data transfer can be over 15 Mbps, and thanks to dual buffer the data can be transferred in both directions.
Work in Mobile PC and SOHO environment.
Make use of advantages offered by single chip ASIC Hi-Speed USB host to host communication and bus powered from a port.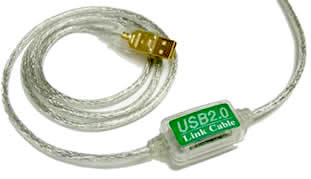 The solution is compliant with USB specification v. 1.1 and 2.0.
Overall, USB 2.0 seems to be a good solution to share USB drive over network, but since you are limited by the cable's length, it is unlikely you can use it for sharing data between multiple computers that are not located in proximity to each other.
How to share USB hard drive over Wi-Fi
One more way to share USB storage is to map it as a network external hard drive over Wi-Fi. First locate it in the router settings – open a browser on a computer connected to a Wi-Fi network, type in the router's IP address, it usually has a format like 192.168.1.1. Login using your credentials, go to Settings and find 'Drive storage' tab or section. Right-click on the drive you need and choose 'Map network drive' in the context menu displayed. Give your drive a name to identify it easier, and check 'Reconnect at sign-in' option. Once you are done with the setup, click 'Finish'. You might have to restart your PC or laptop to see the storage drive.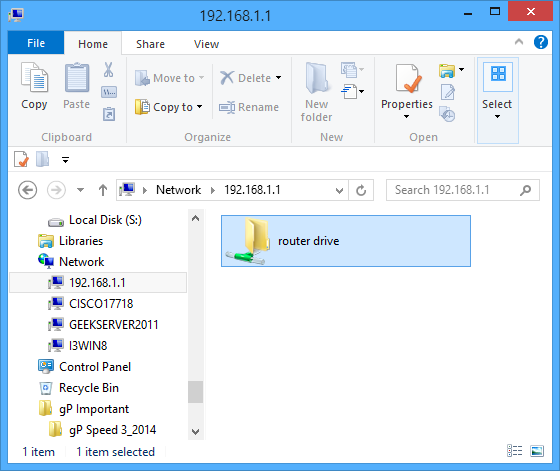 This solution is quite convenient and requires no cables or additional hardware, but it is limited by the network availability, unlike Eltima software solution – it allows you to share external hard drive over Ethernet, Internet and other networks. You are not restricted to the area covered by Wi-Fi signal.
All said and done, our take would be USB Network Gate. This seems to be the most convenient way to access remote USB external drive as it is not restricted to the network area and does not require additional equipment.
USB Network Gate
Requirements for Windows: XP/2003/2008/Vista/7/8/10, Server 2012
Also available on macOS, Linux OS and Android ,
5.62MB
size
Version
8.0.1859
(
4th Nov, 2017
)
Release notes
Category:
Networking Software