How to share USB Hub over Ethernet
What is USB Hub?
When a USB hub is mentioned what comes to mind is USB port expansion. This is because a USB hub can expand a single USB port into several ports thereby making more ports available for devices to connect to a host system.
Just pick up a new laptop now, for instance, an Ultrabook, you will notice a dearth of USB ports and this can be frustrating to how you use your USB devices. A typical example is the modern Samsung laptop that has just two USB ports, that is a mouse here and an external hard drive there, and you have no more ports.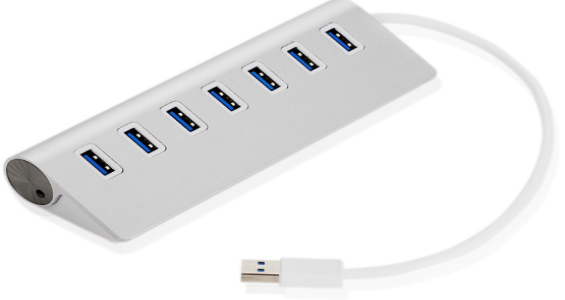 The good news is that there is a way to add extra ports with a USB hub and this makes your expansion options practically endless. However, it comes with a distance limitation like any other hardware solution.
The most interesting news here is that you can access this USB hub over a network. That is to say, you can connect to this USB hub over Ethernet. Are you surprised? That's because you didn't know before now.
You see, USB hub can expand the Port capacity of your computer but you will only access these devices from the local computer that is hosting them. Making it impossible to freely use your devices from different computers and or locations. so imagine the opportunities a remote USB hub access from anywhere in the world can bring to your business.
How does it work?
Let us imagine your computer doesn't have enough USB ports and for that, you use a special hub. You connect to this hub all the necessary USB devices that you need like printer, mouse, flash drive, USB dongle, and other devices.

To be able to work with one of the devices from a remote computer you need to unplug it from the hub first to plug it into the USB port of the remote computer. If there is no such possibility, then there is a need for remote access via a network (LAN/WAN/Internet) to the device connected to the hub. This can only be possible using an additional software.
Using USB over Ethernet Connector from Eltima you can provide access to the USB hub over IP and make it available to other users without them moving an inch closer or away from the device. In other words, your computer can share USB hub between two computers from around the world.
Follow these simple steps to start sharing USB hub:
Download and install USB Network Gate on the computer that will share the USB hub (server), plug in your USB Hub into the computer (server) then launch the application. Now all devices connected to this Hub will appear in "Share local USB devices" tab. If you want to share one of them, you need to press the 'Share' button in front of it.
On the remote computer's side (client) also download and install USB Network Gate too. Launch the application, click on the "Remote USB devices" tab and find the one, already plugged into your USB Hub. Click on the "Connect" button to connect and start using the device.
Now you can work with your remote devices, connected via a remote USB Hub as if they are plugged directly into your computer.
USB Network Gate
Requirements for Windows: XP/2003/2008/Vista/7/8/10, Server 2012
Also available on macOS, Linux OS and Android ,
5.62MB
size
Version
8.0.1859
(
3rd Nov, 2017
)
Release notes
Category:
Networking Software