TCP COM Bridge software alternative.
Admit it, however well-designed and reliable your hardware serial extender is, it still cannot provide the same flexibility and convenience you get with a dedicated software solution.
With efficient RS232 TCP IP software converter you won't have to waste worry on any distance issues. Instead, you can rely entirely on the program for getting connected to any remote serial peripheral with no regards to its real location.
Contents
Connect two COM ports over the Internet
Today you have a wide choice of software tools to share COM ports over the Internet or any other network. TCP COM Bridge by AGG Software is one of the solutions to simplify managing devices placed far away from your current location. The utility helps you connect two computers across the network using their
COM ports.
Here's why TCP COM Bridge is worth your attention:
First, it lets you handle up to 256 real or virtual serial ports created in the system with the help of the app.
Second, the software makes it possible to access the same serial port from different applications as well as divide serial data from one COM port into several streams.
Third, using the kernel driver technology, TCP COM Bridge provides support for Power Management, WDM, WMI, and the like.
At the same time, it must be said that with all the benefits TCP COM bridge offers, the program is not the only solution to provide access to your remote serial peripherals over TCP/IP. There's a software - Serial to Ethernet Connector that is designed to make TCP RS232 sharing even more convenient.
Access unlimited devices via TCP/IP

Advanced in converting COM to Net, Serial to Ethernet Connector (SEC) is tailored to do far more than you can expect.
The software can be a big help if you need to access a remote device from a computer having no physical serial ports. The app easily creates any number of virtual COM ports on your machine so that you are able to receive data transmitted over TCP/IP.
What really sets SEC apart is that it lets you manage an unlimited number of remote TCP serial devices simultaneously, on the assumption that your system has no restrictions in this regard.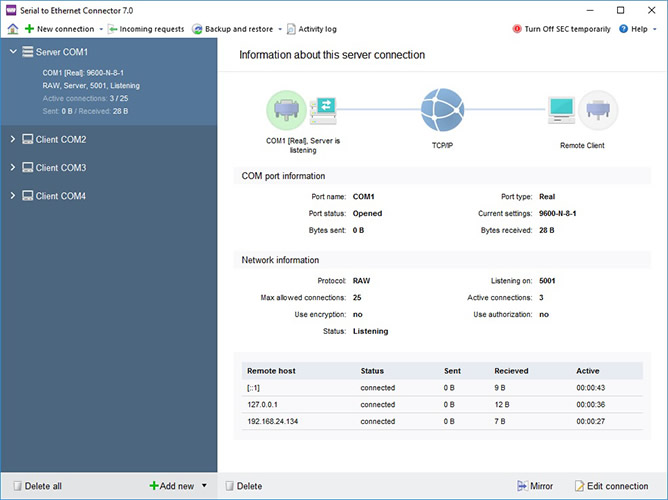 Here are some other things that stand out about Serial to Ethernet Connector:
Server mode

Sharing COM port peripherals plugged into your PC for incoming connections can be rather difficult unless you install the software that is developed to do just that. SEC looks like an indispensable tool for those looking to turn their computer into a real serial device server sharing numerous peripherals across the Internet or any local network.
Client mode
The software will also be helpful for initiating a remote connection from your client system. Сonfiguring the server's hostname and the name of the required TCP port will be enough to make a device attached to the host PC fully available on your remote client computer. Plus, to access serial peripherals this way, you do not necessarily need to have SEC installed on the server computer.
Redirecting data over UDP
One more thing you'll find extremely useful is the app's ability to transport serial data across your local network via UDP. It's worth noting that SEC installation on a remote side is also not required in this case.
Overall, Serial to Ethernet Connector combines the ease of use with a handful of powerful capabilities, making management of multiple remote peripherals a real joy for every user. The cross-platform solution, now compatible with Linux OS, lets you decide which software version to run on your server and client systems. Is it something that makes SEC different from any other app designed for sharing COM ports? Yes. Can the software therefore be considered the most optimal solution for providing remote access to serial devices? Yes, it sure can!
Serial to Ethernet Connector
Requirements for Windows (32-bit and 64-bit): XP/2003/2008/ Vista/7/8/10, Windows Server 2012
Requirements for Linux: Kubuntu 9.10 "Karmic Koala", openSUSE 11.2, 7.63MB free space , 4.66MB size ,
4.66MB
size
Version
7.1.876
(
27th Jan, 2017
)
Release notes
Category:
Serial Port Software