Top apps to sync
Mac with Android
Choosing the right tool that can accurately synchronize Mac and Android devices can be such a difficult task. The fact that Mac and Android devices were designed not to work together by their manufacturers, created a big void that third party applications are scrambling to fill. There are numerous apps in the market right now promising precise or accurate personal data and files transfer between Android and Mac OS X devices. This is why we came up with the list of top apps to sync mac with android. The list will help you narrow your search to the best apps with top rated reviews to help you starting syncing your files and personal data immediately without hiccups.

SyncMate was our first choice app because it doesn't just transfer files for backup purposes, it syncs data between Android and Mac apps with precision. It is very popular with a user-friendly interface that can be easily navigated by both regular and power users. Apart from the synchronization of contacts, calendars, bookmarks, music, playlist, and folders with files between Mac and Android devices, it can mount Android devices as a disk. Mounting the device makes it easy for you to manage your SMS, calls history directly from your Mac. SyncMate is one of the most stable apps in the list.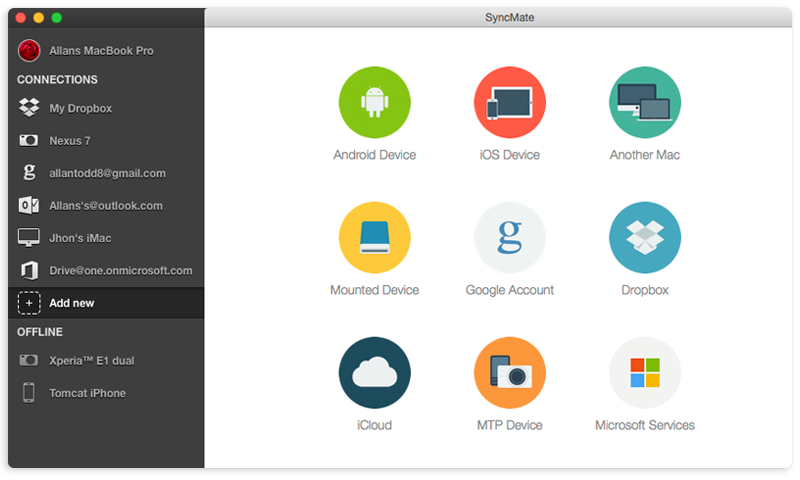 doubleTwist has an Android client that fundamentally functions as a sync tool, data backup app, and media file organizer. This app is one of the top apps to sync mac with android and it has the capability to sync media files and manage tasks. doubleTwist is intuitive and very easy to use but it exclusively deals with media files synchronization, If you want to sync contacts, calendars, files or manage Android folders from a Mac, then consider SyncMate.
TunesGO basically allows you import, install, backup Android apps in batch, with the option to uninstall at will. You can also manage your contacts, SMS and backup media files with this app. It was developed by Wondershare primarily as a phone manager but it can also handle synchronization tasks. You need to root your Android device to Mac in other to use TunesGO to transfer media files from Android to Mac and vice versa. Once you root your device, TunesGO will grant you full access to your files on the Android device from your Mac. You can't sync data like files, personal data but you can transfer them using TunesGO.
Dukto R6 can only transfer files between Mac and Android devices. Most users choose Dukto R6 because it has one of the simplest to use interface. It is a small file transfer utility that can transfer data over LAN. It supports Windows, Mac, Android and Symbian devices.
Android File Transfer can't synchronize personal data or transfer several files at the same time like others on the list. This is a free native utility for file transfer developed by Google to serve as a bridge between Android devices and Mac. To use Android File Transfer, you need to have a tremendous amount of patience because if you need to transfer several videos, you'll have to wait for each of them to be moved before starting a new transfer. It requires a tech skill to be able to effectively use this particular app.
Droid NAS is another example of a simple app with the ability to transfer files only, it doesn't sync them. Android device can be mounted on a Mac with Droid NAS.You can access the Android device mounted with Droid NAS and work with the SD, Camera, Downloads, Music, and Photos. It can't sync personal data like contacts and calendars.
Cloud services for Android and macOS
These cloud services serve as a temporal storage system between Mac and Android devices. Cloud services don't offer direct synchronization like some of the apps mentioned above. To sync data via these cloud services, you need to sync data from Android to cloud storage and from cloud storage to Mac after that, and vice versa. The three most popular services are listed below.
With Google Drive, you can transfer files to and fro Android and Mac devices. It was developed by Google to facilitate seamless synchronization between Mac and Android devices. It can also synchronize contacts and calendars.
This service offer users free storage space for folders with files. To use it, you simply register an account with the service, upload your files to your account, then sign into your account from your Mac or Android device to access the uploaded files. You can access and share data you uploaded with other people (even if they do not have a registered account with Dropbox). Nevertheless, you can't sync personal data with the service, you can simply backup your data for later access from an Android or Mac device.
It offers a cloud storage space and file transfer services. The content of your SugarSync storage space can be transferred between your Android and Mac devices at will. The synchronized files can be remotely deleted from the devices in the event of loss or theft. SugarSync does not synchronize personal data.
That was our list of the top apps to sync mac with android, thanks for reading and kindly leave your comment.
SyncMate Expert
Requirements: OS X 10.8.5+ ,
53.1MB
free space
Version
7.2.407
(
17th May, 2018
)
Release notes
Category:
System Utilities