Top FTP Clients for Windows 2017-2018
FTP stands for 'file transfer protocol', a technology that enables sending and receiving files over network. To use it one needs FTP client software to help with uploading, downloading and managing files. If you are searching for a Windows FTP client, below is our list of best FTP clients.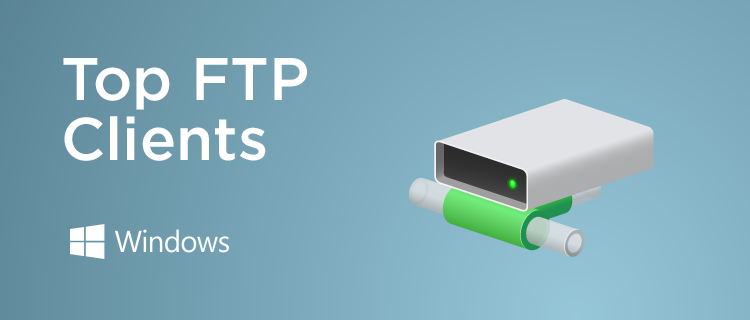 Go through it and you'll surely find what you need
The functionality offered by this FTP client program is rather basic, but it is known to be stable and reliable, and at times it's the only thing you need.
This tool's UI is similar to the one of Windows Explorer – you can move files to and from servers using drag-and-drop. It is possible to save username, password, URL and IP address for sessions.
Comprised of an FTP client and FTP server program, the software supports transfer of large files (less than 4 Gb), and includes configurable bandwidth throttling.
This is a free Firefox add-on that turns your web-browser into an FTP client for Windows. It also supports SFTP, can resume interrupted transfers and supports drag-and-drop action.
For power users this product is likely to be the best FTP client for Windows, for others the functionality it offers can be a little too advanced. Even the Standard version of this tool is capable of scheduling file transfer and compressing data on the fly. It supports bandwidth, port range limits and concurrent transfers. Secure edition adds security to data transfer.
This web-browser does not need any extensions or plug-ins to function as an FTP client Windows, it also supports passive mode configuration required for working with multiple firewalls. To connect to a remote FTP server enter a URL that includes host names, usernames and passwords.
Apart from FTP, the software supports SFTP and SCP (Session Control Protocol, one of the earlier protocols used for data transfer). It offers command line capabilities.
If you are looking for an FTP client for macOS, our number one choice would be Commander One. Essentially a file management solution, the tool allows you to connect to remote servers via FTP, SFTP and FTPS. It also supports mounting cloud storages on your machine, so you can work with their content as if it were stored locally.
Commander One
Requirements: OS X 10.10+ ,
19.75MB
size
Version
1.7.4(2445)
(
22nd Sep, 2017
)
Release notes