Best online torrent downloaders for Mac
List of top online downloaders for Mac of 2017
Torrents provide users with a great way to download large files, such as movies, games, books, TV shows, etc. There are various possibilities to download content through torrents that include special apps and cloud torrent downloaders.
We consider software applications to be the most secure and reliable way to download torrents.
Folx is one of the best free torrent downloaders for Mac that is fast and efficient and highly reliable. With Folx you can also create your own torrents and share them on torrent trackers with other torrent enthusiasts. This torrent downloader supports magnet links perfectly well and free of charge. With magnet links you don't explicitly announce your P2P technology usage.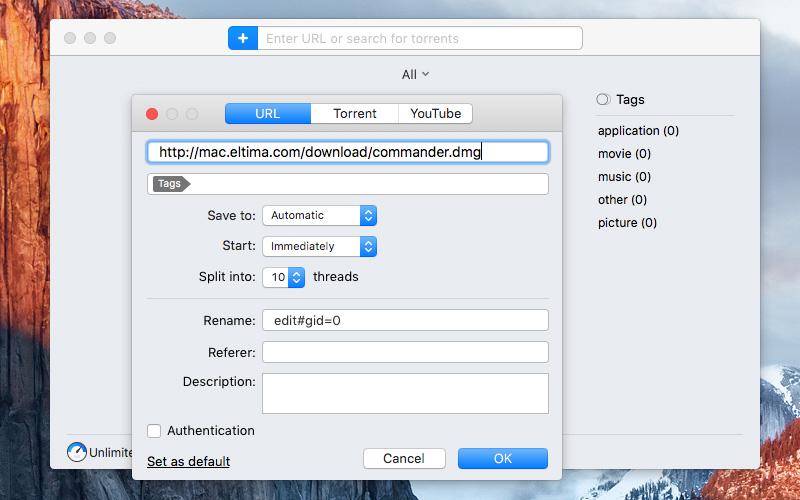 Folx PRO is an advanced version of the software offered for a reasonable fee. Folx PRO offers advanced benefits for torrent users: search multiple trackers simultaneously for torrent content directly from the app, flexibly adjust download and upload speed, scheduling of downloads, save login information for the most frequently used torrent websites, and much more.
Top online cloud torrents for Mac can be used alternatively to software programs. The good one is not easy to find though. So let's have a look at these best online torrent downloaders for Mac that seem to do a pretty good job.
Boxopus is a cloud torrent service that allows downloading torrents directly to your Google Drive account. Just feed Boxopus with torrents, magnet links or a link to a torrent page. Note that there are no free accounts and its minimum 7-day plan available for $1.49 offers 30 GB storage space. The pros of this service are not having to install any torrent clients on your computer, no encrypted channels, high portability. The con is slow speed, which in many cases matters the most.
Filestream actually downloads not just torrents and magnet links, but also supports many other video streaming and file sharing websites. As a part of its free account you are getting a cloud torrent service, limited to a 1 GB size however. Upgrade to Premium account to get more storage and to download from various resources. What we like about this online torrent downloader is that it allows selecting individual files from torrents.
One more cloud torrent service with a simple and friendly interface and a lot of streaming possibilities. Files can be streamed in your web browser on computer or mobile device, or on your TV (Apple TV and Chromecast are supported). Free account features 2 GB cloud storage, but with a limitation of 100Mb per hour bandwidth. For example 1GB torrent will take 10 hours to download.
On this list of online torrent downloaders for Mac, Put.io offers the most features and the best interface. No free account though. However you can try the service for $0.99 per day. When upgrading to premium account you are getting 100 GB storage space, SSL encryption, and ten torrent slots. It is rather convenient to just enter an RSS feed to Put.io and it will monitor and fetch new podcasts automatically. Additionally to torrents and magnet links this service offers direct downloading from such websites as YouTube, Vimeo, Vine, etc.
Offcloud has a great interface that is easy to navigate from various devices. Download torrents at a high speed on all your mobile devices and computers no matter what their operating system is. Allows resuming downloads, has fast speed, secure connection and reasonably priced premium plans.
Folx
Requirements: OS X 10.9+ ,
33.01MB
free space
Version
5.3.13709
(
21st Jan, 2018
)
Release notes