When personal computers were first introduced, the main methods for peripheral device connectivity were the parallel port and the RS-232 serial interface. Originally the port was constructed with 25-pin connectors but over time was slimmed down to its current 9-pin configuration. The RS-232 serial port was a standard feature of the majority of personal computers manufactured for many years.
Beginning in 1996, an alternative connection type was made available and started to gain traction with computer hardware companies. Universal Serial Bus (USB) is a more compact connector that offers increased data throughput over the older parallel and serial interfaces.
USB achieves its high throughput by transferring data in packets. A software driver is employed to handle the data on a shared data bus. The driver controls data movement to programs accessing the USB device. The software driver is an interface between your application and the hardware and must be installed and operating correctly.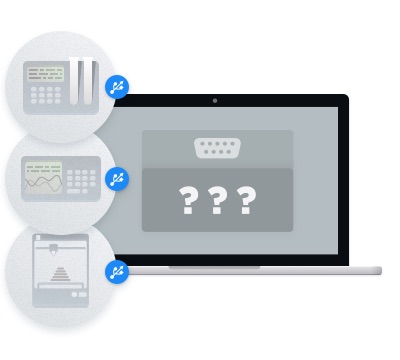 The Necessity of USB to COM Adapter
Due to the popularity of USB interfaces and connectors with hardware manufacturers, many computers that you can buy today are not equipped with an RS-232 port. If you need to connect an RS-232 device into a modern computer, you will most likely need to use a USB to COM port adapter.
Though they fulfill an important role, USB to COM port converters have some limitations. Here are the three kinds of issues that you might experience when you are using a USB to RS-232 adapter:
Issue #1: Driver issues with USB to COM adapter
A widespread issue that is encountered when using a USB to COM adapter is identifying and installing the correct driver. It is the chip inside that cable and not the cable's manufacturer that determines which driver needs to be used.
Prolific and FTDI are the two companies that manufacture the majority of USB to COM chips. The driver for the adapter you are using may not be installed automatically and you might not have the installation media available. In that case, you need to go to the Internet and find the driver after you identify which chip is in your cable. The cable packaging can indicate what chip and therefore which driver you will need. You can also use the Windows Device Manager to determine a cable's chip by following this procedure:
Choose your device from the list in Device Manager
Select Properties from the drop-down menu
In Properties, choose the Details tab
Go to the Property Field and in the drop-down select Hardware Ids
There you will find a VID (Vendor ID) indicating the manufacturer, and a PID (Product ID) that denotes the model number of the chip enabling you to search for its driver.
Once you have determined the driver you need, download it from the Internet and install it on your Windows machine.
Without the proper driver, your USB to COM adapter will not function correctly. Driver compatibility and ensuring that all of the complicated settings are correct can cause issues when you are setting up your connections.
There is an alternative to using a hardware USB to COM converter. Eltima Software's USB to Serial Converter is a software tool that allows your USB port equipped computer to communicate with serial devices.
Eltima's application is a specialized software solution that solves the problem of communication between USB interfaces and serial devices. The program converts the data between serial and USB formats in both directions enabling the connection of serial-based devices or applications to a computer's USB interfaces. It uses a USB port on your machine and turns it into a virtual serial port.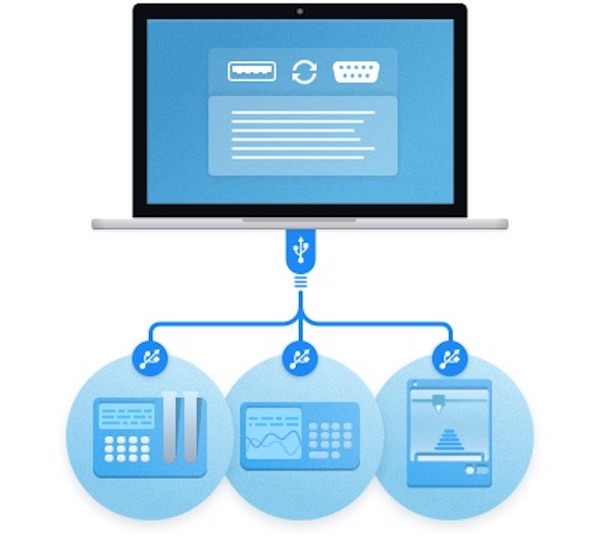 The dedicated solution of USB to COM Converter lets a machine with no serial ports communicate with COM devices and applications. Its facility for creating virtual serial ports make it an excellent solution for those requiring reliable USB to serial communication.
Issue #2: Hardware trouble with USB to COM converter
A hardware USB to serial COM port adapter is a mass-manufactured computer component. While there are two main companies producing USB to RS-232 adapter chips, adapter cables are manufactured by a variety of corporations. The quality of the cables can vary widely, and eventually, the cable will fail.
Using industrial-grade cables will extend the usable working lifetime of the equipment, but they too will wear out over time. Inexpensive cables may fail almost as soon as they are deployed. A software solution such as USB to COM Converter eliminates the problem of adapter cables altogether as they are no longer needed to enable USB to serial communication.
Issue #3: Performance problems with USB to COM port adapter
As we discussed earlier, USB employs a shared data bus and transmits data in packets. The use of these packets cause some latency (data transfer time) issues that RS-232 interfaces do not experience. Usually, this is not a problem but can make a significant difference when moving large amounts of data.
FDTI's chip driver lets you lower the packets' latency times by accessing the Latency Timer field. To accomplish this task, open your Windows Device Manager and follow these simple steps:
Identify your device in the list and right-click on it.
In the subsequent drop-down menu, choose Properties
Click the tab for Port Settings
Click the Advanced button
In this window find the Latency Timer field. Reduce the setting to 1 for the best data transfer performance.
Select the right USB to COM port converter for your requirements
We have seen that there are several issues that can come up when trying to enact USB to serial communication. While there are various options that you can use, the software solution appears to be the simplest and most reliable answer. It eliminates the need for extra hardware or cables and the need for driver compatibility with your adapter. USB to COM Converter is an excellent choice when you only have USB interfaces yet need to connect to serial devices and applications.