How to add watermark to images on Mac
With PhotoBulk you can add watermark to numerous images easily, plus it is possible to save watermark proportions to the images even if they are of different sizes. And don't worry - original images will remain intact.
Here is easy steps on how to watermark multiple images on Mac:
1. Download PhotoBulk from here or from the Mac App Store.
2. Launch PhotoBulk.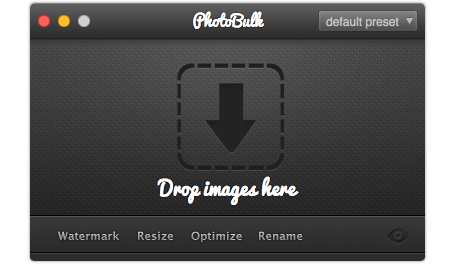 PhotoBulk interface
3. Сhoose the images you want to edit and drag them to PhotoBulk window. You'll see how many files were added there.
4. Click the Stamp button in the bottom left corner of the PhotoBulk window.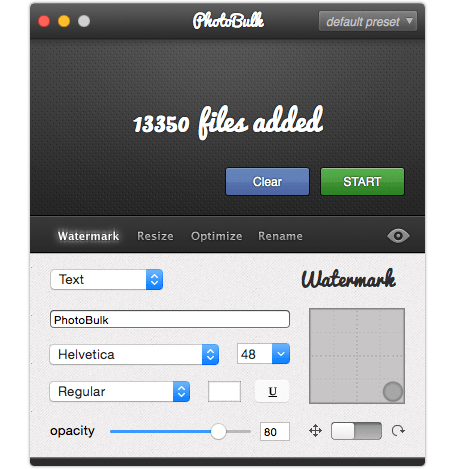 Stamp button interface
5. Here you can choose between text and image watermark:
if you select text you can choose font, size, color and opacity;
if you select image watermark, you can set its size and opacity.
6. Position of your watermark can be changed with the help of special controller.
7. Сhoose any position moving the circle in the controller field with your mouse or precisely per-pixel using arrow keys.
8. Check how your watermark will look like by clicking the Preview button.
9. After you set up all preferred settings and are ready to apply them, click START button.
10. In the invoked window choose the path to save processed images.
11. Click Save button.
12. You can save your watermark settings to presets for future usage by clicking Save As button.
And that's not all you can do with batch image editor PhotoBulk! It can also optimize pictires and resize multiple images and at a time.
PhotoBulk
Requirements: OS X 10.10+ ,
9.73MB
free space
Version
2.1.246
(
11th Feb, 2018
)
Release notes