List of best USB redirectors. Top 5 USB redirection software.
How many times did you imagine being able to use your webcam, printer or scanner while staying miles away from your devices? Probably you think that it's impossible, considering that the most common way to connect USB peripherals to a computer is a standard USB cable limited by the distance. But what if I tell you that with a dedicated software it's possible to have access to all of your USB peripherals even when you are on the other part of the world. Even better, some specialized programs will let you connect to a remote USB device as though it were attached directly to your PC. In this article, we'll consider 5 best USB redirector solutions available out there.
1. USB Network Gate
USB Network Gate takes the leading position in our rating. The solution is designed to redirect USB devices over any network, be it Ethernet, WiFi, the Internet, or any other one. A really great thing about this software is its ability to forward USB peripherals to a virtual environment and blade servers. That means you'll be able to easily access devices plugged into your local machine from VMware, VMware ESX, Citrix XenDesktop, or Microsoft Hyper-V guest OSes.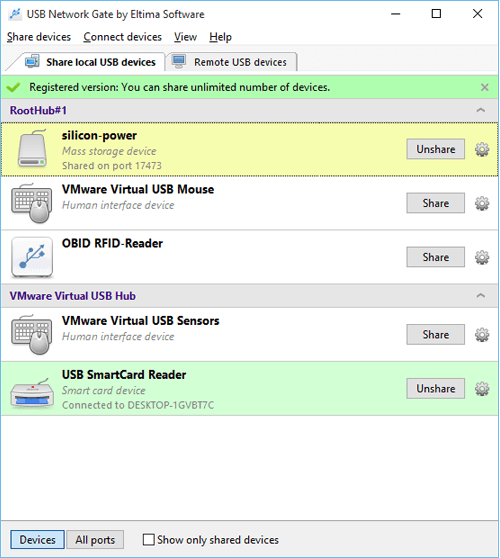 More than that, USB Network Gate comes in handy when you work in a Remote Desktop session and want to pass through your local devices to a remote machine. The software will let you do this just with a few clicks.
And even if you need to connect to a USB peripheral attached to a Windows computer from a PC running Linux, it won't be a problem for USB Network Gate. This cross-platform program supports Mac, Linux, and Windows platforms which allows mixing client-server connections in different combinations.
2. FlexiHub
Another efficient solution that comes to mind when talking about best USB redirection software is FlexiHub. This application combines a host of outstanding features with extremely simple and intuitive interface, which makes the software one of the most popular USB over network redirectors. In addition to the impressive USB Network Gate capabilities, FlexiHub allows sharing COM port devices of various types.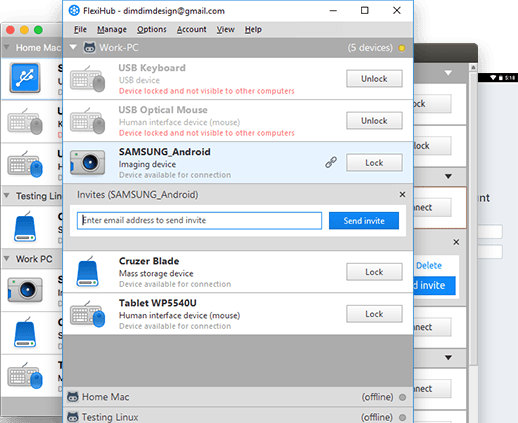 Some other FlexiHub advantages include:
Connecting to remote devices even if the computers don't "see" each other directly (e.g. one of them is behind NAT or Firewall);
Shared access to USB and COM devices from multiple computers using the same FlexiHub account;
Convenient subscription plan sold as a one-time purchase, and more.
3. USB Over Network
USB Over Network will let you redirect USB port over either LAN or the Internet. The program is available for Windows and Linux operating systems. This program will forward you USB device over any distance just like the two previous USB port redirectors.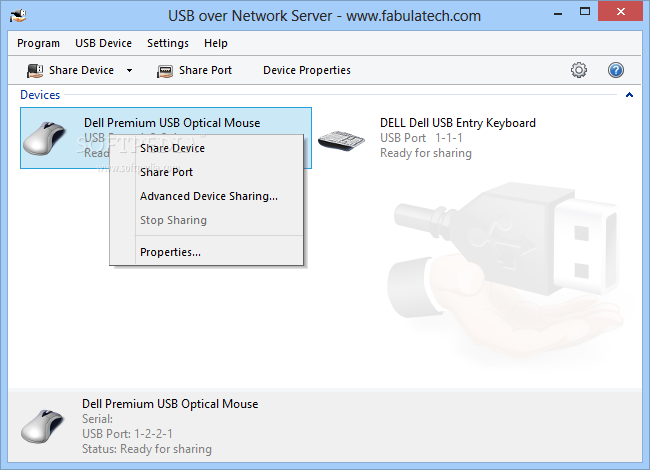 4. USB Redirector
USB Redirector is an app that provides you with the great possibility to share USB peripherals across LAN, WLAN, or the Internet. The solution allows establishing TCP/IP connections between USB server and a USB client.
5. VirtualHere
VirtualHere is a USB redirection software that will help you access remote USB devices from multiple machines. This dedicated program requires minimum effort to be installed and used and can be smoothly run on Windows, Mac, or Linux systems. Apart from sharing devices over LAN and the Internet, the software will also let you use your local devices in the cloud.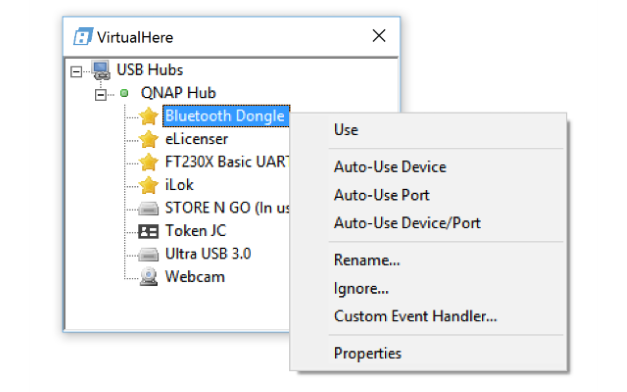 USB Network Gate
Requirements for Windows: XP/2003/2008/Vista/7/8/10, Server 2012
Also available on macOS, Linux OS and Android ,
5.62MB
size
Version
8.0.1859
(
3rd Nov, 2017
)
Release notes
Category:
Networking Software