How to connect LG devices and Mac
A few weeks ago LG released their newest G6 phone. You might remember that their G5 didn't receive much of positive response last year, however it looks like with G6 the Korean giant has finally made a leap through. G6 seems to be just everything users wanted: a big screen on a relatively small phone makes it convenient to watch videos, Google Assistant is available on the home button. The phone is waterproof and has an excellent battery. What we liked most is the camera app – its optical zoom is similar to the one offered by iPhone 7 Plus, and make sure to try Grid mode. The only drawback we could identify in the phone is that it brought no innovative stuff, but who cares as long as you have everything you need?
Now, before you purchase the phone, think how you will connect LG phone to Mac? It runs on a different platform not exactly compatible with macOS. What will you do about transferring files from Android to Mac? There are various methods for Android file transfer Mac owners could use.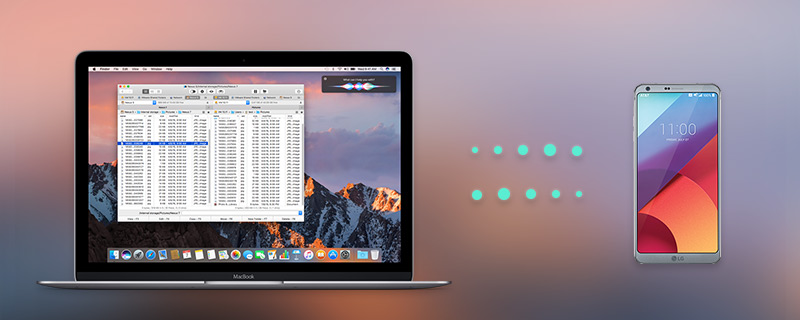 Here we will have a look at them:
LG Bridge for Mac

The LG software for Mac can be used as LG AirDrive to connect Android to Mac and manage its content wirelessly and/or LG Backup to backup and restore content on your device via USB:

• LG AirDrive – download and set it up on your computer, create an account and login; enable LG Drive on your phone and login. Now, when you open the app on your computer you can view and manage files and folders stored on your mobile device. Note that this LG mobile support tool Mac owners can use only if it is pre-installed on their mobile, it is not available for download.

• LG Backup – connect your device to the computer via USB cable and select Media sync (MTP) or File Transfer; open LG Bridge > LG Backup on your computer and follow the prompts.


Android File Transfer

Google's native utility offers very basic functionality for using Android phone with Mac. It does not extend beyond copy-paste actions. Install the app, connect your phone to Mac and follow the instructions.


Commander One

This application can mount Android phone Mac, so its content becomes available to you as if it were stored locally. On connecting LG phone to Mac, you will see your device as an additional hard drive. It is possible to open files stored on your phone directly from the app, else, you can move them to Mac using simple 'drag-and-drop' thanks to convenient dual pane interface.
Commander One is actually a file manager. Apart from file management it has a lot of handy features to offer – you can mount MTP devices and cloud storage services to view and manage their content in an easy way. The app also supports FTP/ SFTP/ FTPS and WebDAV protocols via which you can connect to remote servers and transfer data online.
Commander One
Requirements: OS X 10.10+ , 13.1Mb free space
Version
1.7.4(2445)
(
21st Sep, 2017
)
Release notes
Category:
System Utilities