Best apps to sync Samsung phones
with Mac
A lot of people loving to work on their Mac computers and MacBook will actually prefer Android phones over iPhones. And then there comes an issue of trying to sync data on two different operating systems - Android and macOS. As there is no native way to do it, there are third-party solutions developed to keep your data neatly organized on both devices. Not all of them are perfectly same and while one solution can work for your needs another one will not be the one you are looking for.
So let's take a look on our top choices for Mac and Samsung synchronization.
Our list of top apps to sync data between Mac and Samsung devices

Our top pick that offers true synchronization of your Android and Mac data. There are other numerous services it offers additionally to synchronization that will let you back up data, mount Samsung phone on Mac as a disk, work with SMS messages on Mac keyboard and work with your call history as well as export it to various text formats.
With SyncMate you'll be able to keep your Samsung contacts, calendars, music, files, browser bookmarks up to date on your Mac computer.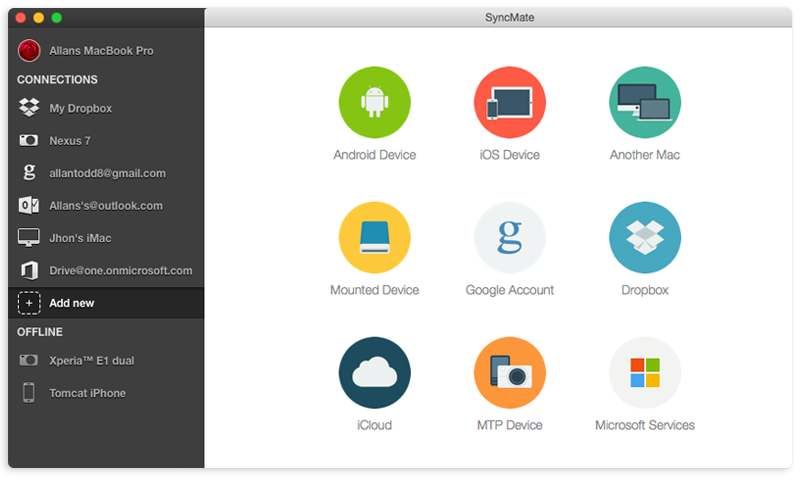 TunesGO by Wondershare is a power app that lets you transfer media files between Mac and Android without the need to use iTunes for iOS related features. One can install, uninstall, import and backup Android apps, work with contacts and text messages, backup and transfer media files.
There is no true direct sync though, rather transfer and unpack or backup. And no sync for personal data like contacts and calendars.
doubleTwist is good at managing and syncing of media files between your Mac and Samsung device. Its Android client will sync and back up media in both directions between Mac and Samsung. A great app however only works with media files, for contacts, calendar events, or files consider such solution as SyncMate.
One native utility designed by Google is aimed to make data transfer between computer and mobile device easy. The pro is that it is a free app, the cons are lack of updates and not being able to sync personal data. Also if you need to transfer more than one file, you'll need to do it one-by-one, as this app doesn't offer a batch file transfer. Not an easy interface too.
Cloud services for Android and Mac
Clouds are an essential creation of software companies who think ahead and strive to provide users with always accessible storage. Yes, it is a little more complicated way of syncing data, but also a great option. Here are three cloud services that made the cut.
Google Drive is a file storage and synchronization service created by Google that can store all sorts of files. What is important, it works with contacts and
calendars also.
Dropbox is a file hosting service that offers cloud storage, file synchronization, and more. Upload all sorts of files to your Dropbox account and download what you need on your Mac or Android device. It is not a true synchronization, but rather a file transfer though.
And the last, but in no way the least is SugarSync offering file transfer and file sharing with other people. We like that it offers the removal of all synced files from your computer in case it was stolen or lost.
Depending on your needs you can choose one of reviewed ways to sync Samsung phones with Mac. We hope this article was helpful enough to find your perfect solution, or close enough to perfection!
SyncMate Expert
Requirements: OS X 10.8.5+ ,
53.1MB
free space
Version
7.2.407
(
17th May, 2018
)
Release notes
Category:
System Utilities