Best apps to sync Samsung Galaxy with your Mac
Having all Apple products and being able to keep them in sync would be ideal. But what to do if some of the Apple products just don't make the cut for you? It is very often that someone will work on a Mac or a MacBook, but will prefer using an Android phone. In such cases synchronizing data between your computer and phone becomes a little bit of an issue because there is no native solution on Macs to sync the data on your Android phone with your computer.
So if you have an Android Samsung Galaxy you can choose one of the apps reviewed here to synchronize it with your Mac.
The top app that can sync data between Mac and Samsung Galaxy

SyncMate is an ultimate sync tool for it is very versatile with lots of devices supported and with many things you can sync. For Samsung Galaxy you can sync, backup, mount Samsung Galaxy as a Mac disk, create and manage text messages on your computer screen, and work with call history as well as export it to different text files.
Your Samsung Galaxy contacts, calendars, music, files, browser bookmarks will always be up to date on your Mac computer thanks to SyncMate.
Download for FREE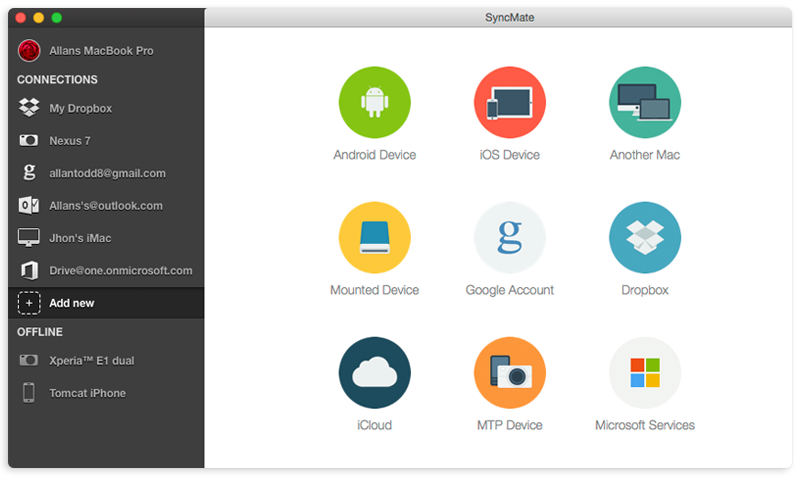 A powerful solution that allows you to transfer media files between Samsung Galaxy and Mac without involving iTunes for iOS related features. It lets you install, uninstall, import and backup Android applications, manage contacts and SMS messages, transfer media files and create a backup for them.
Notice how we use the word transfer here. That is because TunesGO doesn't offer true sync like SyncMate. It is rather move around, transfer and unpack, backup type of app. It doesn't support contacts and calendars sync.
A good service that helps manage and sync media files between Samsung Galaxy and Mac computer. It has an Android client that can sync and backup bidirectionally between device and computer. The downside is that those who want to sync calendars and contacts won't be able to do so with this solution - it is just for your media.
Could be the best app, but there are serious drawbacks to it. It is a native file transfer app by Google that should simplify sending files back and forth between your Mac and Samsung Galaxy. Unfortunately lack of updates since 2012, no support for personal data synchronization and no batch file transfer will probably make you look for a better way of syncing data.
Cloud services for Samsung Galaxy and Mac synchronization
And then there are cloud storages. They can be accessed from any spot of the world which makes them super convenient. Trying to synchronize your data between Mac and Samsung Galaxy with the help of a cloud storage will add an extra step, but is definitely to be considered.
Google Drive is a file storage system and sync solution developed by Google, where you can keep all types of files. Its great advantage as a sync tool in our case it that it works with contacts and calendars.
Dropbox is a well-known file hosting service that stores, syncs, lets you share content with others, etc. Although not a true sync tool, but more of a move around and store solution it is still a good way to keep data up-to-date.
And the last, but not the least is SugarSync that allows you to transfer files and share content with other users on the web. A great feature it offers is removal of those files you synced to it from a computer that has been stolen or simply misplaced.
Thank you for reading this article and hopefully it will help you choose the best way to keep your files and personal always updated between Mac and Samsung Galaxy.
SyncMate Expert
Requirements: OS X 10.8.5+ ,
53.1MB
free space
Version
7.2.407
(
17th May, 2018
)
Release notes
Category:
System Utilities