RS232 to Ethernet Converter
In our daily life we use a number of applications that require interaction with serial ports. They include tools developed for industrial automation systems, points of sale, laboratories, etc. To work with such equipment we need to access remote devices, and the easiest way to do it would be to convert your serial port over network.
In this article we will try to figure out how remote RS232 and other serial ports work and talk about the methods to convert RS232 to Ethernet, or in fact, convert any serial port over network.
Software solution to access RS232 devices remotely
The easiest way to convert RS232 to Ethernet is RS232 to Ethernet Converter software. Say, you need to get a simultaneous access to several serial devices that work via different data transfer protocols – RS232/485/422, and the devices are located in different places, perhaps even in different countries or continents.

At first, this does not seem to be feasible at all – obviously, laying a cable across the ocean is not an option. RS232 to Ethernet Converter Software is what will save your day in such a situation. With its help you get access to serial ports supporting various protocols, no matter where they are actually located. Now you can forget your worries about the length of the cable connecting your serial device and computer. Serial to Ethernet Converter allows you to display and access serial ports converted over network, as if they were on your local machine.
Here is your step-by-step guide on RS232 to Ethernet Converter software use:
Follow this link to download the software, install it on both computers – the one that shares a serial port and the one that needs access to it.
Launch the application on the computer that has the port to share, choose 'Server' connection in the app and customize settings, if required. Click 'Create connection' and open the port.
Launch the application on the other computer and create 'Client' connection. Check that the hostname of the remote computer and the shared port number are identical to those set on the server. Click 'Connect'.
That's it, now you have full access to the functionality of the remote devices.
Hardware solution to convert RS232 over IP
Hardware converters of RS232 over Ethernet are actually compact servers that connect autonomous devices with serial interface to Ethernet.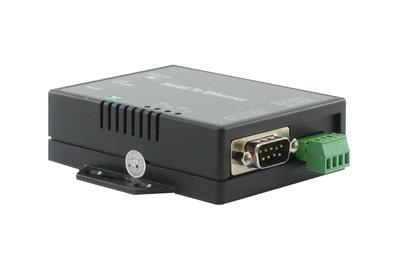 The problem here is that just like any hardware solution, it has certain restrictions:
The number of converted devices is strictly limited by the converter's specification. Manufacturers typically make converters with 1, 2, 4, 8, 16, or 32 ports.
Also note that not all converters provide simultaneous support to RS422/232/485 protocols. More often you have to choose one type of serial port protocol.
To display a serial device on your computer, you will need additional software to emulate virtual serial port.
How to set up RS232 to IP converter hardware:
First, assign a static IP address to your computer. Now install the provided virtual serial port software.
Connect RS232 to Ethernet IP converter to your computer using either a standard Ethernet cable or crossover or straight-through cable. Connect it to the power supply.

To check the connection, enter the converter's IP address in your browser and press Enter. This should take you to Admin's page, and if you do not see it, redo the setup procedure for the converter.
Launch the software and click 'Search'. Once your RS232 to TCP/IP converter is found, click 'Create COM port' button to create a virtual port.

Now go to Device Manager on your computer – the newly created port should be displayed there. If it is nowhere to be seen, go back to the setup procedure.
We discussed two main methods of converting serial devices over network so you can get remote access to them. The software solution, as you can see, is more preferable than the hardware. RS232 to Ethernet Converter from Eltima seems to be easier to setup and manage, besides it does not require any hardware.
Serial to Ethernet Connector
Requirements for Windows (32-bit and 64-bit): XP/2003/2008/ Vista/7/8/10, Windows Server 2012
Requirements for Linux: Kubuntu 9.10 "Karmic Koala", openSUSE 11.2, 7.63MB free space , 4.66MB size ,
4.66MB
size
Version
7.1.876
(
28th Jan, 2017
)
Release notes