List of the best virtual COM port emulators
COM ports have been introduced a long time ago and have been an integral part of computers. These days however they become almost obsolete as more and more machines use USB ports or no ports at all. This doesn't eliminate the need for serial connections though, especially if we are talking about industrial equipment, lab devices, etc. Developers creating software to work with industrial devices need to test and debug applications before releasing them. That's where virtual serial port emulation comes into spotlight. If you are looking for a software to create a virtual COM port on Windows 10 or a virtual COM port on Windows 7 read about the virtual serial port emulator software that we consider to be the top solutions currently offered:
1. Virtual Serial Port Driver developed by Eltima Software allows users to create virtual serial ports that can be connected in pairs via virtual null modem (com0com) cable. Applications communicating with created virtual ports treat those ports the same way they would communicate with real ports. This software solution works on 32- and 64-bit Windows OS and supports operating systems up to the latest Windows 10. Virtual Serial Port Driver is officially signed by Microsoft.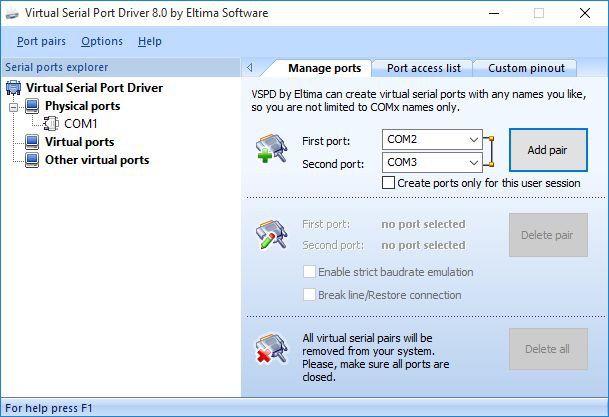 This virtual COM port software allows creating an unlimited number of virtual ports that will be immediately recognized by software and hardware you install. No real hardware serial ports are occupied when using this app. At the same time, created virtual ports function the same way as real ones providing strict baudrate emulation and full HandFlow control support. You can emulate a serial line break as well.
With Dynamic Link Library supplied with VSPD (an OEM License) you can control virtual serial ports directly from your own app. Emulating the ports also gives you an advantage of a faster serial communication, than with a real null-modem cable, solely depending on your processor speed (average is about 5.5 Mbytes/sec).
Virtual Serial Port Driver is pretty flexible letting you create ports for the current user session only; allowing RDP users to create port with the same name (e.g. COM1) in each user session; letting you delete ports even if they were opened by other apps.
VSPD is hyper-threading and VMware friendly.
2. Null-modem emulator (com0com) is an open source kernel-mode virtual serial port emulator for Windows, distributed under GPL license. One can create an unlimited number of virtual serial port pairs and connect one serial application to another with any created pair. This app can provide serial interface for device emulators and serial port redirectors.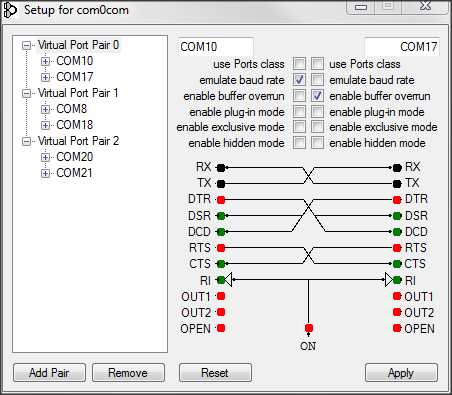 3. Free Virtual Serial Ports by HDD Software is a Windows user-mode software that offers creation of virtual COM ports and emulation of physical serial ports. This app operates in user-mode exclusively and acts as a hardware COM port with full functionality, baud-rate emulation, configuration of data bits, parity, stop bits, XON/XOFF flow control, etc.
This serial port emulation software works on Windows desktop and server versions up to Windows 8/8.1 32- and 64-bit.
4. Virtual Serial Ports Emulator developed by Eterlogic is the next VSPE solution on our list. It is developed for software developers to create/debug/test applications that use serial ports. Virtualization of ports offers great possibilities: same device can be opened by different apps, physical serial port data can be shared among several applications, a serial port can be shared to local network (via TCP), one can create virtual serial port pairs, etc. This program supports Windows 2000, XP, Vista (32/64), Windows 7. Licenses for 32-bit platforms are offered for free, while 64-bit solution is paid.
5. Virtual Serial Port Kit is developed by FabulaTech and offers virtual serial ports creation with the possibility to connect them via virtual null-modem cables. All information written to one virtual port is immediately available on the other one of the pair. Virtual serial ports function the exact same way as hardware serial ports. This app also runs as system service meaning all virtual ports are available prior to user logon.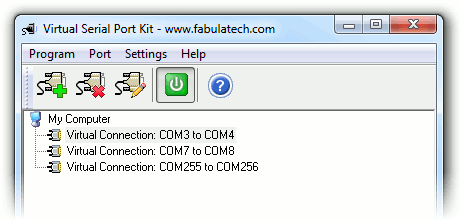 Prices and more details are available on developers' websites. Some solutions are free, but will require you to expose your source code when developing an app with them, also not offering support for the latest Windows OS. Some solutions require a payment but in return you receive an up-to-date software with regular updates and dedicated support service. Hopefully this brief overview will help you get the best virtual COM port solution for your project.
Virtual Serial Port Driver
Serialport
5.46MB
Requires: Available on Windows ,
5.46MB
size
Version
9.0.567
(
5th Aug, 2017
)
Release notes