The best Virtual Null Modem Emulators
Need to test your own serial app but have no free COM ports in your system? No worries, with a dedicated software you'll be able to create as many virtual serial interfaces as you need. Even better, a decent software virtual port driver will help you establish a connection between your virtual COM ports using a virtual null-modem cable.
Probably the most important thing for any user is to choose a solution optimally suited to their needs. Considering that there is a plenty of software tools serving for serial port emulation, in this article we will provide a short overview of the most popular null-modem emulators.
Contents
Serial Port Emulator by Eltima
Designed to create virtual COM port pairs, the software solution by Eltima is considered to be one of the most efficient utility available today. Null Modem Emulator is aimed at creating an unlimited number of COM port pairs communicating via virtual serial connections. Written to one port, serial data immediately appears on the other end of the port pair and vice versa.
The software is particularly helpful for GPS data replication, capture and reproduction of serial port data, system debugging, and many other usage scenarios. The virtual ports created by additional software are recognized by your operating system or any Windows app as real COM ports, so whether you need to test or debug your own data sniffer program, a serial device driver or firmware, there will be no shortage of virtual COM ports emulating all the serial port functionality.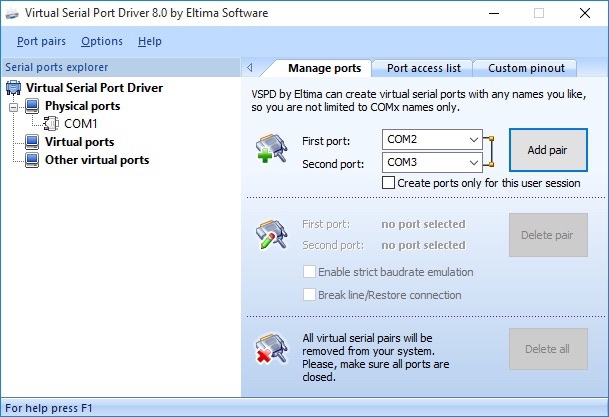 Com0com
If you like the idea of using a serial port simulator but are not sure which solution to choose, an open source kernel-mode virtual serial port driver com0com will definitely be a good choice. The program is able to provide a COM interface for device emulation apps. What this means in practice is that a device emulation program connects to one port of a serial port pair while the other port is used by Windows app (that needs to talk to the device). This way, for example, you can share faxes over IP. All you need to do is connect Windows Fax application to t38modem via virtual COM port pair. Com0com support for Windows 10 is another advantage of the app.
See
comparison chart
of Virtual Serial Port Driver and Null-Modem Emulator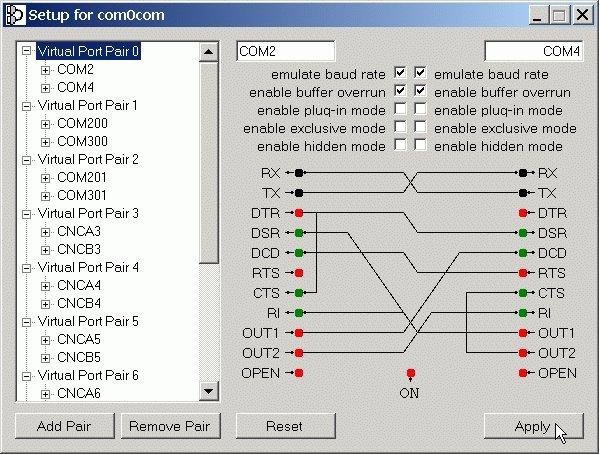 Virtual Null Modem by AGG Software
Still trying to find an efficient emulator for serial communication? Easy-to-use Software developed by AGG is designed to help you resolve any serial communication issue. The solution offers high hardware and software reliability (drivers are tested with the verifier under Windows XP SP2), fast connections via virtual null modem cable, full independence of virtual COM ports form hardware serial interfaces available in the system, and support for WDM, WMI, Power Management, PNP, etc.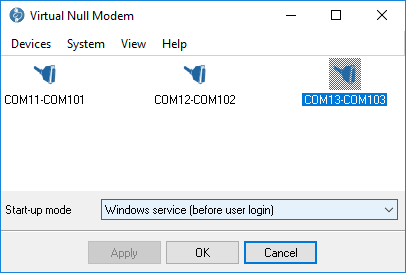 Free Virtual Serial Ports
Ever wished you could emulate custom plug-and-play COM ports and I/O ports interfaced by 16550 UART? Well, that's what Free Virtual Serial Ports solution is focused on. This free application lets you create a virtual copy of a hardware null-modem cable with DB-25 or DE-9 connectors. The program lets two RS-232 DTE devices communicate with each other without using modems or any other DCEs. More than that, the app works exclusively in user-mode which ensures the stability of its performance.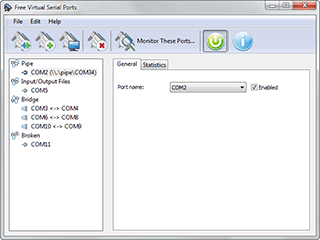 After comparing the functionality of all the aforementioned software tools, you can see that Virtual Null Modem Emulator by Eltima stands out for its versatility and ease of use. Such advantages as clean and friendly interface, efficient customer support, high level of data protection, possibility to create and remove virtual ports in real-time, etc. make Eltima's solution an extremely effective tool able to cover a great variety of port emulation needs.
Virtual Serial Port Kit
If all you need is a handy solution for establishing seamless communications between two serial apps, you can try Virtual Serial Port Kit. This software will let your communications programs talk to each other over a reliable virtual COM port connection.
The main goal of the tool is to provide your system with virtual COM interfaces through which serial apps can enable their two-way data exchange. The scenario is extremely simple, the software just creates two virtual serial ports (exact copies of hardware interfaces) on your computer, let's call them COM1 and COM2, and then one of your apps connects to COM1 and the other one occupies COM2. The data transmission starts once the virtual ports are opened on both sides by the apps.
The additional advantages offered by Virtual Serial Port Kit include support for several null-modem pinouts with different handshakes used for the communication process and the ability to emulate loopback plug. Plus, you won't need to reconfigure all created virtual ports upon system startup, all settings will be renewed automatically even prior to user's logon.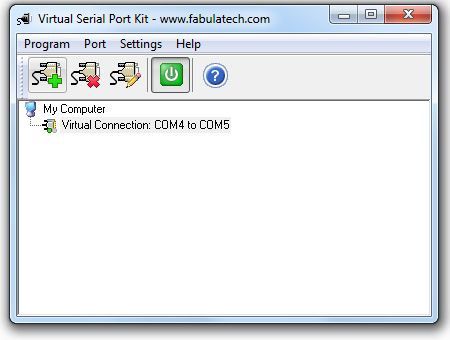 Virtual Serial Port Driver
Requires: Available on Windows ,
5.46MB
size
Version
9.0.567
(
6th Aug, 2017
)
Release notes
Category:
Serial Port Software