How to Move Files between Mac and
iOS Devices
If you own a Mac, it is likely you have a couple of iOS devices too and then you have to move files from Mac to iOS or the other way around, e.g. move pictures from phone to computer or copy photos from iPad to Mac.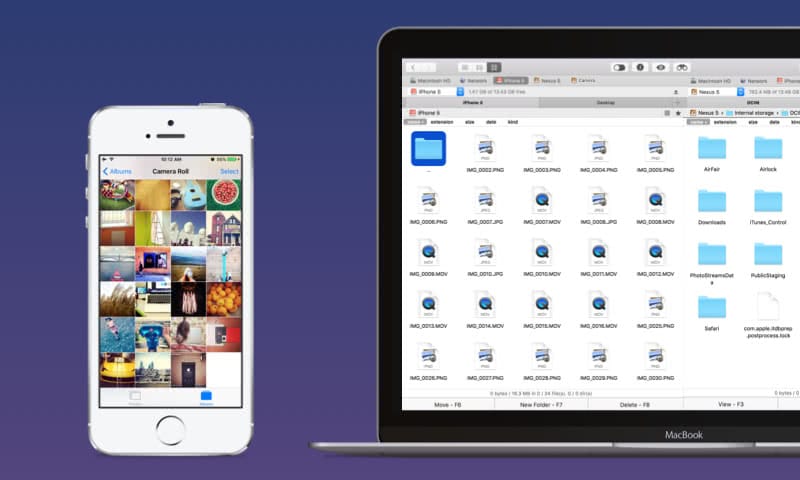 There are several ways to do it, let us have a closer look at them
AirDrop
AirDrop is a technology offered by Apple to share files across devices, e.g. transfer files from iPod to Mac, move photos from iPad to Mac, etc.
Launch Finder on your Mac, select 'Go', then AirDrop.
On your iOS device activate AirDrop in the Control Center and make sure the device is awake.
On the Mac drag a file onto your iOS device's icon in the AirDrop window.
On your iOS device you'll see a menu listing applications that can open the file. Choose the one that suits you best.
AirDrop works well for some file types, while for some it might offer apps that are not helpful at all.
Email
Mailing yourself files is a good solution to your 'How to transfer files from iPhone to Mac' and questions alike, as long as you are connected to the Internet, preferably wi-fi. Compose a new message, attach files to it and receive it on a mail client installed on your Mac or iOS device.
Cloud service
If you have a cloud service client, e.g. Dropbox, installed on your iOS device, you can upload a file to the cloud and then access it either from your Mac or another iOS device. Make sure that you've the right application to open and read it.
iCloud Drive
iCloud Drive is another answer to your 'How to transfer photos from iPhone to MacBook' question. What distinguishes it from other cloud storage services is that it can store files in dedicated folders.
Open Finder, navigate to 'Go' menu and choose iCloud Drive there.
Add files to the desired location – either to a specific folder or you can choose to keep the file on the top level of iCloud Drive.
On an iOS device open the app to view the file or launch iCloud Drive app, tap the file and then Share button.
iTunes
For some iOS apps, e.g. to move photos from iPhone to Mac, you can use iTunes file sharing.
Connect your iOS device to your Mac.
Select it in iTunes and click Apps in the sidebar, navigate to the File Sharing section.
Some apps will display files immediately, while with others you might have to click '+' or Import.
Commander One
This application is essentially a file management solution for Mac that can also serve as an iOS file manager. The app is capable of mounting iOS devices on your Mac, all you have to do is to connect your iPhone, iPad or iPod to Mac with the help of USB cable. Now you can view and browse your iOS data as if it were stored locally, on an additional hard drive.
Commander One
Requirements: OS X 10.10+ , 13.1Mb free space
Version
1.7.4(2445)
(
21st Sep, 2017
)
Release notes
Category:
System Utilities