Alternative to Anybus Serial Server
Being able to use remote devices as if they were physically connected to your local computer is a big convenience. There are great solutions that offer this convenience. Some are hardware some are software. There are a lot of advantages of the hardware solution called Anybus Serial Server, however there are times when you want to avoid cable clutter and you already have enough devices connected to your computer.
In such cases software solution is a real winner - no cables, no devices, no additional drivers needed. Serial to Ethernet Connector is a high-quality alternative to Anybus hardware solution. This program is easy to install and operate and lets you share up to 500 serial ports, despite the fact that your computer may have none.
When a COM port device is shared with Serial to Ethernet Connector you can access it from any part of the world and use it as if it was connected directly to your computer. The only thing you need is an app installed on a server computer (where the ports are to be shared) and the client machine (the one that will be accessing remote COM port devices), and that is it - no additional hardware or software. Also this software Anybus alternative promises high-speed data exchange with virtual serial ports (up to 256 Kbit).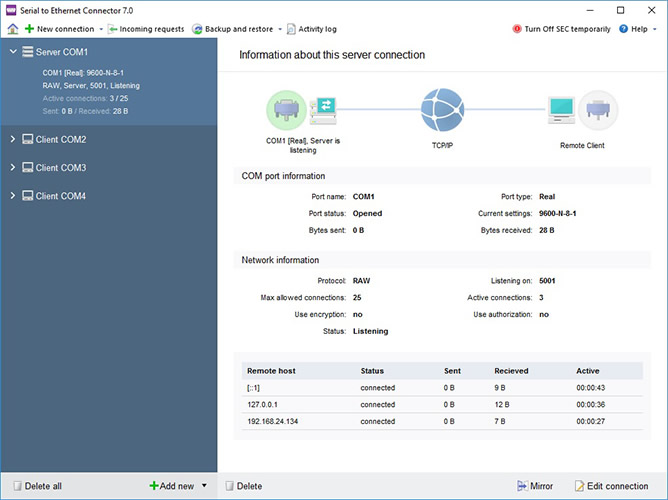 So let's see what benefits this software Anybus alternative offers:
Share the port and make it available for incoming connections
With Serial to Ethernet Connector you can make a shared port expect an incoming connection and accept it when needed, so there is no interference needed on a server side. You can connect as many clients as needed at the same time and each client can transmit data for Serial to Ethernet Connector to process. Any application can be a client as long as it can initialize outgoing connection to TCP/IP server (SEC, Telnet, etc).
Connect serial port to remote host
When you are connecting a serial port to a remote machine (initiating a client connection), you don't need Serial to Ethernet Connector to be installed on a remote machine, you'll just need to indicate remote server's IP or the name of a network and the TCP port to connect to. The data sent from remote side of connection is immediately received at the local COM port for further processing.
Share COM ports via UDP
Serial to Ethernet Connector allows you to redirect in and out data from a local (real or virtual) port via UDP/IP. Again you don't have to install Serial to Ethernet Connector on a remote side of connection. This type of connection lets you broadcast serial data over a local network.
Serial to Ethernet Connector is available for Windows and Linux OS types, which means you can establish serial connection across these platforms.
Serial to Ethernet Connector
Requirements for Windows (32-bit and 64-bit): XP/2003/2008/ Vista/7/8/10, Windows Server 2012
Requirements for Linux: Kubuntu 9.10 "Karmic Koala", openSUSE 11.2, 7.63MB free space ,
4.66MB
size
Version
7.1.876
(
27th Jan, 2017
)
Release notes
Category:
Serial Port Software