Network Serial Port Kit Alternative
A lot of electronic instruments interface to a computer via serial port – these are barcode scanners used at points-of-sale systems, measuring tools and laboratory instruments such as balances, spectrometers, spectrophotometers, etc. The common problem we face when working with this kind of equipment is the necessity to access them remotely – more often than not it is not feasible to run a cable to connect to a device.
Fortunately there Network Serial Port Kit by FabulaTech . This software solution allows remote access to a serial port over network by creating a virtual serial port on the local PC that mirrors the activity of a real COM port on the remote PC. It also emulates virtual null modem cables to connect two communication apps over local network or the Internet. Network Serial Port Kit does a good job, although the functionality it offers is pretty basic. Those who are interested in more advanced features, might want to have a look at Serial to Ethernet Connector (SEC), a Network Serial Port Kit alternative.
So what are the additional advantages offered by SEC?
Connect serial port to remote host (Client)
It is possible to share serial port over Network even if you do not have SEC installed on your machine. Create a client connection and the data received by your local port - whether virtual or real - will be redirected to a remote machine (server). All you need is Serial to Ethernet Connector on the server, the server's IP address or network name and TCP port to connect to.

Share serial port over UDP/IP
Another efficient way to share serial over Ethernet is redirecting data from the local port over UDP/IP. It is too possible to do it without SEC on the client machine.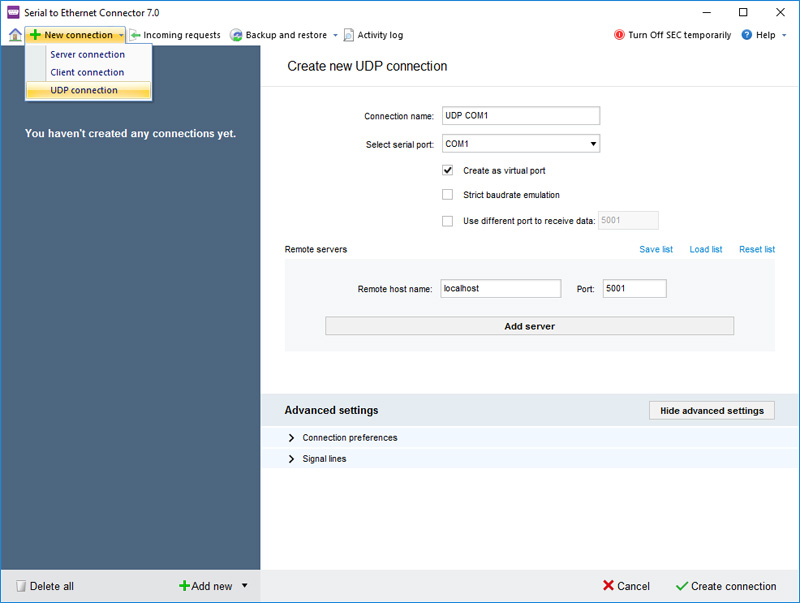 Select data transmission protocol
With Serial to Ethernet Connector you can choose between RAW data transmission algorithm or Telnet (RFC 2217) protocol.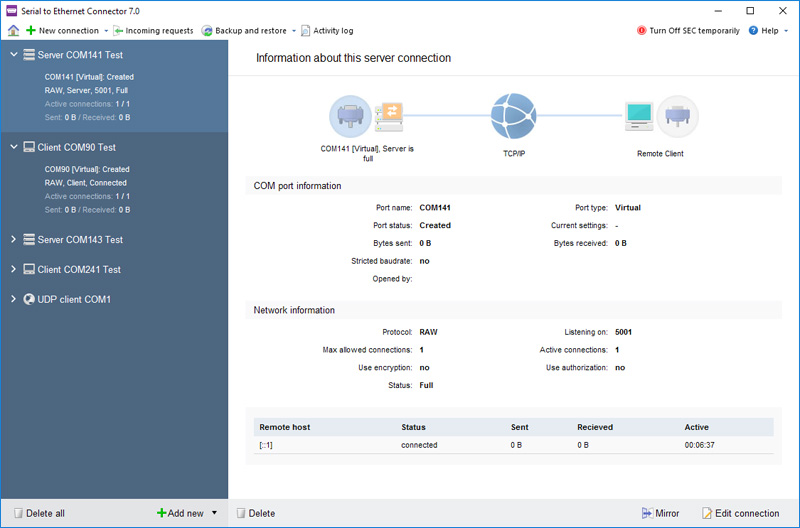 Mirror connections
When establishing a connection this feature enables automatic inversion of all parameters at the remote end.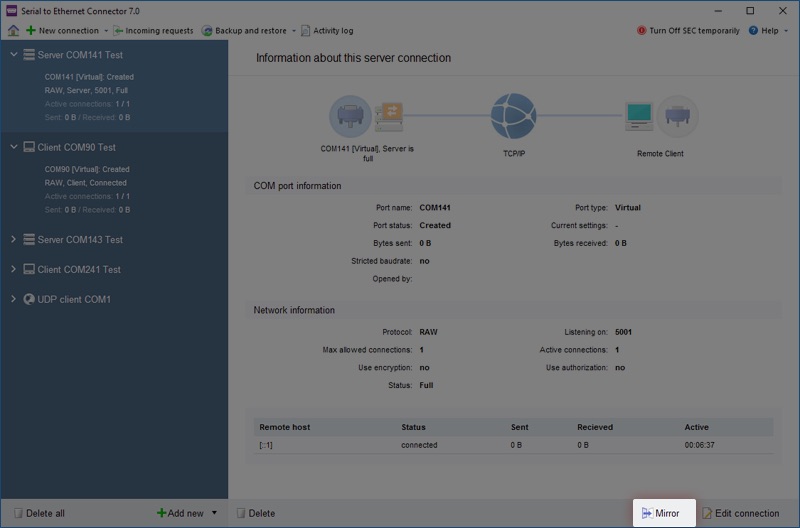 There are three ways for the host to handle mirror requests:
Accept manually – all mirror requests received by the host have to be approved manually (default option).
Create automatically – as soon as the mirror request is received connection is established automatically.
Decline all – no mirror requests are accepted by the host.
Use SEC on Linux
The software supports Linux operating system, it means you can share serial to Ethernet on a Linux machine to be accessed from a Windows PC and the other way round. The current Linux version is a command-line product.
These are just highlights of the Serial to Ethernet functionality. This software has a lot more to offer including user-friendly interface and command-line options. The product provides you with a complete set of tools to interact with remote serial ports, and considered to be the best in its category.
Serial to Ethernet Connector
Requirements for Windows (32-bit and 64-bit): XP/2003/2008/ Vista/7/8/10, Windows Server 2012
Requirements for Linux: Kubuntu 9.10 "Karmic Koala", openSUSE 11.2, 7.63MB free space , 4.66MB size ,
4.66MB
size
Version
7.1.876
(
27th Jan, 2017
)
Release notes
Category:
Serial Port Software