VirtualHere alternative.
How to share
USB via Network
The number of peripheral devices we connect to our computers increases by the day – scanners, microphones, loudspeakers, webcams, cameras, etc., leave alone tablets and smartphones. What do you do if you run out of USB ports on your laptop or desktop? Use special software that enables access to remote USB over IP or any other network. VirtualHere is perhaps the most popular app in this category, but do not limit your choice – there are other tools that provide similar functionality, we will talk about them here.
USB Network Gate
This VirtualHere alternative - USB Network Gate earlier was known as USB to Ethernet Connector. The application allows you to reach remote devices easily; the content and functionality of remote devices will be available to you as if they were plugged into your PC directly. All you have to do is to install USB Network Gate on the server (a computer to which a USB device is attached), and a client machine (a computer that needs access to the remote device), the rest will be taken care of by the app.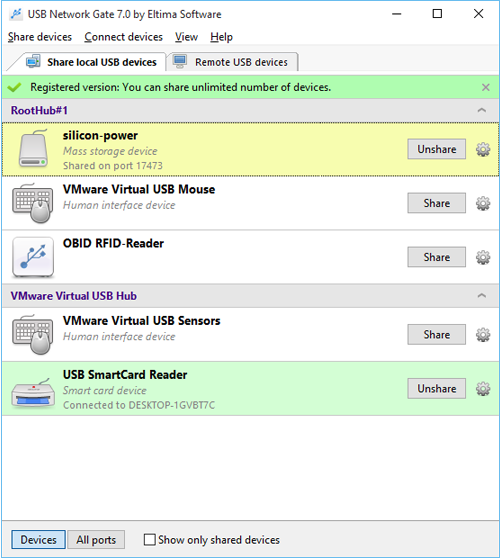 The software works across platforms, e.g. a device shared on a MacBook will be accessible to computers running Windows or Linux OS.
Benefits offered by USB Network Gate:
Work with USB ports over TCP/IP protocol

To send data from a USB port to a remote computer you can use TCP/ IP protocol. It is possible to set up a password to protect it from unauthorized access, only those who know the password can interact with it.
Work with USB ports in VMs and blade servers

Installing USB Network Gate on a guest OS (virtual machines and blade servers) allows you to access USB ports of the host machine. The software is compatible with virtual environment created by VMware, VMware ESX, Citrix XenDesktop and Microsoft Hyper-V.
Work with USB ports across different platforms

USB Network Gate supports all commonly used operating systems, i.e. macOS, Linux and Windows. You'll find it convenient to share a device on a Windows PC and reach it from a Linux machine or MacBook.
Provide access to USB ports in individual sessions

You can isolate a device and provide exclusive access to it to a specified user. Others won't be able to access it in the same session. This feature is currently available in testing mode, it supports USB flash drives and cameras.
USB Network Gate 7.0 and later versions support Citrix ICA protocol.
FlexiHub
This is another alternative to VirtualHere software. FlexiHub main advantage lies in the ability to share not only USB, but serial ports too. Thus, this is a single solution to two problems you often come across in the area of industrial control. A single app easily solves problems of providing remote access and control not only to office USB devices (printer, scanner, webcam, etc.), but also professional equipment such as barcode scanners, surveillance cameras and various CNC machines. All these devices are displayed in a very convenient interface – connecting to interfaces for serial communication is possible only in the edition for Windows.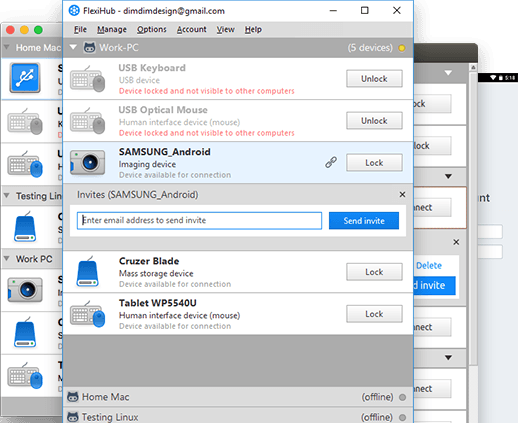 The software is also a cross-platform solution, it is compatible with Windows, macOS, Linux and Android.
Functionality:
Reach USB and serial ports from anywhere

FlexiHub allows remote access to devices no matter where they are actually located – across the room or across the globe. The application displays network computers as nodes, and you can access their USB and serial ports in a click.
Establish and terminate connection to ports remotely

It is not required for you to be at the remote end to connect and disconnect USB and serial devices. Thanks to the encryption communicating with them is totally secure.
Detect device type automatically

FlexiHub automatically detects and displays the type of a connected device – you will know whether it is a printer, keyboard, flash drive, etc. It makes interaction with them easier. Serial devices are indicated with a special icon.
Manage access

If required, you can secure a device from being accessed remotely via FlexiHub. No one will see such locked devices as available and no one can access them without permission of the device's owner.
Secure connection

Communication via FlexiHub is protected by advanced 256-bit SSL encryption that also provides an additional layer of protection for transferring data. There is no need to worry about losing your data when working with remote USB and serial port devices remotely.
Make most of private communication server

FlexiHub has its own redirection server, so your computers are not required to provide their real IP address. Your local computer acting as a client might not see the server machine, but this won't hinder your connection to its USB or serial device.
USB Network Gate
Requirements for Windows: XP/2003/2008/Vista/7/8/10, Server 2012
Also available on macOS, Linux OS and Android ,
5.62MB
size
Version
8.0.1859
(
4th Nov, 2017
)
Release notes
Category:
Networking Software