Virtual serial ports are fundamental for any application that was written for a serial port to run on a computer that does not have that interface. A few years ago serial port communication was once the height of technological advancement when it came to communication between a computer and a serial device. However with the fast pace at which most hardware companies are ditching the once popular protocol for a more sophisticated USB port, you can't help but wonder if there is still need for
this technology.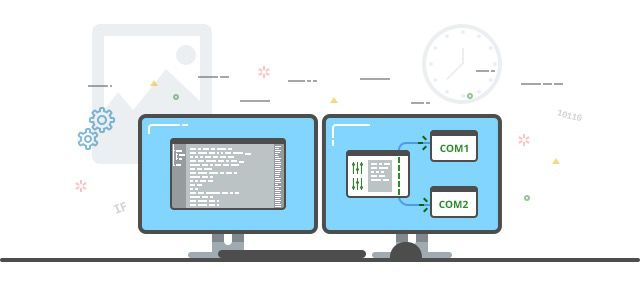 Keeping up with the latest and continuous twist in how serial communications system especially virtual port emulator is being deployed nowadays is the only guarantee of not being left out. Here are 5 things you need to know about serial port protocol.
Virtualization of COM ports reduce development cost
Developers have tremendously reduced the cost and development cycle of projects by virtualizing COM ports. Every business is actively seeking ways to reduce IT and development costs while increasing efficiency. Deployment of software solutions capable of seamless emulation of a physical port has become a trend. Virtual Serial Port Driver is a solution that allows you to create virtual COM port copies of a physical port. The ports created by this third party solution emulate all the functionalities of a physical. Investing in this type of virtualization solution will cut down capital and operating costs, improve the efficiency and productivity of any business.
You can also redirect a COM port
Redirection of a physical COM port from one location to the other over the network has become a common practice amongst power users of virtual COM port. Why do you I need to redirect my COM port, you may ask.

Well, let's imagine a scenario. You have a Serial device that is vital to your business or project and it's in popular demand by your team in different locations. But you don't have the liberty of moving the device from one location to another. You can solve this problem by simply connecting it to a computer and sharing it over the Internet or your local network using Serial to Ethernet Connector. This method is guaranteed to increase your productivity and smoothen your workflow.
COM port virtualization is smart computing
Virtual COM ports is a smart way to work with COM-port devices compared to the analogues and outdated approach of using multiple computers or an expansion card. For projects that require GPS data replication, telecommunication, and data transmission systems even system debug can be a headache if you don't know how to use virtual RS232.
Scenario: Let's say you are debugging two applications that use a serial port. On a real device, debugging can be a bit clumsy, passive and without multiple threading. Here is a smart solution to this:
Simply develop a program that can connect to the modem and send commands. You can then create a virtual COM port pair with Virtual Serial Port Driver and send or receive commands to it.
Device applications can work with unsupported OS using virtual COM port
Your device application doesn't support your OS? No problem! Virtual COM ports emulate serial port which makes it possible for you to work with any OS-specific device application. Some device applications are OS selective and that becomes a problem if it needs to communicate with a serial device that is connected to a computer running an unsupported OS. Using a third party application like Serial to Ethernet Connector, you can run this device application on any computer.
This is how you can do it: Install a virtual machine running the supported OS on your host computer. Attach the device to your host computer and share the port. Then use Serial to Ethernet Connector to create a virtual COM port in the VM and specify the network name and TCP port to connect to. As soon as the connection is established, your device application in the VM will be able to use the device.
Virtual COM ports are not for everyone
Virtual COM ports solve most of the serial communication problems faced by many today. However, it is most profitable for companies and businesses to deploy this technology in large scale. For an individual who plans on using this type of technology for personal or nonprofit purposes, it might be somewhat steep in terms of the deployment cost.