Contents
About emulation
In the field of computing an emulator is a particular type of hardware or program that makes it possible for one operating system, the host, to imitate the behavior of another OS referred to as the guest computer system. Essentially, an emulator is designed to provide an easy way to use hardware devices or software that are meant for the guest OS on the host operating system. With that, the ability to imitate a computer or electronic system using the system of another type is known as emulation.
When it comes to COM port data emulation, one of the most efficient ways to achieve required results is a dedicated software able to work as a serial port data emulator. By imitating the features of the guest OS with the help of the software solution, host computer system gets the ability to generate serial traffic and emulate COM port data exchange between serial devices initially developed for the guest system.
A software tool for emulating COM port activity
Serial Port Monitor is an advanced tool to emulate serial data flow. Thanks to the builtin terminal, the software can easily imitate sending data to any COM port available in the system. With a slew of powerful features, the app will be especially helpful for developing, testing, or optimizing serial devices, various kinds of device drivers, or applications communicating with COM ports.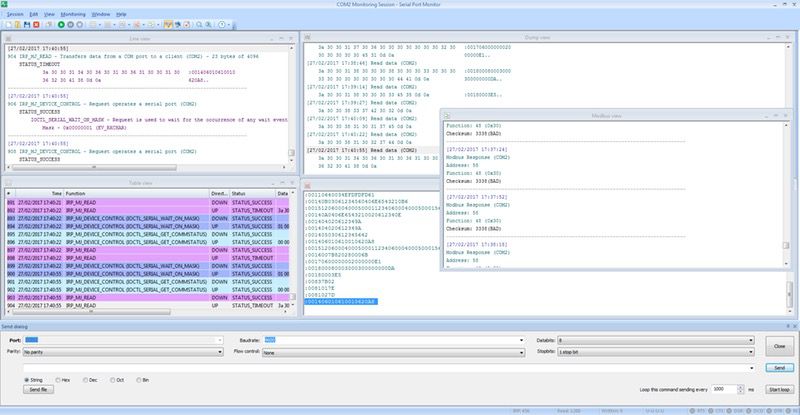 The advanced features of Serial Port Monitor are designed to cater to users' most diverse serial data emulation needs.
The software is not only capable of working in a full duplex mode, that is, send and receive serial data simultaneously, it also supports various data formats, like binary, octal, decimal, or hexadecimal. What's more, the app lets you send information right from a file.
Once the data is received from a serial device, it can be recorded to a separate file and sent to another peripheral communicating with the system through a COM port. This way, you can check the reaction of any device to certain serial data.
In addition to a full suite of data monitoring tools, Professional edition of Serial Port Monitor offers versatile configuration options. Simply put, Serial Port Monitor gives you control over adjustments of baudrate, number of databits and stopbits, parity, flow control type and more.

The software sniffs and displays data going through the monitored COM port in real time. In practice, that means every time you detect a problem during interaction with a serial port, you can solve it immediately.
COM port data emulation: how-to guide
To use Serial Port Monitor as a serial port data emulator, follow these simple steps:
First, download the software and install it on your computer.
Start the app.
Next, in the "Send" dialog choose a COM port and configure all the necessary parameters.
Then, enter the commands that need to be emulated and click the 'Send" button.
Alternatively, you can use the "Send file" option that will let you choose a file with the prerecorded data.
Don't forget to start a new monitoring session to be able to see all the sent and received data. That's it! Just a few simple steps and you are ready to emulate your serial data flow.
All of this is to say that Serial Port Monitor is about more than just tracking and logging serial data exchanged between your system's COM ports and devices connected to them. It's about helping to fully emulate a serial communication so that you can analyze and compare received data in the most efficient and simple way.

#1 at Serial Port Software
Serial Port Monitor
Log and analyze serial port activity
4.6
rank based on
75
+ users
Get a download link for your desktop
Submit your email address to get a link for quick download on your desktop and get started!
Category:
Serial Port Software
Demo Limitations:
fully functional 14-day trial
Pricing:
Starts from $99.95