Contents
What is a null modem?
A null modem is a cable that is designed specifically to allow a direct connection between two serial devices by using their RS232 communication ports. More technically, two Date Terminal Equipment (DTE) devices are connected without the intervention of a Data Communication Equipment (DCE) device. DTE devices can be seen as computers and DCE devices as modems. Null modem cables are also called crossover cables because the transmit and receive pins on one end are flipped.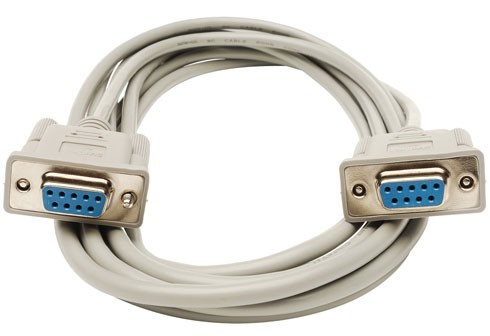 A null modem serial cable is usually used to connect two computers together for the purposes of file transfers. They are also used by computer gamers to directly connect their machines together for more fluid gameplay. The length of a null modem cable is limited to 30 feet, so physical proximity is necessary to use an RS232 null modem. Data transfer speed is limited to 115 kb/s but is often much less due to cable length.
What is the difference between a Null Modem and Straight Through Serial Cable?
A straight through serial cable is used to connect a DTE device to a DCE device. It uses the same pinout structure on each end of the cable and is what you commonly use to connect your computer to an external device with a serial port. Straight through serial cables can be longer than a null modem serial cable with lengths up to 50 meters. Performance degrades as the length increases, so the two pieces of equipment need to be located fairly close together.
Straight through cables can be turned into null modems by the use of a null modem adapter. These adapters cross the data transmission lines of the straight serial cable emulating null modem connections. Use of a null modem adapter adds flexibility to your serial cable.
Software emulation of null modem connections
As previously mentioned, using a null modem means having the two pieces of equipment close together. You may not be able to achieve this accessibility nor want to have extra cables cluttering the area. There is a simple software solution available to solve these issues. Null Modem Emulator by Electronic Team can create compatible serial ports that are connected by a virtual null modem.
This virtual null modem application creates ports that appear the same as hardware ports to your operating system or any Windows application. Use of an OEM license allows you to embed VSPD in your own application for unlimited distribution.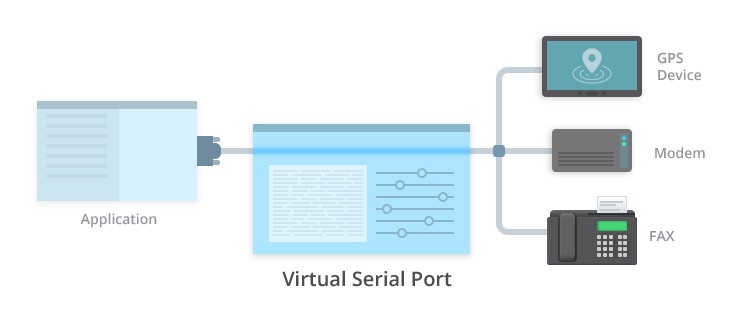 Electronic Team Null Modem Emulator will let you create an unlimited number of virtual COM ports and name them as you wish. They are seen in Device Manager just like any other port. Virtual ports created with this null modem RS232 connection software emulate all serial port functionality and employ advanced Windows kernel driver technology to ensure full operating system support. The virtual ports also support all standard hardware signal lines like DTR/DSR, RTS/CTS and RING.
Additional benefits of using Null Modem Emulator include increased data transfer speeds of up to 5.5 mb/s over the virtual null modem. You have total control over the naming and usage of virtual ports, and can limit access if desirable. Virtual Null Modem can be installed, and virtual ports can be created and configured with no system reboot. This is a vital application that can eliminate the need for physical null modems.

#1 at Serial Port Software
Virtual Serial Port Driver
Create virtual COM port pairs in Windows
4.9
rank based on
367
+ users
Get a download link for your desktop
Submit your email address to get a link for quick download on your desktop and get started!
Category:
Serial Port Software
Demo Limitations:
14-day fully-functional trial
Pricing:
Starts from $139.95