Portmon is a software tool for parallel and COM port monitoring. It enables you to see how applications interact with devices connected to the system ports and detect potential problems with apps, hardware or system configuration. The tool provides you with filters to see only relevant information and search options if you require specific data.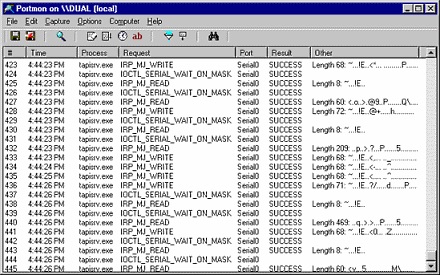 Portmon 3.x. enables you to sniff serial port or parallel port over network, log data, use filters to view only relevant information, mark and print debug output files.
A handy tool overall, Portmon for Windows has it own drawbacks. So in case you are looking for a Portmon alternative, read on – we've got a recommendation for you.
Serial Port Monitor
The functionality of this utility is similar to that of Portmon – it enables you to monitor, display, record and analyze data exchanged between your system ports and devices connected to them. It is possible to filter out and search collected data. Serial Port Monitor from Electronic Team also allows you to export data in a convenient format.