Best Serial port Redirectors - COM port Redirector software
Despite the fact that serial interfaces are not generally standard equipment on modern computers, many devices that use serial ports are still in use. Industrial applications favor serial interfaces over the more commonly seen USB ports. If you are in need of a way to use serial devices with a computer that is not equipped with any serial interfaces, we have some solutions you can try. These serial port redirector applications will also let you remotely access and control a network-attached serial device.
Computers without physical serial ports or machines housed in remote locations can access and share serial devices over the network by using COM port redirector software. Using a COM port redirector, remote devices will appear as if they are attached directly to your machine.
The top 5 serial over IP solutions for creating and accessing virtual COM ports:
Contents
1. Serial to Ethernet Connector
Serial to Ethernet Connector is a stable software product developed by Eltima Software and has been available commercially for several years. The application lets you create multiple virtual COM ports on a machine with no physical serial interfaces. This virtual serial port redirector enables you to access the functionality of multiple remote serial devices over the network. You system's capabilities are the only limit on the number of virtual ports you can create with this COM port redirector utility. It transmits serial data over the Ethernet from your computer to network-attached serial devices.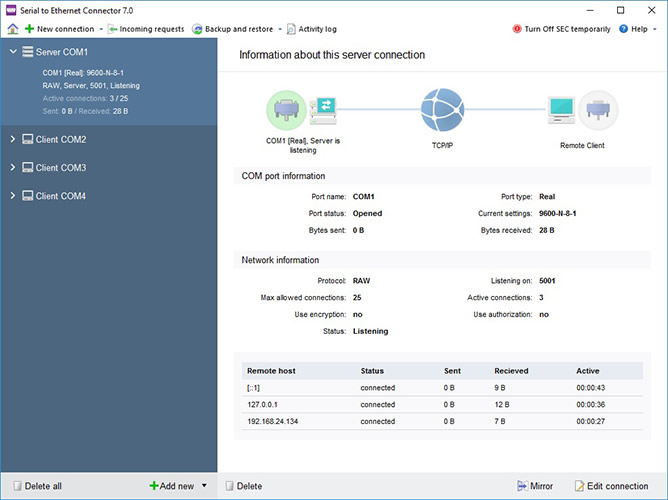 Serial to Ethernet Connector is a versatile, cross-platform application that runs on both the Windows and Linux operating systems. Redirection of serial ports can be done on virtual PC, Hyper-V, VMWare, and other virtual platforms using this virtual com port redirector. You can create virtual serial port pairs with the program. These ports can be connected to network-attached serial devices or serial software using this RS485 redirector. The virtual interfaces you create fully emulate the functionality of the physical ports so your applications work with them as if they were a real port.
Serial to Ethernet Connector supports Windows systems from XP (32-bit and 64-bit) to Windows 10 (32-bit and 64-bit) and Windows server 2012.
Those users with ARM computers can use the Linux version available for ARM-based devices.
2. TCP/Com
TCP/Com is a basic and versatile program that can solve a number of issues you may face when required to connect devices or redirect serial port transmission over the network. It can be used to assist in a variety of TCP communication processes. Some examples include the ability to turn your machine into a Serial Device Server, communicate over the network with any COM device or serial application, and map serial ports. It can also be used to access remote serial ports as if they were locally attached and send data received from a single physical port to multiple serial programs.
TCP/Com supports versions of the Windows operating system from 98 to Windows 10 (32- and 64-bit).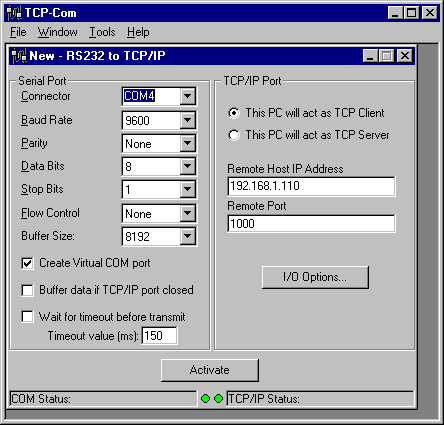 3. Network Serial Port Kit
Network Serial Port Kit is an application that can be used to redirect COM data over the network and facilitates the sharing of serial devices whether locally or remotely located.
Network availability of a physical serial port is possible with this serial over IP software. Remote devices can easily be connected with this Ethernet COM port redirector application. All of the virtual serial interfaces that are created fully emulate the functionality of the physical COM ports ensuring that your programs use them seamlessly.
Network Serial Port Kit allows you to share and access unlimited serial devices and is supported on the Windows OS 32- and 64-bit.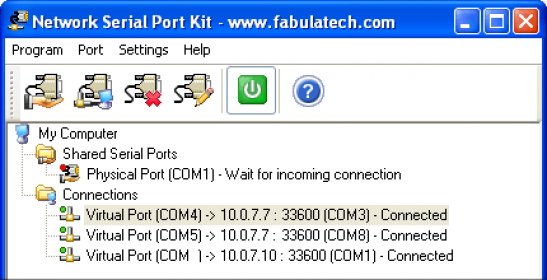 4. SERIAL-TCP/IP
Serial-TCP/IP is a program that serves as a TCP serial port redirector enabling you to access your current control systems remotely. It features built-in "Ping", "Resolve IP Address / HostName", "COM Port State LEDs", and "Data Logging" options that simplify the analysis of your TCP/IP network. As with the other software products we are looking at, this is a great tool for the debugging and testing of serial software and hardware products. Unfortunately, this program only runs on Windows 8, 7, Vista, and XP (32 and 64 bits).
5. Advanced Virtual COM port
Advanced Virtual COM Port is an application that offers features designed to enable the creation and use of network and local virtual serial interfaces. This program fully emulates hardware ports in the creation of virtual interfaces so your applications will not experience any unpleasant issues when using them. Hot creation and removal of ports is possible without the need to reboot your machine. The tool allows the creation and monitoring of up to 255 virtual serial interfaces.
Advanced Virtual COM port supports Windows 2000 - Windows 8.1 (32 and 64-bit) and Windows Server 2012 R2. It also supports Windows CE versions: CE 5.0 (x86), CE 5.0 - 6.0 (arm), Mobile 2003 SE, and Mobile 5.0 - 6.5.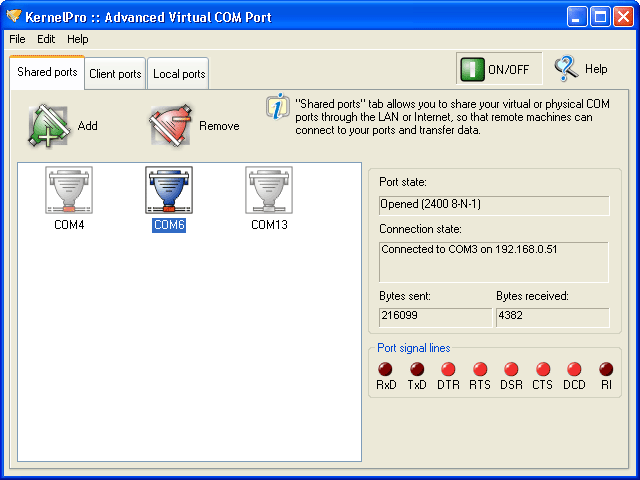 Based on your specific requirements one of these RS232 port redirector applications may be just what you need. Though there are free options available, when you purchase a paid software tool you receive the benefits of technical support and product updates. This can be instrumental in resolving any issues you may have when implementing the software.
Serial to Ethernet Connector
Requirements for Windows (32-bit and 64-bit): XP/2003/2008/ Vista/7/8/10, Windows Server 2016
Requirements for Linux: Kubuntu 9.10 "Karmic Koala", openSUSE 11.2, 7.63MB free space , 4.66MB size ,
4.66MB
size
Version
7.1.876
(
28th Jan, 2017
)
Release notes
Category:
Serial Port Software