Hyper-V USB Passthrough Guide
If you're interested in virtualization technologies, you've heard of Hyper-V. Hyper-V is a hypervisor (virtualization software) that lets run multiple operating systems on the same physical machine. Every guest OS created with the help of Hyper-V platform gets direct access to the hardware of a physical server (hard drive, memory, processor, etc.) Hyper-V virtualization environment is compatible with Windows and Linux operating systems.
With that, probably the most inconvenient thing about Hyper-V platform for me as well as for many other users is that the virtualization software does not provide USB pass-through support out of the box. Simply put, you cannot access USB peripherals attached to a local PC while working in Hyper-V virtual machine. To resolve this challenge, you need to either resort to help of some dedicated third-party tools or look for a workaround among features of your host OS.

In this article we will consider two different ways of forwarding USB devices from a host PC to a Hyper-V virtual machine and compare the pros and cons of each method.
Contents
USB Network Gate
Let's say you have Hyper-V OS installed on your PC. Working in the virtual machine, you realize that a USB dongle plugged into the host computer is not accessible from the guest operating system. You don't necessarily care how to redirect USB over the network. You just want to access the USB device from your virtual machine as though it were connected to the VM physically. That's the idea behind USB Network Gate.The dedicated software is able to share USB peripherals over the network so that you can make use of their functionality from any remote computer, including Hyper-V VM.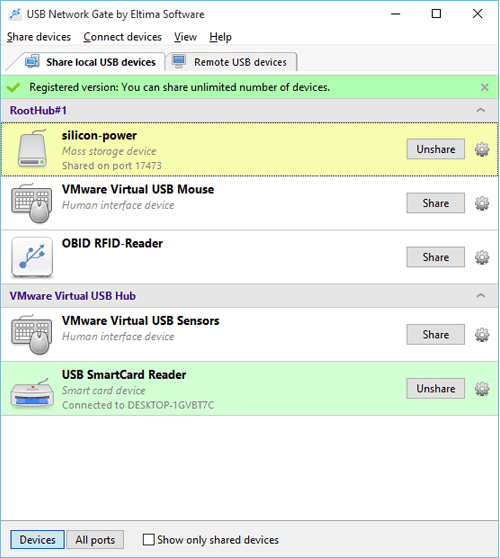 Here's how to make USB recognizable in Hyper-V with the help of a dedicated third-party software:
Install USB Network Gate on both your host (server) and guest (client) operating systems;
Share a USB device plugged into the server PC over the network;
In the virtual machine find the shared USB peripheral in the software interface and click 'Connect'. That's it! The device will appear in the Device Manager of your VM like it were attached locally. It's really that simple. What more could you want?
The pros and cons of accessing USB in Hyper-V with USB Network Gate:
Pros
Compatibility with multiple platforms (Windows, Linux, Mac).
Stable USB connections.
Requires minimal configuration to work across the network.
Supports virtually any USB device.
Cons
USB redirection requires network connectivity.
The software isn't free.
Remote Desktop Protocol
Now, let's consider another way to provide Hyper-V USB passthrough. If you connect to your Hyper-V virtual machine from a host PC over Remote Desktop Protocol (RDP), you can virtualize your local resources like hard drives, USB ports, etc. and make them accessible to the guest OS. This option is a good workaround for Windows OS users. The Windows 10 Hyper-V USB passthrough feature is available in the client options of the Remote Desktop Connection.
To forward USB devices to your VM over RDP, you need to follow these simple steps:
Open Remote Desktop Connection options.
Go to the Local Resources tab and click 'More'.
In the dialog that will appear, choose a USB drive you'd like to use in your Hyper-V OS. Hit 'Ok'. Now, once you connect to an RDP session on any host, the device will be available for access from your virtual machine.
Pros
Configured USB pass-through options are applied automatically as soon as an RDP connection is established.
USB redirection is totally independent of the hypervisor.
Group policy lets control and limit USB connections.
Cons
Hyper-V USB dongle can be accessed only within RDP session.
Not all USB devices are supported.
Low data transfer speed.
Works only with Windows operating systems.
As you can see, there are different ways to access USB in Hyper-V. Considering the ease of use and the range of devices supported, it's easy to see that the software tool, USB Network Gate, is a more convenient and efficient solution.
USB Network Gate
Requirements for Windows: XP/2003/2008/Vista/7/8/10, Server 2012
Also available on macOS, Linux OS and Android ,
5.62MB
size
Version
8.0.1859
(
7th Nov, 2017
)
Release notes