Сontrol remote USB over Ethernet.
Access and share remote USB devices.
Most of the modern computing devices use USB ports for communicating with other devices – printers, scanners, web cameras, hard drives for storing data, etc. At times it might not be feasible to insert a device directly into your machine's USB port – whether the device is too big to be moved around, the cable is not long enough or it is just way too far from where you are now, e.g. you need to send a document to a printer at your company's branch across the town or even across the globe. Well, what do you do then? How do you get a remote USB access?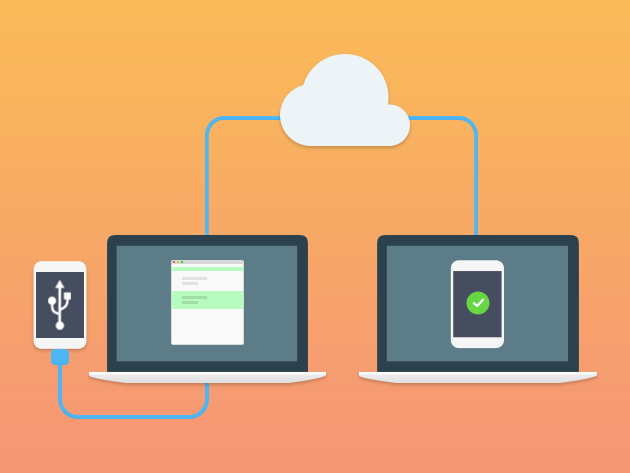 There is a solution to the problem – USB over Ethernet software. This special software solution allows you to access remote USB device over a network – remote USB over Ethernet, LAN, WAN, Internet, etc.
What can USB Network Gate do for you?
Enable USB remote connection over IP/ LAN/ WAN/ VLAN/ VPN/ Internet.
USB Network Gate can also restrict a remote USB connection – just set up a password.
Provide access to USB ports in virtual machines and blade servers.
With the whole bunch of benefits, virtual environments offer, we just love them – the only thing we can complain about is no access to USB ports. USB Network Gate makes it possible – accessing a USB device contents or functionality in a virtual environment. Once you install the app on a guest operating system, USB peripherals become accessible to you right away. VMware, VMware ESX, Citrix XenDesktop and Microsoft Hyper-V are supported.
Access USB over Remote Desktop Protocol
Same with RDP – no access to local USB ports. USB Network Gate helps you solve this problem too and goes even further – your remote machine can automatically detect and connect to remote USB device instantaneously the moment it is inserted in a port.
Work with remote USB over Wi-Fi
USB devices can be shared and accessed over a wireless network. Relief for your system administrators – there is no need to change configurations. Plug in a device into a computer, share it with the help of USB Network Gate and all other network users can access its contents and functionality.
How do you do it?
Download and install USB Network Gate; launch the application.
In the app's window navigate to 'Remote USB devices' tab, in the list of devices displayed select the one you need, click 'Connect' button next to it. Now you can close the window.
Just because a device is listed in the tab, it is not necessarily connected to your computer. It only means that it is shared on the other side, to connect to it you might have to click 'Establish connection'. If a device owner setup a password, you will be required to enter it, now you can click 'Connect'.
Once you are connected, a remote device will be displayed as if it is inserted in your machine directly. Now you can browse its contents and use its functionality.
USB Network Gate is a cross platform solution that supports Windows, Mac OS X and Linux. It means that you, for example, can share a USB device inserted into a Windows PC or MacBook and access its contents and functionality from a Linux device or vice versa.
USB Network Gate
Requirements for Windows: XP/2003/2008/Vista/7/8/10, Server 2012
Also available on macOS, Linux OS and Android ,
5.62MB
size
Version
8.0.1859
(
4th Nov, 2017
)
Release notes
Category:
Networking Software