How to Turn
Your Computer into
USB device Server
What's the first thing that comes to your mind when you hear "USB server"? "A hardware that is able to share USB peripherals" you might answer. Right, a USB device server is a hardware solution used for making peripherals, attached to it, available for remote access from multiple client machines. This way, it relieves you from the necessity to plug and unplug a USB device every time you need to access its functionality from another PC.
Contents
Share USB over the network with
specialized hardware.
A USB server hardware typically connects to the network through a regular USB port. That means, any peripheral, attached to the server, can be shared over the network so that all the other network computers are able to use it. The hardware solution usually comes with a special software, which helps to set up and adjust such USB device server Ethernet.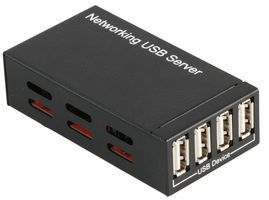 A hardware method, however, is not the only way to provide the device network sharing option. Just think: with a dedicated software USB Network Gate, you can use your own computer as a USB server without any need for additional hardware.
USB server software:
an efficient alternative solution.
The thing that makes USB Network Gate an unrivaled professional tool is that, combining a slew of advanced features with a clean and friendly interface, the software has no distance limitations and thus lets you manage remote USB peripherals without regards to their physical location.
By installing the app on your PC, you can turn the latter into a USB server without any special hardware or long and expensive cables. The software enables you to share numerous USB devices on the server computer and manage them remotely from client machines. Great, right?
It's all pretty easy once you get going, just follow the simple steps:
Choose the software version compatible with your OS and follow the USB server download link. (USB Network Gate supports Mac, Windows and Linux operating systems, so you can get Windows USB server, USB server Mac, or USB server Linux);
Once downloaded, install the app on the computer, which you are going to use as a USB server. Attach the devices you want to share;
Install the program on all network computers that need to access these USB devices remotely;
Head into the "Remote Devices" tab on the client machines and connect to the required devices shared on the USB server computer.
USB Network Gate and its major benefits:
If, running a virtual machine on your PC, you find it difficult to access your local USB peripherals, using the app will greatly simplify the task. With the software installed on your guest OS (or a blade server) you'll be able to easily manage all devices plugged into the host computer. USB Network Gate is fully compatible with VMware, Citrix XenDesktop, VMware ESX, and Microsoft Hyper-V software.
The app allows working with local devices over RDP, so you can stay connected to any USB peripherals shared on your server in a Remote Desktop Protocol session. Even better, the app's advanced functionality lets your remote computer detect and establish a connection with shared devices automatically.
Managing USB peripherals over Wi-Fi is not a problem with USB Network Gate. No changes in your current network settings required, just install the software on all client computers and remotely access USB devices over the network.

Some key things to remember:




USB Network Gate does not allow multiple machines to access a shared USB device simultaneously. That means, only one computer can make use of the shared peripheral at a time.

Once a USB device is shared on your server PC, it becomes unavailable for access from the local machine. Unshare the device to make it accessible on the server computer.
USB Network Gate
Requirements for Windows: XP/2003/2008/Vista/7/8/10, Server 2012
Also available on macOS, Linux OS and Android ,
5.62MB
size
Version
8.0.1859
(
3rd Nov, 2017
)
Release notes
Category:
Networking Software