What's the first thing that comes to your mind when you hear "USB server"? "A hardware that is able to share USB peripherals" you might answer. Right, a USB device server is a hardware solution used for making peripherals, attached to it, available for remote access from multiple client machines. This way, it relieves you from the necessity to plug and unplug a USB device every time you need to access its functionality from another PC.
Contents
Share USB over the network with
specialized hardware.
A USB server hardware typically connects to the network through a regular USB port. That means, any peripheral, attached to the server, can be shared over the network so that all the other network computers are able to use it. The hardware solution usually comes with a special software, which helps to set up and adjust such USB device server Ethernet.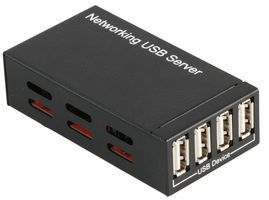 A hardware method, however, is not the only way to provide the device network sharing option. Just think: with a dedicated software USB Network Gate, you can use your own computer as a USB server without any need for additional hardware.
USB server software:
an efficient alternative solution.