Many electronic devices like barcode scanners, pos terminals, and various lab instruments communicate by way of RS232 connections. The majority of computers manufactured today are not equipped with serial ports. This poses a problem when you need to access devices using RS232 over IP.
Due to its status as a flexible communication protocol, the RS232 interface is well-established. We can expect it to be used for the foreseeable future as there are many affordable software and hardware solutions that employ the RS232 protocol.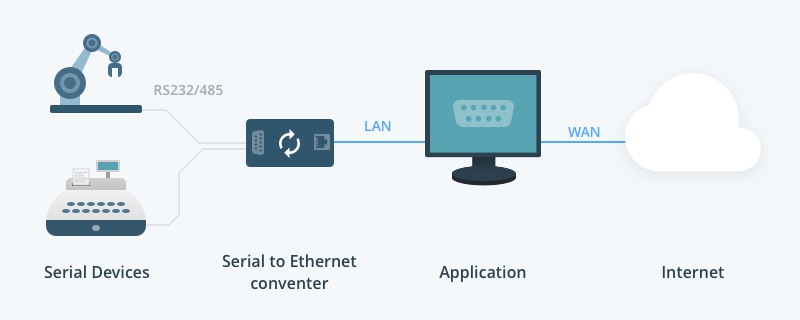 There is a good chance that the RS232 interface will remain one of the most popular ways to connect peripheral devices to a computer. Newer devices that are designed to use USB ports to connect to a computer have drives that allow the emulate of serial ports, enabling them to communicate with software employing the RS232 protocol.
Contents
A problem of enabling a remote access to an RS232 device over IP network arises when you need to connect to your local computer a serial device that is not in your physical proximity. It is not as difficult as it seems to be at first glance – as long as your local and remote computers are connected over network, e.g. a local network or the Internet. Solving it does not require purchasing a very long cable or trying out sophisticated tricks, but special software. Things are much simpler with Serial to Ethernet Connector; this application enables you to provide access to RS232 port over IP/TCP/Internet regardless of how far Server and Client computers are located from each other.