USB Network Gate
USB Network Gate (also known as USB over Ethernet) is a professional-grade software application with amazingly powerful capabilities. It can do much more than just share a keyboard and mouse between two computers.
Where other apps and gadgets fall to defeat, USB Network Gate never fails to provide you reliable and secure access to all kinds of USB devices from any spot on Earth.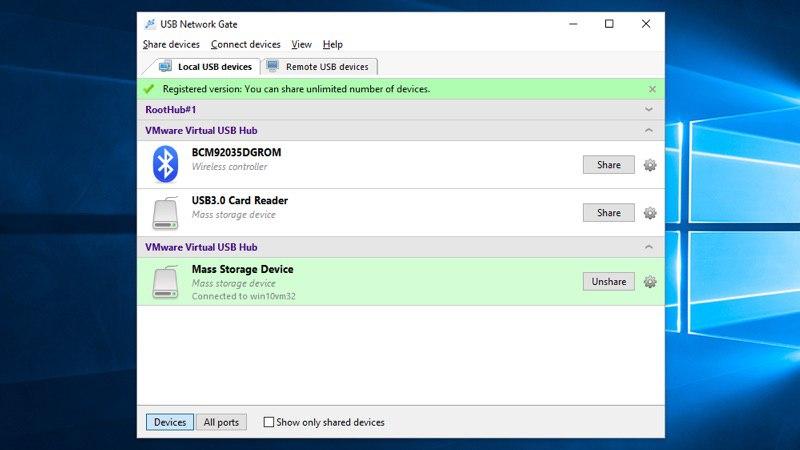 With its help, you can easily share a USB device with your teammates so there's no need to spend up on extra gadgets for all and sundry. Just think about cost-saving opportunities!
Here's how to share keyboard and mouse between two computers
using USB Network Gate:
Download and install USB over Ethernet on the server i.e. a computer to which your keyboard and mouse will be attached. Launch the application.


In the app's window you will see 'Share local USB devices' tab, where all your available devices are listed. Press 'Share' button for those devices you'd like to share.


Download and install the app on the client, i.e. a computer that needs access to the shared keyboard and mouse. Launch the application.


In the app's window in the "Remote USB devices" tab locate the required device and click 'Connect' to access the device.
Now you can use the functionality of the keyboard and mouse you have connected, i.e. you can access them as if they were plugged into your machine.
Most typical scenarios when USB Network Gate comes to the rescue:
Share mouse and keyboard between 2 computers that aren't located on the same desk or even in the same room



One of the key advantages of using USB Network Gate is that you won't have to get out of your chair and come up to a colleague's machine every time you need to use it. Instead you can just share your mouse across computers (and keyboard, if need be). While some extra body movement is always welcome in sedentary office life, better not have it at the cost of someone's destruction from their work.

Share mouse and keyboard between Mac and PC



Unlike some other apps, USB Network Gate will save you any trouble with cross-platform compatibility. Whatever OS is on a PC you choose to share a USB device, it will be accessible from all machines in your network, be it a Windows, Linux, Mac or Android PC.

Access USB devices in a virtual machine session

Remote access to your keyboard and mouse is also required when you work in a virtual environment where USB ports are not always visible and reachable

Redirect USB from a thin client




Being able to manage devices remotely becomes of critical importance if you are using a 'thin client', i.e. a computer without a hard drive. These computers depend on other machines or rather servers to provide features such as hosting applications, sensitive data, memory, etc. The functionality of these servers may vary significantly. So-called 'fat client', on the contrary, performs all the tasks by itself.