Share keyboard and mouse between two computers
Look at the variety of the computing devices nowadays; the things they can do to help us perform various tasks are plenty. No wonder, we often operate several computers and devices at a time to get our work done in an efficient way. We certainly can make most of the devices, if only we figure out the way to share keyboard and mouse between two computers, because switching multiple keyboards and mice is no fun at all. How do you share USB keyboard and mouse? By enabling remote access to your input and output devices.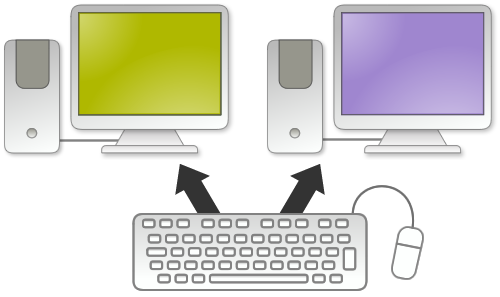 Being able to manage devices remotely becomes of critical importance if you are using a 'thin client', i.e. a computer without a hard drive. These computers depend on other machines or rather servers to provide features such as hosting applications, sensitive data, memory, etc. The functionality of these servers may vary significantly. So-called 'fat client', on the contrary, performs all the tasks by itself.
Remote access to your keyboard and mouse is also required when you work in a virtual environment where USB ports are not always visible and reachable.
There are various ways to share USB keyboard and mouse between two computers, three computers or, in fact, any number of computers. Use a USB splitter to connect your devices to the keyboard and mouse; we'll call it a USB hub.
1. USB Network Gate
This app is developed by Eltima Software specifically to enable access to remote USB devices over a network. This is how you use it:
Download and install USB over Ethernet on the server i.e. a computer to which your keyboard and mouse will be attached. Insert your USB Hub into the server and launch the application.
In the app's window you will see 'Share local USB devices' tab, where all your available devices are listed. Press 'Share' button for those devices you'd like to share.
Download and install the app on the client, i.e. a computer that needs access to the shared keyboard and mouse. Launch the application.
In the app's window in the "Remote USB devices" tab locate the required device and click 'Connect' to access the device.
Now you can use the functionality of the keyboard and mouse you have connected, i.e. you can access them as if they were plugged into your machine.
2. KVM switch
This device allows you to operate multiple computers not looped in a network via a single monitor, single keyboard, and single mouse. You only need to attach your keyboard and mouse to this device and connect it to the computers, the device would have a switch for USB ports and computers to activate one at a time.
You can use KVM switches to share not only keyboards and mice but other devices as well such as microphones and speakers. The switches work with both Windows and Mac machines.
Pros
As simple as it gets
Works with other USB devices, e.g. microphones, speakers
Works with Windows and Mac OS X
Cons
Wires, wires, wires
Not free
Depends on a distance between two computers and devices.
3. Input Director
One more software solution to share USB keyboard between two computers or more.
Here's your step-by-step guide on how to use it:
Download and install the software and setup your master system first. You can either setup hotkeys or drag a mouse cursor over the borders to switch between the computers.
Setup your network address and add computers to it.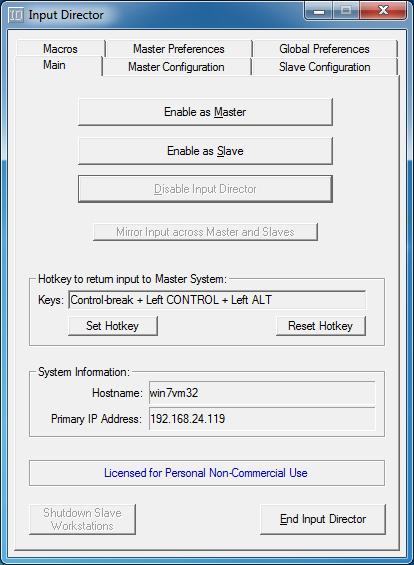 You can setup a clipboard area in the network, check Global Preferences.
For further information refer here.
USB Network Gate
Requirements for Windows: XP/2003/2008/Vista/7/8/10, Server 2012
Also available on macOS, Linux OS and Android ,
5.62MB
size
Version
8.0.1859
(
4th Nov, 2017
)
Release notes
Category:
Networking Software