Share USB over IP Network
The situation when you need to access a device remotely is quite common these days. The modern pace of life requires people to move around and it is almost impossible to remain at your desk the entire day. Multitasking of an average corporate employee makes a remote access a necessity, not a luxury. Majority of computing devices are connected to a computer via USB ports, that is why accessing a USB port over IP is one of the most required technologies in the daily life of corporates. So if you need to access USB over IP or share USB device over IP, you've got two solutions – a software application and a special hardware.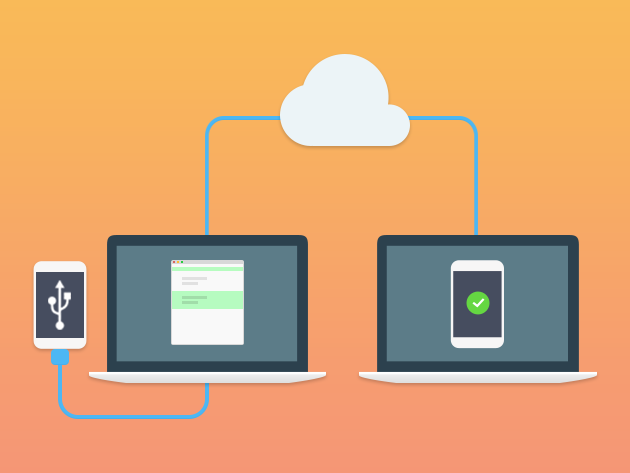 Software solution
USB over Ethernet (earlier known as USB over IP Connector) enables you to work with remote USB over TCP/IP connection. You can share or get access to remote USB devices over LAN or Internet, and these devices will be recognized by your operating system as if they were physically connected to your machine. These include USB storage devices, USB keyboards, USB webcams and speakers, printers, scanners, etc. – any USB device will do.
USB Network Gate is a dedicated USB over IP software specifically designed to share USB over IP. The application intercepts USB port activity of a shared USB device and redirects it via TCP/IP network so you can access a USB device wherever you are whenever you need it. Plug in your device and it will appear on the remote side of the connection.
Software advantages:
★ Share USB devices over TCP/IP protocol
USB Network Gate (former USB to Ethernet Connector) is meant for sharing USB devices among multiple computers. The app also allows you to set a password to control remote user access.
★ Connect USB devices to virtual machines & blade servers
USB Network Gate installed on a guest operating system – be it a virtual machine or blade server – allows you access to USB peripherals from a remote virtual desktop right away. The app is compatible with VMware, VMware ESX, Citrix XenDesktop and Microsoft Hyper-V.
★ Share USB across different platforms
USB Network Gate is cross-platform compatible, i.e. the server computer can be Mac, Linux or Windows, and the client module can be either. This means you can share a device on a Windows PC or Mac OS and connect it from a Linux device.
★ Per-session USB device isolation
In a multi-user environment of terminal servers it is hard to get exclusivity in USB device usage. USB Network Gate allows assigning a USB device to specific user in their RDP session. No other users can access device at that time. Currently available for USB flash drives and USB cameras in testing mode. Since version 7.0 USB Network Gate supports ICA protocol by Citrix.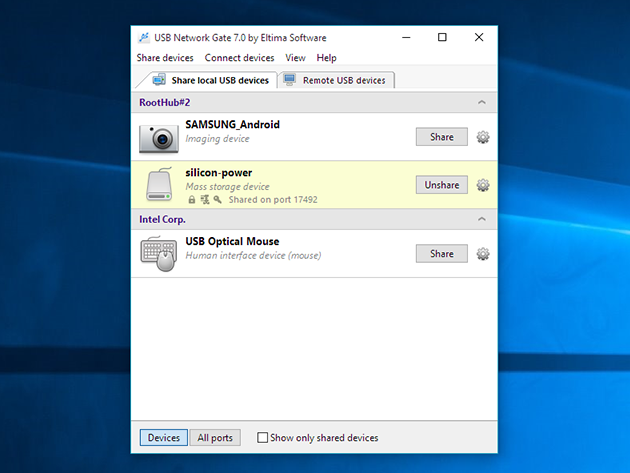 Follow this step-by-step guide to share USB to IP:
Download USB Network Gate, you need to install it on both computers.
On the server side, i.e. the computer to which your device is attached, find it in the list of available devices and click "Share".
On the client computer locate the device and press "Connect" button.
Now you can access the device – its contents and functionality – as if it were inserted directly in your machine.
Hardware solution
Another option to share USB over TCP/IP is special equipment that can emulate USB ports on a remote machine. These are basically simple efficient low-cost accessories such as a USB hub with additional Ethernet connection cable.
To configure and manage a remote device several interfaces are provided:
Web interface for setting up, monitoring and managing a device;
Configuration utility;
Telnet Command-Line Interface;
Simple Network Management Protocol (SNMP).

Web-interface is the simplest and easiest setup option. It has a number of additional tools that allow viewing active connections, setting up security features, etc.
Setting up a client machine for such hardware USB to IP solutions is easy and intuitive.
All you have to do is:
Install a driver for your equipment
Specify the IP-address of a device
If you need detailed information on the connected device, free/ busy ports – use detailed info utility. The entire process of deployment and setup usually does not take more than 30 minutes.
USB Network Gate
Requirements for Windows: XP/2003/2008/Vista/7/8/10, Server 2012
Also available on macOS, Linux OS and Android ,
5.62MB
size
Version
8.0.1859
(
4th Nov, 2017
)
Release notes
Category:
Networking Software