USB Network Gate
USB over Ethernet (aka USB Network Gate) allows for a smooth connection to a USB port over TCP/IP connection. It is very easy to share USB devices and access them from any remote location in the world.
USB Network Gate
With this solution you have the possibility to use your USB devices in virtual environment, in blade servers, and over RDP. USB Network Gate works with VMware, VMware ESX, Citrix XenDesktop and Microsoft Hyper-V.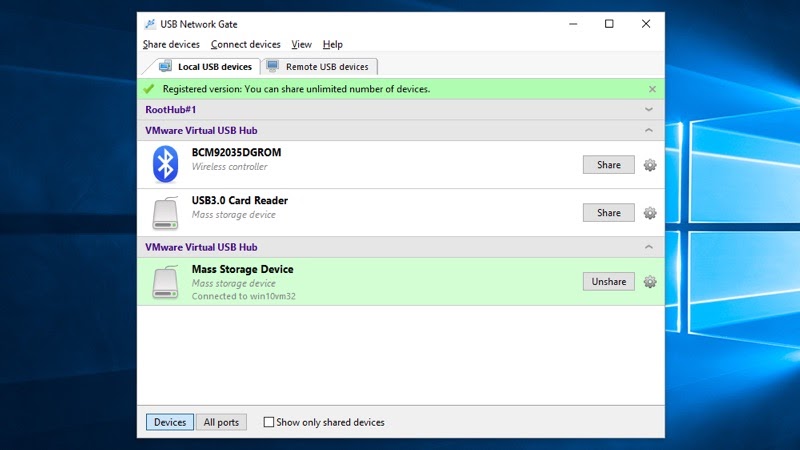 The easiest way to share a USB device over your local network:
Step 1: Download a USB sharing app and install it on all computers that will communicate with your USB device remotely as well as on the machine (server) where the peripheral is attached physically.
Step 2: Start the software on the server PC, find the device in the "Local Devices" tab and hit "Share" next to it.
Step 3: On a remote computer (client), head to the "Remote Devices" tab, locate the device and click "Connect"
Step 4: This is it! Now, the peripheral will appear in the Device Manager of the client machine although it's not connected to the PC physically.
Share USB over Ethernet video tutorial
You can share your devices and access them on various platforms: Mac, Linux or Windows, which makes this USB over Ethernet solution cross-platform.
Advantages and disadvantages of the app
So, what are the main pros and cons of USB Network Gate? Lets see in this comparison:
Pros
The 14-day trial version of the software lets you test the scanning over a network functionality of the tool;
All types of USB devices are supported;
Works across different platforms — Windows, Mac, Linux and Android;
Cross-platform support for Windows, macOS, Linux and Android systems;
24 hour supports available.
Cons:
A license must be purchased it you want to use the product for more than the 14-day trial period