Share USB Printer between two Computers
The modern corporate life makes it necessary to be able to access and manage remote devices. Thus, for example, you can use your office printer for printing out documents from anywhere in the world, as long as you are connected over network. How do you do it, you might wonder, how to share a USB printer over network?
Software to share USB printer over network - USB Network Gate
The easiest way to share a USB printer between two computers would be to use a special software application – USB over Ethernet. Let us have a closer look at the way it works.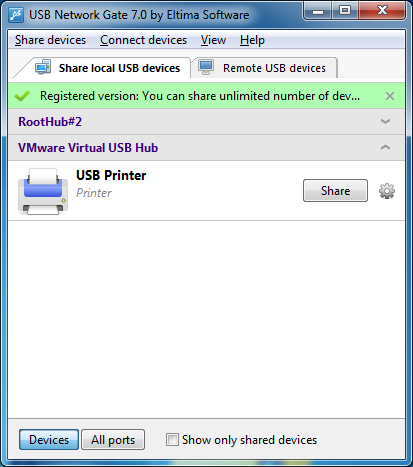 Step 1
Download the application from here – the software has versions for Mac and Linux operating systems. Install USB Network Gate on your machine and other computers in the network.
Step 2
Once you are done with installation, launch the app. Go to 'Devices' window to locate your printer there, a gearwheel icon, 'Settings', allows you to change ports, setup encryption or encipher data transfer, if required. Click 'Share', now you can 'Connect' to it from any network machine that has the application installed.
Pros
You can share all kinds of USB devices
14-day trial version allows you to check out full functionality before buying a license. The license is bought once and for all, i.e. you pay only once for it.
You can get the source code or OEM license
Cons
The license costs $89.95
USB Network Gate needs to be installed on all computers that need shared access
How to share printer via wifi
There is a way to share USB printer over wifi – with the help of a common wireless router.
Here is your step-by-step guide on how to share a USB printer between two computers.
Step 1
Decide what computer you'd like to assign your printer to. Connect it to a wireless router via Ethernet cable. If the network is already configured, make sure your computer detects it. If the computer is hosting the network, connect the router to the broadband Internet modem.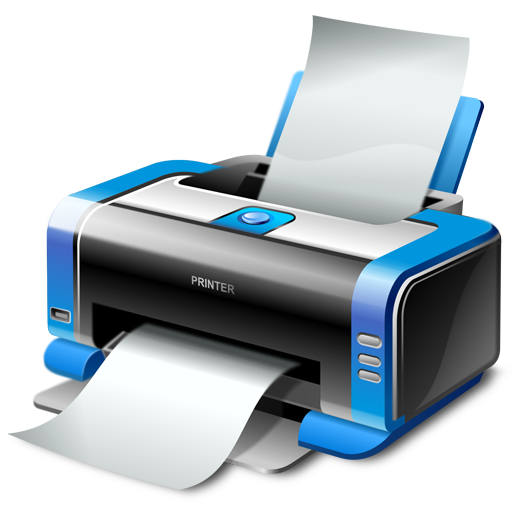 Step 2
Use a USB cable to connect your printer to the host computer, make sure all the drivers are updated. Go to 'Network and Sharing' section in the Control Panel and enable file and printer sharing.
Step 3
Locate the printer on the host computer, select Printer properties by right-clicking on it and tick 'Share this printer' checkbox. Below the box you will see the default system name of your printer, you might want to change it to identify it easier.
Step 4
If your network computers have different OS installed, you might have to install additional drivers. At the bottom of Sharing tab in Additional Drivers section specify the drivers.
An important note: the shared printer is available only when the host computer is on.
Pros
No need to install additional applications
No expenses involved, the solution is absolutely free
Network computers do not need a setup to use the printer
Cons
Setup process is rather complicated
Requires Wi-Fi router and Internet connection
Anyone who has access to Wifi network can use the shared printer
USB Network Gate
Requirements for Windows: XP/2003/2008/Vista/7/8/10, Server 2012
Also available on macOS, Linux OS and Android ,
5.62MB
size
Version
8.0.1859
(
3rd Nov, 2017
)
Release notes
Category:
Networking Software