How to share USB smart card over network
It often happens that a single device's contents or functionality is required by several computers at a time, especially in the corporate environment where we need to share large amounts of data on a regular basis. It might be impossible to insert the device into each of the machines, so we somehow need to share it between two computers or more. USB devices are most commonly used devices these days, smart card readers included. Here we will talk about sharing smart card USB device over network. There are a few solutions to this problem – both software and hardware, let us have a closer look at them and decide what works better for you.
Sharing smart card reader using USB sharing software
USB over Ethernet Connector is designed to share USB devices over network, i.e. any devices that are inserted into a computer via USB ports, smart card readers in particular. USB Network Gate can be used over RDP to connect to devices outside the network. You can make use of remote USB devices contents and functionality as if they were directly attached to your machine.
Apart from allowing you to access remote smart card readers over Ethernet or Internet, USB Network Gate enables you to access USB ports of the host computer while working on a virtual machine.
How to share card reader over network? Read on – below is a detailed explanation of how USB Network Gate does it:
Let's look into sharing a printer over LAN with the help of USB Network Gate.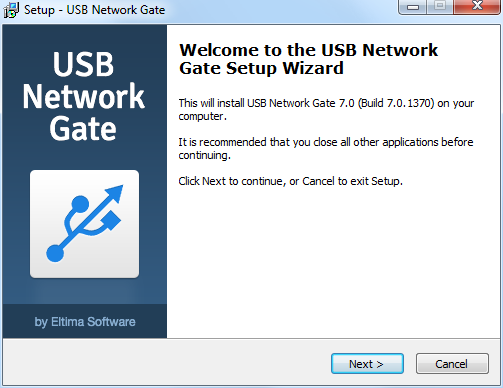 Step 1
Download the app here. Install and configure it: the server part – on a computer, to which a USB device (smart card reader) is attached, the client part – on computers that need shared access to the device. Once the installation is done, the app displays two tabs - Share Local USB Devices and Remote USB Devices. If you need to change the port, add encryption into the connection or encipher data transfer – press the gearwheel icon next to Share.
Step 2
Share the smart card reader device. If you do it over Internet, you will need an external IP address. Go to 'Share Local USB devices' tab, find the device in the list displayed and choose 'Share'.
Once you click 'Share', the card reader becomes visible and accessible to other computers in the network.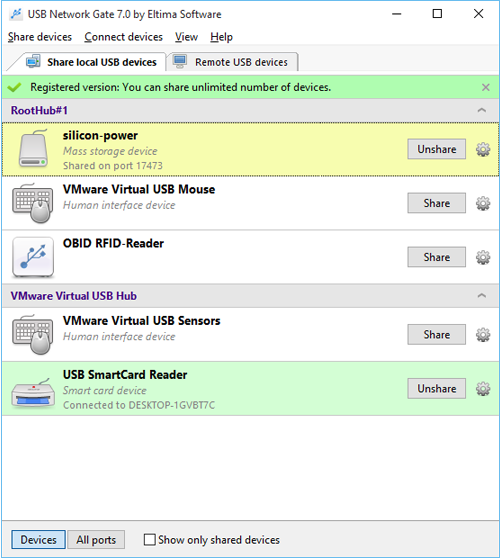 Sharing smart card reader over network via RDP
USB Network Gate permits to access smart card reader plugged into local machine while working in remote desktop session. In fact, you share USB port, to which you can attach any USB device.
Connecting to a remote desktop session usually immediately makes USB devices plugged into your machine unavailable for use. Here is what you can do to have access to them:
All you need to do is install USB Network Gate on both machines which participate in connection:
On the local machine (where the client for Microsoft RDP protocol is installed), USB Network Gate Server should be installed to share USB devices over Remote Desktop Protocol. The client for Microsoft RDP protocol will be Remote Desktop Connection.
On the remote machine (where Terminal Server, the server component for Microsoft RDP protocol, is installed), USB Network Gate Client should be installed to access shared USB devices over RDP.
You can also access smart card USB device with the help of USB Network Gate in a virtual machine session. The number of virtual machine's USB ports is limited so if you ran out of free USB ports, USB Network Gate enables you to make use of USB ports on a host computer.
This is how you can do it:
Download and install USB Network Gate for Windows/Linux, the server part on the real machine, the client part on a virtual machine.
Share a device on the server and connect to it from a client.
Establish connection with remote shared USB device from virtual machine (client).
The shared USB device will appear in Device Manager on your virtual machine. So now you can access this USB device and use it as if it were plugged directly into virtual machine you are working on now.
Pros:
★ Enables remote access to USB devices over RDP or network

★ Excellent support service

★ Cross-platform solution, i.e. supports Windows, Mac and Linux.
Cons:
However there is a 14-day trial version available to you to check out the functionality and decide whether the app is worth purchasing.
Sharing smart card reader over network
There is one more software solution that can be used for sharing card reader between two computers over network – FlexiHub. This is your step-by-step guide on how to use it: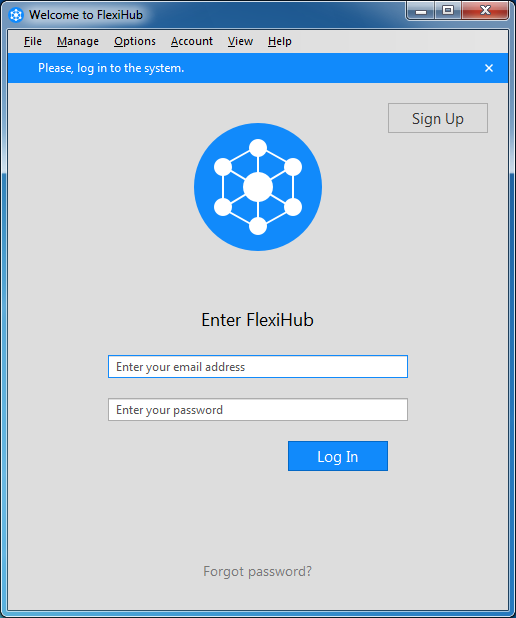 Download FlexiHub, install and launch it.
Create a FlexiHub account by clicking 'Sign Up' in the top right corner of the window. Fill in the registration form.
Login to FlexiHub using your credentials
Find the smart card reader you would like to access and click 'Connect'.
That pretty much it is – you can access device as if it were inserted into your machine.
Pros:
● Enables sharing device over any kind of network – LAN/Internet, etc.
Cons:
● Free version supports sharing for only 20 minutes. You will have to establish connection again after it drops.

● The software has to be installed on all computers that need to share and access USB ports
Share smart card reader using USB Device Server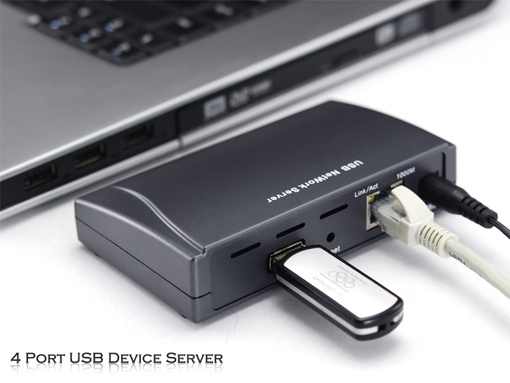 A hardware solution to the problem is called a Device server. Also known as Terminal Server or Console server, it is usually equipped with 1 to 4 USB ports. All you have to do is to plug a smart card reader into a USB port of this box-like device and then connect the device to the computers.
Pros
Classic and simple – only 2 steps to share a device
Usually cheaper than software solutions
Cons
Does not work for long distances
Desktop clutter
USB Network Gate
Requirements for Windows: XP/2003/2008/Vista/7/8/10, Server 2012
Also available on macOS, Linux OS and Android ,
5.62MB
size
Version
8.0.1859
(
4th Nov, 2017
)
Release notes
Category:
Networking Software