USB Network Gate
The first solution we'll have a closer look at is USB over WiFi software by Electronic Team, Inc. This app works as a wireless USB server and allows connecting to remote USB devices across the network: Wi-Fi, Ethernet, or the Internet. The software gives you a way to securely access remote USB peripherals like they were attached to your local computer physically.

Try for FREE USB Network Gate
14-day free trial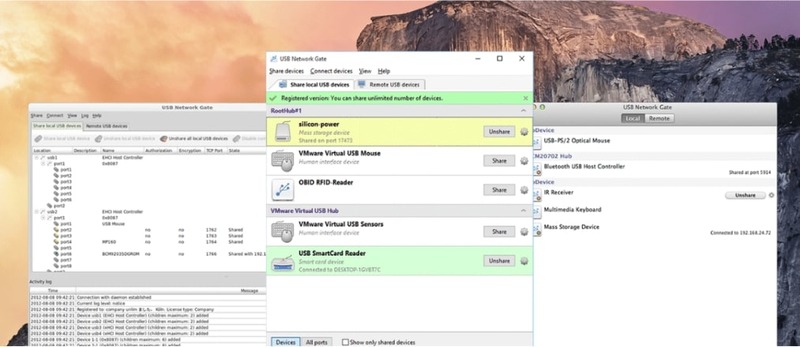 Here's how you can create a wireless USB connection with USB Network Gate:
First, you need to download and install USB Network Gate on the computer that will be physically hosting the USB device to be shared over Wi-Fi (server). Then you also download and install the software on the computers that will remotely connect to and use the shared device (client).


Now you plug the USB device into the USB port of the Server (a computer that will share the device), then open USB Network Gate and click on "share local USB devices" this automatically shares the device and makes it available for other computers (clients) to connect to the USB device.


Finally, on the client side (computer remotely connecting to the shared USB device) open USB Network Gate click on "Remote USB devices" to connect and start using the shared USB device.
Simple right? That is how USB Network Gate works. USB to Wi-Fi, that is wherever your Wi-Fi network spreads to so does your ability to access remote USB devices.
Let's consider the key advantages of this app:
USB Network Gate helps you share USB over Network among multiple computers by creating a wireless USB bridge so people from your home, office, or any part of the globe can use it.
Yes, you heard me right! From any part of the globe, you can connect to the USB device over Wi-Fi and use it as if it was physically connected to your computer.
I know when you heard connect to a USB device over WiFi, the security of the connection and shared device popped into your mind. Well, you do not need to worry about security because it is possible to see what computer is currently using the shared device.
One thing I like most about this solution is that it gives you total control over the shared device activities. USB Network Gate allows setting up a connection password for controlled access to USB devices shared over Wi-Fi.
It as well enables monitoring user activities, for instance, a user might forget to disconnect from a shared device long after completing a task, you can monitor and control it.
The program is compatible with Windows, Mac, Linux and Android platforms.
Also, the software comes with a 14-day free trial, so you can evaluate its functionality and check whether the app meets your needs.
You can buy a copy of USB Network Gate for $159 (for one shared USB port). To find more information, you can refer to the official page of the app.