Yawcam
If you need to share a camera over network between two computers on Windows, use an open-source tool – Yawcam, it stands for Yet Another WebCAM software. This share webcam software works over WiFi.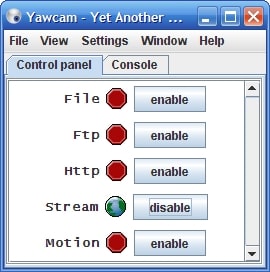 Written in Java it offers the following functionality:
Streaming video
Taking snapshots
Webserver built into the app
Detecting motion
Supported Platforms:
Unlike the software solution we discussed above, Yawcam does not work on computers running different operating systems, and if you do use Macs, Windows, and Linux machines in your network, this could cause inconvenience.
Price: Yawcam is completely free