Share Webcam on LAN
Common Issue
In the dynamic environment of the modern office, we often have to switch seats, desktops and laptops. It is obvious that carrying all our devices along is not always a feasible option. So when your cables are not long enough to connect us to devices at a distance, it becomes a bit of a problem. Say, what if you have a webcam in the cubicle across the office and you need to connect to it? How do you access remote webcam?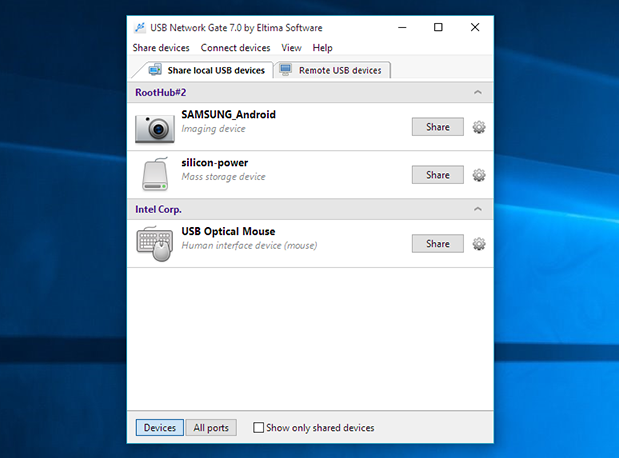 Share webcam on LAN with USB Network Gate
Eltima offers a software solution to this problem – USB over Ethernet Connector allows you to share USB camera over network easily. No cable clutter on your desk or, in fact, anywhere in the office, remote webcam access is available to you from anywhere as long as you are in the network.
USB Network is easy to setup and easy to use, this is how you do it:
First you need to download and install the app on the computer that needs access to a webcam over LAN (client) and the computer to which the camera is connected.
Launch the app on the server and locate the webcam in the list of devices, click button next to it.
Launch the app on the remote computer and find the shared webcam in the list of available remote devices. Click button.
USB Network Gate has a big advantage to offer, it works across platforms, i.e. you can connect Mac machines and computers running Windows and Linux OS.
Software alternative for Windows
If you need to share camera over network between two computers on Windows, use an open source tool – Yawcam, it stands for Yet Another WebCAM software. Written in Java it offers the following functionality:
Streaming video
Taking snapshots
Webserver built into the app
Detecting motion
This share webcam software works over WiFi. Unlike the software solution we discussed above, Yawcam does not work on computers running different operating systems, and if you do use Macs, Windows and Linux machines in your network, this could cause inconvenience.
Stream video from the remote webcam
Once you share camera over network, you need to set up a video signal. For that you'll need special web platforms, YouTube or one-click software solutions.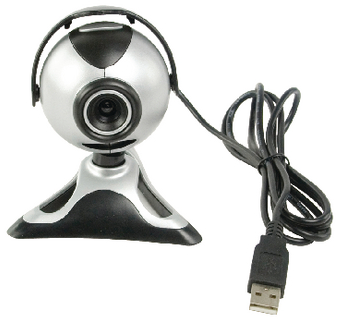 Now this is how you stream a video over network:
On YouTube website make sure you are logged in under Google+ ID you want to stream with. Go to features page.
Find 'Live Events' and click 'Enable', read Terms and Conditions displayed and click 'I agree'.
Click "Create Event" button – name your stream, add a description and tags.
★ You can choose to start streaming right away or schedule it for later.
★ You can regulate your privacy in Settings – public or private. In the latter case you will need to specify accounts with whom you share the video stream.
If you do not have Hangout plugin, install it. Once you have it, enable Google Hangout on Air. Select 'Quick' instead of default 'Custom' option.
Click 'Go Live Now'. Hangouts window opens and it takes about a minute for the video to buffer. You are all set to broadcast now!
Click 'Start Broadcast', 'OK' to confirm – that's it, you are on air. Your broadcast can last up to eight hours.
If you want to share the video stream with others, click 'Links' at the bottom of the Hangouts window, copy a link and share it with others. The stream will be seen automatically on your channel on YouTube.

There is an option that allows managing your viewers – it's called 'Control Option'. You can either mute or send out viewers you do not like.
USB Network Gate
Requirements for Windows: XP/2003/2008/Vista/7/8/10, Server 2012
Also available on macOS, Linux OS and Android ,
5.62MB
size
Version
8.0.1859
(
6th Nov, 2017
)
Release notes