Virtualbox USB Passthrough Guide
Contents
1. How to access local USB in VirtualBox
2. Software solution to forward USB to virtual machine
3. Connect to remote USB over RDP
    3.1 VirtualBox USB Windows solution
    3.2 Most efficient software to share USB over RDP
How to access local USB in VirtualBox
You may have heard that VirtualBox 5.0 comes with USB passthrough support. Here we provide a simple instruction on how to use USB in VirtualBox.
As an option, (to take advantage of USB 3.0 speeds) you can install the free VirtualBox Extension Pack.
Once installed, start your virtual machine (be it Windows, Linux, or some other supported guest OS).
Plug the required USB device in a USB port of your host computer.
Now, head to Devices -> USB, and click on 'USB device to share'.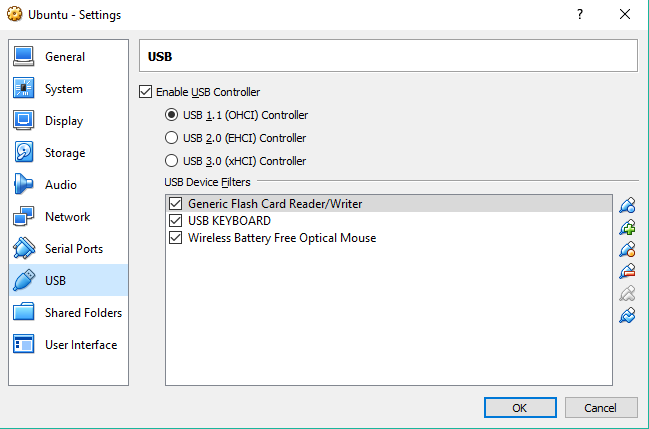 As VirtualBox enables USB connection, the shared USB device will appear in your guest OS. The virtual machine will recognize the USB device and you'll be able to get full access to device's functionality from your guest OS. This way, VirtualBox will let you connect to USB remotely.
One thing you should remember is that only one machine can access a USB device at a time.
Software solution to forward USB to virtual machine
Considering that many virtualization apps offer limited or no support for local USB devices, the software solution, USB Network Gate, seems to be a real sigh of relief for many users. Thanks to its USB redirection technology, the dedicated program allows forwarding USB peripherals over LAN or the Internet. With the software you will be able to access a USB device from your guest OS, even if the device is not plugged into the host OS but connected to a remote PC.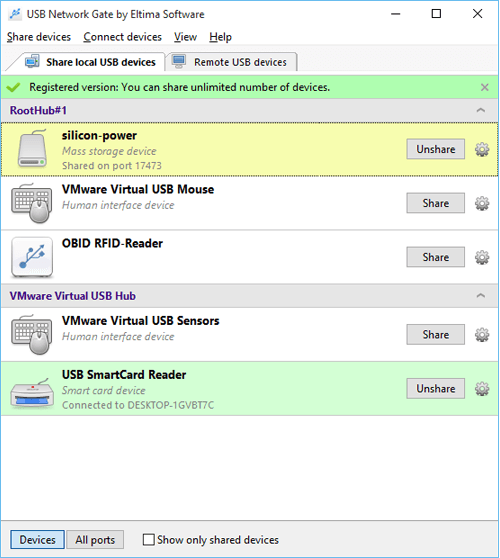 Here are three simple steps you should take to make this possible:
Download USB Network Gate and install it on the machine with a USB device attached.
Share the device in the software interface.
Install the app on a virtual machine, start it and connect to the shared USB peripheral.
Additional advantage of the software is the cross-platform compatibility. USB Network Gate supports Windows, Linux, and Mac operating systems.
VirtualBox USB Windows solution
VirtualBox offers remote display of a virtual machine. That means, started on one computer, a guest OS can be displayed on another PC and controlled from there too. To do this, VirtualBox uses VRDP, VirtualBox Remote Display Protocol, which is backwards compatible with Microsoft's RDP protocol. The VRDP support makes VirtualBox an optimal solution for those who want to access their virtual machine over RDP Connection.
What about VirtualBox remote USB access? Well, displayed on a remote computer as VRDP data, VirtualBox guest OS is able to access USB devices of that remote computer in the same way as local USB peripherals of VM's real host. VRDP is a simple way to remotely access USB in VirtualBox.
The most efficient software to share USB over RDP
Now, let's consider another convenient method to share USB peripherals over RDP. With USB Network Gate, you can access any local USB device from a remote client in remote desktop session. What the software does is shares the USB port a device is connected to. So, inserted into the shared port, a USB peripheral gets shared as well.
How does the app share devices over RDP? Let's find out.
First of all, you need to install the software on both computers involved in communication:
The device sever - your local computer with a USB device physically attached (the machine where the client for Microsoft RDP protocol is installed).
A remote client - a computer which will access this USB device remotely (the machine where Terminal Server, the server component for Microsoft RDP protocol, is installed).
Once installed, the software will let you share the device on the device server and connect to it from a remote client. In fact, when you establish a connection with RDP server machine within a remote desktop session, the shared device will appear in RDP server as though it was physically attached to the machine.
USB Network Gate
Requirements for Windows: XP/2003/2008/Vista/7/8/10, Server 2012
Also available on macOS, Linux OS and Android ,
5.62MB
size
Version
8.0.1859
(
6th Nov, 2017
)
Release notes