TeamViewer
TeamViewer is a software package that helps control shared computers remotely. Also, it lets users transfer files between PCs, establish video communications, and carry out web conferences.
TeamViewer runs on multiple operating systems, including Windows, Mac OS X, Linux, Chrome OS, iOS, Android, RT Windows, BlackBerry, and Windows Phone 8.
In addition to direct communications, the solution allows creating connections through a firewall and NAT proxy. The tool can be used for free by non-commercial users. And there are also Business, Premium, and Corporate versions.
TeamViewer is an extremely powerful and highly accessible platform where control can be passed from one person to another, whereas in most similar apps control runs on a one-way street. Plus, the solution can be used with or without installation. In the latter case the program works without administrator access rights.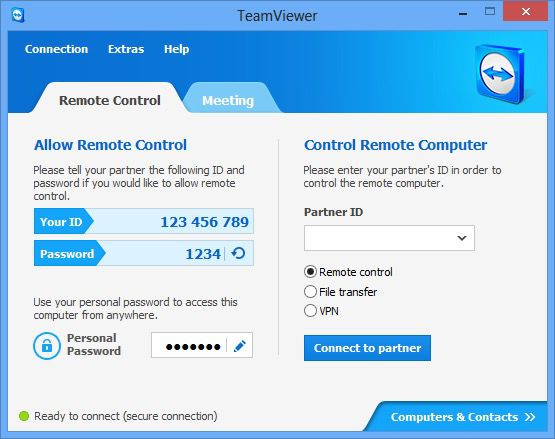 The key benefits of TeamViewer remote support solution:
✓ The ability to connect to the computer remotely and get full access to its functionality (including the use of keyboard shortcuts and other);
✓ Intuitive interface;
✓ Gives the ability to easily access remote machines located miles away while staying at home or in another office;
✓ Highly secure data transfer between computers that are protected by a firewall;
✓ Mutual remote access, simple file transfer in both directions;